Batman vs. Superman: What We Know So Far
The summer blockbuster season is coming to a close, with
Lee Daniels' The Butler
sweeping the box office in consecutive weekends. So while we all
pine for the next season of superhero sequels
(but please, no more
Wolverine
), and the winter slate of Oscar hopefuls, there is mind-melting news out of the DC universe. As you have surely heard,
Ben Affleck was cast as the next Batman in the Man of Steel sequel.
What else have we learned since the rejuvenation of the Superman brand in
Man of Steel
and the
close of the Christian Bale and Christopher Nolan partnership
in the
Dark Knight Trilogy
?
- The Man of Steel team is back
Director Zack Snyder
was best known for films based on popular graphic novels,
300
and
Watchmen,
prior to his Superman success. He is returning for
Batman vs. Superman
, as is primary screenwriter
David S. Goyer
who was also heavily involved in the storyline for the
Dark Knight Trilogy
. And lest we forget--
Christopher Nolan
is slated as executive-producer and story co-writer yet again, along with a consistent Nolan partner,
Emma Thomas.
Prior to
Man of Steel
, Snyder
was
best known for directing
highly entertaining and visually stimulating movies
with two hugely profitable films--
300
and
Dawn of the Dead
, and two disappointing showings, relative to budget, in
Sucker Punch
and
Watchmen
. Dazzling with
action and effects
is Snyder's modus operandi, along with directing
remakes or films with an original source material
. In each of his "nerd porn" projects, outside
Dawn of the Dead
, one could argue your "mainstream" audience may have been unfamiliar with the basis for the films. For example
, 300
had every demographic of teenager infatuated with King Leonidas' story, but the vast majority were unaware of the
5 graphic novels 
on which it was based. Yet
Superman is an American cultural icon
, the pressure was on for Snyder to do what Nolan did to Batman--
bring a franchise and a character back from the depths of despair.
The
1990s nearly destroyed the Batman franchise
, with the
Joel Schumacher
directed
Batman Forever
(featuring Val Kilmer as Batman), followed by the epic disaster of my childhood that was
Batman & Robin
. Even more campy and absurd than Adam West's Batman, this movie was filled with more puns, unnecessary supporting characters, and Arnold Schwarzenegger
than any movie ever
. Even Kentucky's own leading ladies man' George Clooney was ashamed to call himself
this
Batman. https://www.youtube.com/watch?v=acWq0X_zR0I
Batman & Robin, Mr. Freeze, and Batgirl Pop-Tarts--undeniably the only good thing to come from Joel Schumacher's Batman. I consumed my weight in Mr. Freeze Pop-Tarts as a 7-year old.
While the first decade of the
21st century had its share of terrible comicbook movies
--
Catwoman
,
Elektra
,
Daredevil
, and both
Fantastic Four
and
Ghost Rider
movies, Christopher Nolan is largely responsible for bringing respectability to the subgenre in 2005. With
Batman Begins
, Nolan demonstrated
it
was
in fact possible to maintain a semblance of realism, logical plot points, and real character development with the action and visual effects of a big-budget comic movie. Though not sharing the critical success of
Batman Begins
or
Dark Knight
, the
Spider-Man
and
X-Men
franchises in the 2000s were also
enormous box office draws
, making it the decade of superhero movies. The 2010s look to bring us even more. A fairly successful balance was struck with the combination of Snyder, Goyer, and Nolan in this summer's
Man of Steel
. Many critics and comic book aficionados were on the fence about the movie, largely due to its
dark tone better suited to the recent Batman franchise than Superman
; the somewhat dour tone should likely be ascribed to Goyer and Nolan, rather than Snyder. Regardless,
Man of Steel
was a
vital step in the right direction for the Superman franchise
. The dichotomy of Snyder vs. Nolan/Goyer, brought the character back to life, proving that the disappointing
Superman Returns
and the abysmal Superman films of the 80s didn't spell doom for the
profitability of Superman
.
-

The business behind the release
https://www.youtube.com/watch?v=H4ZR7l6iA-I The 
Comic-Con
 announcement by
Zack Snyder
and
Harry Lennix
(aka General Swanwick) that there would not only be a sequel, but that
Man of Steel
2
would feature Superman
and
Batman, caught many by surprise. The
Man of Steel
sequel was already slated for
summer of 2015
, along with the
potential Justice League film to follow in 2017
. But the Batman news was an unexpected twist, and I would argue, a bit of a
rushed decision
.
Warner Bros. and DC are feeling the pressure to compete
with the laundry list of Marvel movies coming out in the next three years:
Thor: The Dark World
(November 2013),
Captain America: The Winter Soldier
(April 2014),
The Amazing Spider-Man 2
(May 2014),
X-Men: Days of Future Past
(May 2014),
Guardians of the Galaxy
(August 2014),
The Avengers: Age of Ultron
(May 2015), and
Ant-Man
(November 2015). The respective Marvel characters are
owned by three different production companies
:
Sony subsidiary, Columbia Pictures:
The Amazing Spider-Man 2
20th Century Fox:
X-Men: Days of Future Past -
Going to fangirl over
Jennifer Lawrence
, don't mind me.
Disney subsidiary, Marvel Studios:
Thor: The Dark World
Captain America: The Winter Soldier
Guardians of the Galaxy
Marvel's The Avengers: Age of Ultron
Ant-Man -
My mother said she's most excited for
Ant-Man
. I doubt Ant-Man is most excited for
Ant-Man
. There is a point to all of this listing.
Warner Bros.
is going through the
summer of 2014 with no superhero franchise set to release
, meaning it will undoubtedly get
crushed during the most profitable season of the year
. WB's next year and a half hinge on the success of its non-franchise films, along with the second and third
Hobbit installments
. Also, the profitability of Warner Bros.' big-budget
Godzilla
movie--slated for
May of 2014
--is precarious, as it will have to compete with the second
X-Men
prequel and
Amazing Spider-Man 2
. Warner Brothers and DC are clearly in desperate need of not only a
big-budget box office winner
, but a
sure thing
that will cut an even larger profit than this year's
Man of Steel
. So why combine Superman with Batman, and why do it without further developing Henry Cavill's Superman? Franchise sequels are
very successful in foreign markets,
which often account for 55 or more percent of the gross for these films. Quality isn't necessarily important, just brand recognition, some flash and pizazz. In the case of
Fast & Furious 6,
69.7% of its gross earnings were from foreign markets
. Money talks, and releasing a movie with the
two most recognizable superheroes in the world
is the only way Warner Brothers and DC could possibly compete with the 
Marvel and Disney stranglehold
on the profitable genre. So is
Batman vs. Superman
going to
suffer in quality due to the rush
to put the two into one film by July 17, 2015? My answer is probably yes--this movie seems a bit forced.
[It] comes out in summer of 2015," David Goyer said at Comic-Con. "We're actually not sure whether the title is 'Superman vs. Batman' or 'Batman vs. Superman' but yes, it's that rematch, that combination, the two guys onscreen and that's happening."
While the business side of big-budget filmmaking is far more nuanced than what I could describe, this business has a profound effect upon we the consumers, and the finished product.
-

The Affleck casting
There are those special moments in life where a piece of pop culture news "
breaks the internet
." Late Thursday night was one of those occasions, with the announcement that Ben Affleck had been cast to play Batman, and for multiple appearances. It is an issue that has polarized the Twitter-sphere, regarding the news of "Batfleck." Executive producer Emma Thomas is quoted as saying, "Whilst our Dark Knight trilogy is complete, we have every confidence that Zack's fresh interpretation will
take the character in a new and exciting direction
." That direction--Batfleck.
Of course, everyone would have preferred Christian Bale to reprise his role in the Man of Steel sequel and in the rumored Justice League film--if simply for continuity, but he turned it down.
So from Thursday night to the following day, the
top trending topics
were devoted to mocking Ben Affleck's selection as Gotham's new protector, largely due to his
role in the 2003 Daredevil
. Seeing the film at Winchester's own Skyvue Drive-In, couldn't even save this movie and Affleck's
stumbling performance as the blind superhero
. Daredevil uses his now enhanced senses to fight against Bullseye, basically Colin Farrell with a bullseye brand on his head, as well as a mob boss played by
John Coffey
 (actual name- Michael Clarke Duncan). Other than the fact
Affleck met his wife, Jennifer Garner
on the set, and the movie managed to be surprisingly profitable due to a fairly small budget of $78 million, it is difficult to glean anything positive from
Daredevil. 
The film is an absolute mess--
watching the trailer makes me uncomfortable
. While Affleck was far from heroic in the role, had it been the other candidates, Matt Damon or Edward Norton, neither could have saved this movie from sucking. https://twitter.com/wilw/status/370728839376166912 So Ben Affleck was cast as a superhero in a major motion picture, and it didn't go so well. Oh, also he was in Gigli. #NeverForget https://www.youtube.com/watch?v=lJeSu7TqCBA&feature=player_embedded
David Hasselhoff is an excellent orator.
The backlash has been real and
kept Twitter buzzing
; within the first hour, 96,088 tweets were sent about Ben Affleck as Batman, with a
total of 509,922 in the first twelve hours
.
Seventy-one percent of the chatter was negative
, with the last 29% being split between those who were positive or had mixed feelings. Not only did Twitter react to the news, but petitions were started on both
Change.org
, as well as the
White House Petition page
--
though it was soon removed from the site
.
The front page of Reddit also quickly responded to the news of Affleck's casting with the above photoshopped image of close friend, Matt Damon in a Robin costume. There is no official word that a Robin--Damon, Joseph Gordon-Levitt, or otherwise, will be cast.
Yet in the past, the
selection of many actors in Batman films has been lambasted
by we, the
fickle
people of the Internet
.
Michael Keaton's
casting in the 1989 Tim Burton,
Batman
, was also met with scorn. Yes
Beetlejuice 
was Batman, twice, and did a far better job than
George Clooney
.
And the public reaction to
Heath Ledger's casting as the Joker
?
Not favorable
. The discussion since the initial Affleck-gate has begun to
turn in his favor
, with writers from 
independent blogs 
and
Entertainment Weekly
, to 
Forbes
 and the
Wall Street Journal
defending the decision. Affleck's box office draw,
award-winning performances
(BAFTAs, Golden Globes, SAG Awards, etc.), in addition to the insight gained
directing two WB films
--
Argo
and 
The Town,
as well as
Gone Baby Gone
are all cited as reasons to believe he can be a good Batman. Also being a two-time Oscar winner, one for Screen-Writing (Good Will Hunting) and then for Best Picture (Argo), should give the guy
some
credibility. Director Zack Snyder believes:
"(Affleck) has the acting chops to create a layered portrayal of a man who is older and wiser than Clark Kent and bears the scars of a seasoned crime fighter, but retain the charm that the world sees in billionaire Bruce Wayne," said Snyder. "I can't wait to work with him."
Unbeknownst to many, Ben Affleck was offered a director's role for the
Justice League
movie several years ago, so he's in the "Batman" loop, so to speak. Affleck is also considered a knowledgeable comic fan and will respect the source material.
Maybe it's innter 
Butters who's jealous of his recent success,
because although I enjoy many of Affleck's movies and see logic behind his casting, 
I still feel skeptical of an Affleck Batman
. But there's no doubt that
Affleck has come very far
from his
Jennifer Lopez, Gigli days.
 Whatever role Affleck takes in decision-making for
Batman vs. Superman
will likely be a blessing to the direction of the movie. It's likely that the Internet has overreacted to "Batfleck" and although fans will miss Christian Bale, his strained vocal cords need a rest from three Batman movies. And it's Batman AND Superman. In one movie. Few can resist that.
-

Plot rumors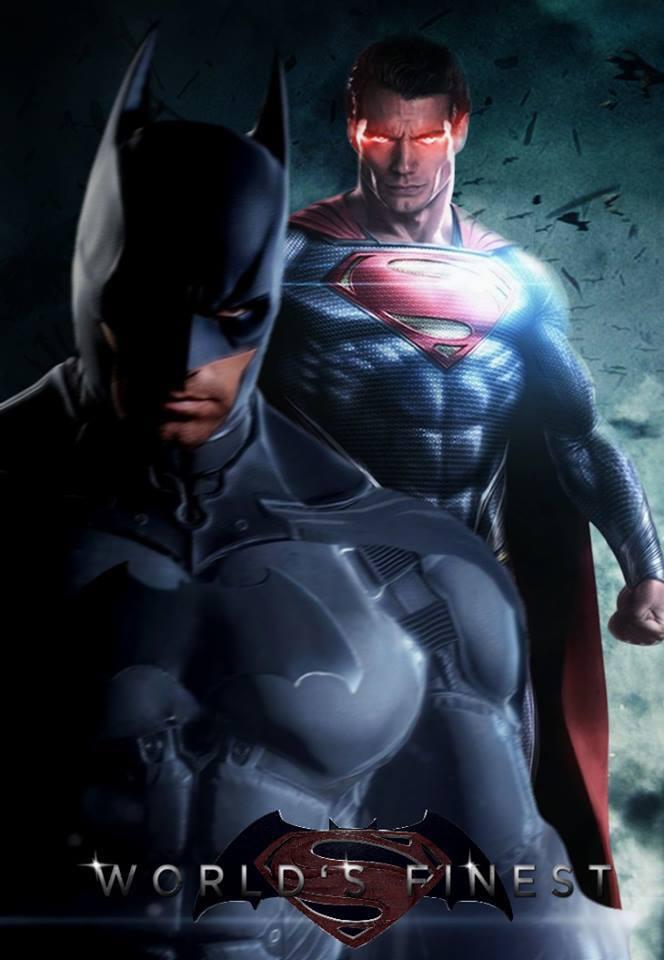 Photoshop is a nerd's best friend.
One other casting rumor that's bouncing around is that
Bryan Cranston
is being considered for Lex Luthor
, Superman's nemesis and that
Mark Strong
could reprise his role from
The Green Lantern
, playing Sinestro in the film. It is also rumored that
Detroit has been scouted as the filming location
, the
Gotham City
, for the movie; if following the dark, Nolan model for this film is the plan, then Detroit sounds like just the place. On to plot! People who know more about comics than me have theorized that Superman and Batman will
not be "teaming up,"
as
Henry Cavill had hoped
, but that, in line with the potential title of
Batman vs. Superman
, the
two will be at odds with one another
. Director
Zack Snyder
chose a quote from
Dark Knight Returns
, a
1986 Batman comic series which
revolved around Batman beating Superman, for the initial announcement of the movie. The quote read:
"I want you to remember, Clark…in all the years to come…in your most private moments…I want you to remember…my hand…at your throat…I want…you to remember…the one man who beat you."
In addition, the Warner Brothers' press release
quoted Zack Snyder
as saying, "Let's face, it, it's beyond mythological to have
Superman and our new Batman facing off
…" The enmity between Batman and Superman looks to be the direction Snyder and Co. will be taking with the movie. While it's still a bit hazy if this movie will be truly calleda sequel to
Man of Steel,
(it still is as of now), it
will follow chronologically in the DC Universe.
We will also see a new Superman.
David Goyer
reiterated this when discussing
Man of Steel
, "He's not Superman fully-formed in this film; he
becomes that in the next film
and he will have to
deal with the repercussions
of that in the next film."
Zod's death
and the
destruction of Metropolis
will likely be
addressed in the upcoming movie.
How will Batman fit into all this?
I have no idea, maybe he doesn't like that Superman isn't afraid to kill? Or he finds Superman's methods reckless? Or maybe Superman somehow turned Gotham City into Detroit. That'd be enough to put Batman's hand at your throat. In the end, Superman's mantra is hope, and Batman shares the 
sentiment of inspiring change.
Hopefully both heroes can work out their differences. There's
no Justice League without them
.
@BrennanKSR