BBN at the NBA Lottery's Wednesday Morning Wakeup
[caption id="" align="alignnone" width="600"]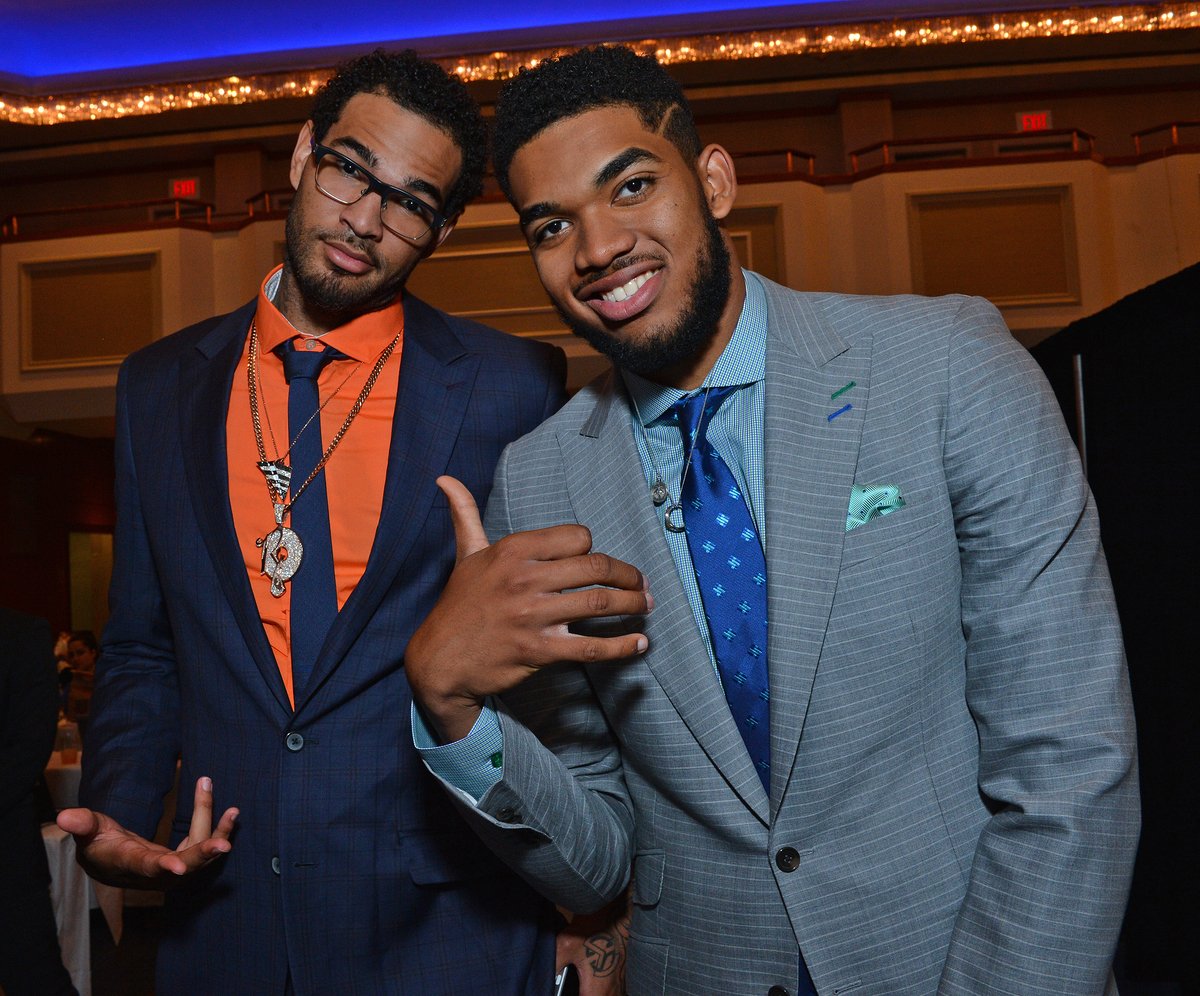 @Timberwolves[/caption] Most people tuned in to the NBA Draft Lottery to see if their team got the number one pick in next month's draft, but they were also treated to an infomercial for UK Basketball. Former Cats were all over the event, from newly minted Rookie of the Year Karl Towns, Devin Booker, and Willie Cauley-Stein representing their teams and Skal Labissiere and Jamal Murray walking the red carpet. Here are a few more pics from the occasion that have me smiling this morning: [caption id="" align="alignnone" width="1000"]
@NBA[/caption] [caption id="" align="alignnone" width="600"]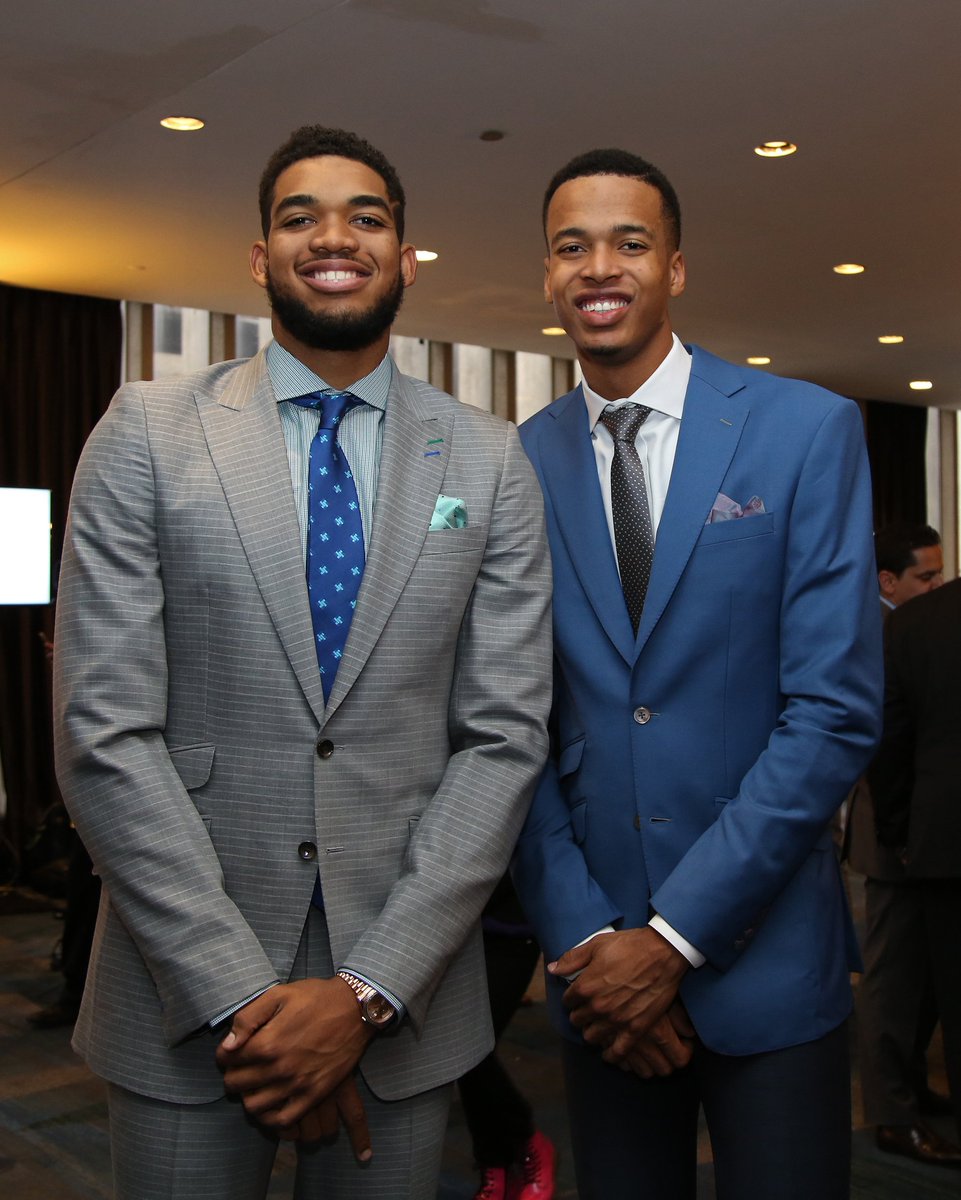 @Timberwolves[/caption] [caption id="" align="alignnone" width="600"]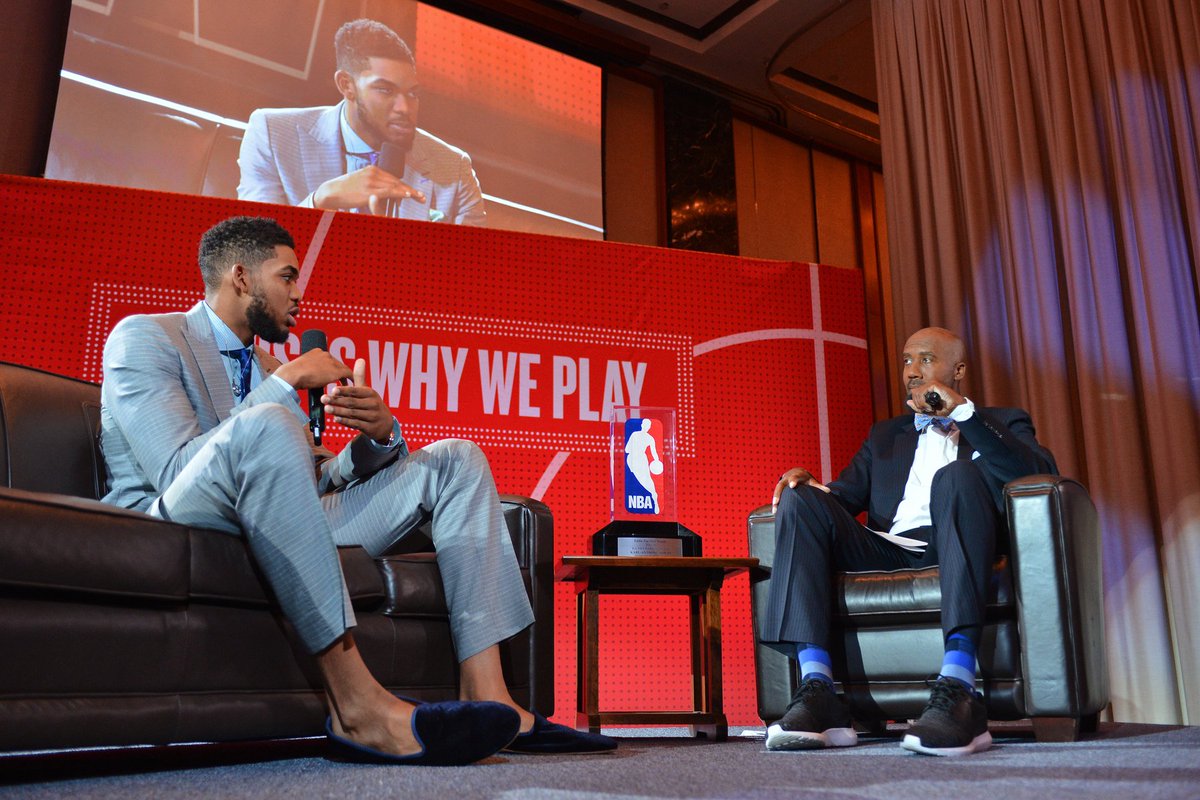 I mean, look at Karl's shoes. @Timberwolves[/caption] [caption id="" align="alignnone" width="1000"]
@NBA[/caption] Finally, this video of Devin Booker sharing his day with 16-year-old Suns fan Jenna Warren is yet another reminder of what great ambassadors these kids are for the program:
Take a look back at @DevinBook's day in NYC with his 16-year-old friend, Jenna, and her family. #SunsLotteryhttps://t.co/vRBqxe9l6u

– Phoenix Suns (@Suns) May 18, 2016
The actual lottery wasn't that exciting, with zero changes to the projected draft order: 1. Philadelphia 76ers 2. L.A. Lakers 3. Boston Celtics (via Brooklyn) 4. Phoenix Suns 5. Minnesota Timberwolves 6. New Orleans Pelicans 7. Denver Nuggets (via New York) 8. Sacramento Kings 9. Toronto Raptors (via Denver) 10. Milwaukee Bucks 11. Orlando Magic 12. Utah Jazz 13. Phoenix Suns (via Washington) 14. Chicago 15. Denver (via Houston) 16. Boston (via Dallas) 17. Memphis 18. Detroit 19. Denver (via Portland) 20. Indiana 21. Atlanta 22. Charlotte 23. Boston 24. Philadelphia (via Miami, via Cleveland) 25. L.A. Clippers 26. Philadelphia (via Oklahoma City, via Denver and Cleveland) 27. Toronto 28. Phoenix (via Cleveland, via Boston) 29. San Antonio 30. Golden State Chad Ford's first post-lottery mock has Jamal Murray going to the Boston Celtics, Skal Labissiere going to the Orlando Magic, and Tyler Ulis to the Nuggets. Mock Draft season gets real now, so expect lots of changes over the next month and a half. Here's what we have to look forward to in the Bluegrass...
Marques Bolden watch continues
Marques Bolden will finally tell us where he's headed to college tomorrow at 2:30 p.m. ET, but today actually marks the end of the Signing Period. As we've learned in the past, Bolden doesn't have to sign a letter of intent, but odds are he is today and sending it in prior to tomorrow's announcement. Hopefully, that means we'll hear some news leak out as the day goes on. If you like to read the tweet leaves, the official Kentucky Basketball Twitter account followed Bolden yesterday: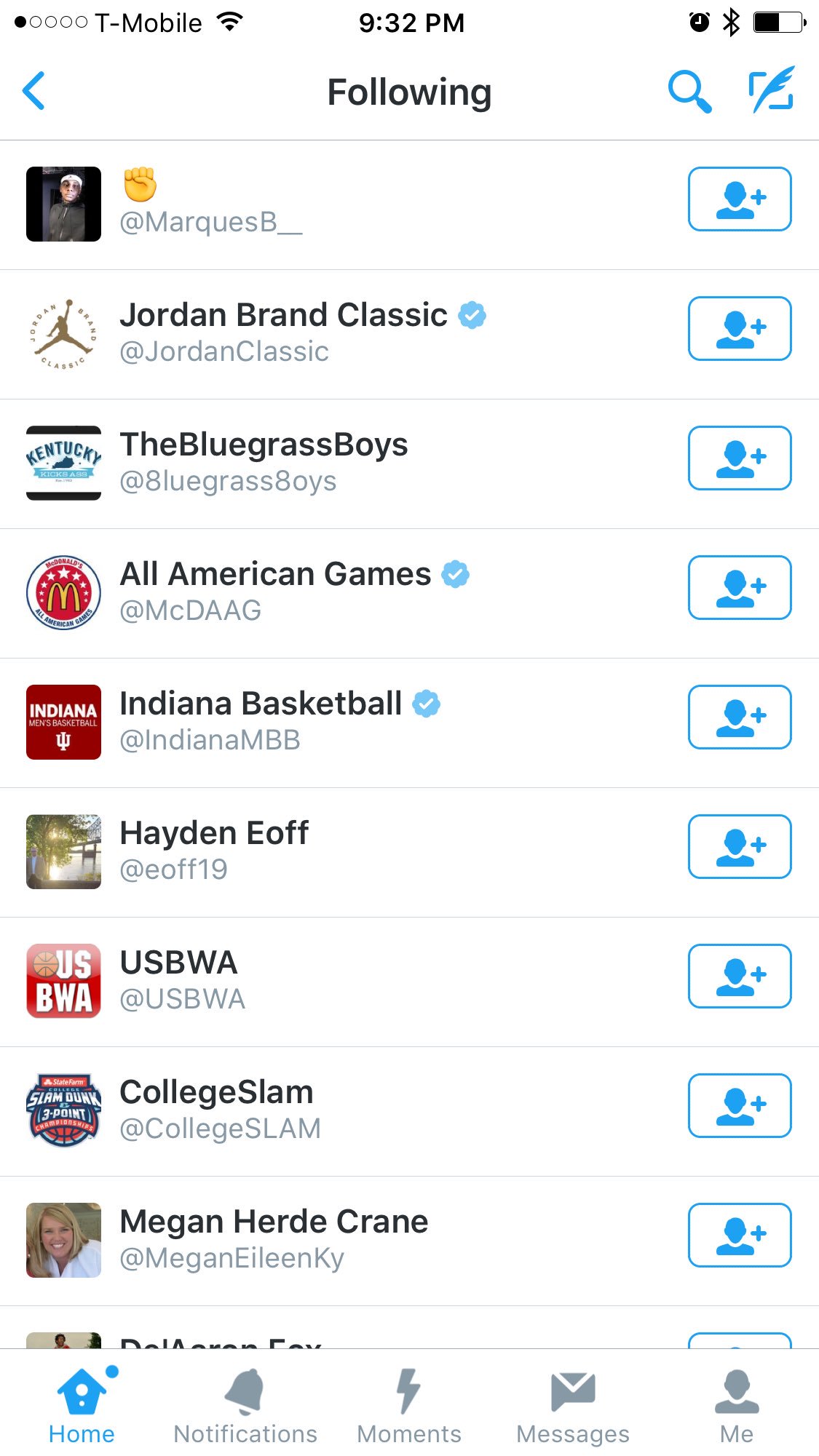 On Monday, they followed his Instagram account. What does it mean?????
I'm seriously bummed that "Nashville" wasn't renewed
I was in Vegas when I saw the news that ABC's "Nashville" had been canceled, and I'll be honest, I was pretty bummed. I started watching the show to see where they were filming around town (a lot of the locations are in my neighborhood), and slowly got hooked. Yes, it is totally a soap opera and the writing has been horrible this season, but something keeps bringing me back to it. Not only do I love Connie Britton, I really like some of the music, particularly the stuff by Gunnar and Scarlett's characters. Lionsgate is apparently shopping the show out to other networks, so hopefully it can find a home for at least one more season so I can keep indulging in my guilty pleasure. Speaking of guilty pleasures, I'm a fan of "Below Deck: Mediterranean" so far, although Danny's gotta be on the way out, right?
Hillary Clinton won Kentucky last night
It was a close Democratic Primary last night, but Hillary won, barely edging out Bernie Sanders. At the risk of starting some comments section fights, here's the county-by-county map: [caption id="" align="alignnone" width="599"]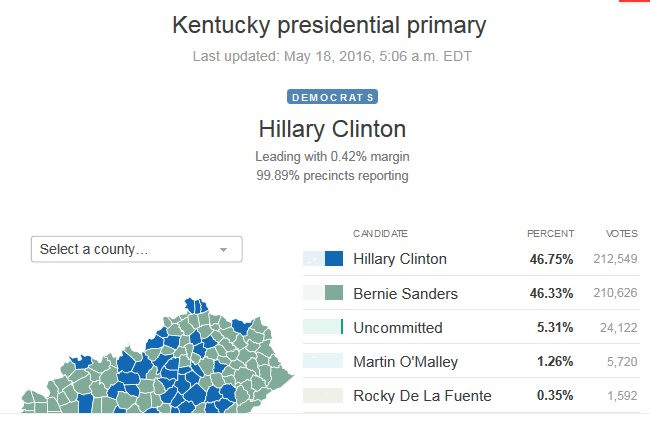 @heraldleader[/caption] In a race that I actually care about, congrats to our friend Gabe Pendleton, who will move on to run to keep his position as 43rd District Judge for Barren and Metcalfe Counties in November.
Game 2 of Warriors/Thunder is at 9 p.m.
The Thunder took Game 1 Monday night, but you know it will be hard to keep my man Steph Curry from going off. Tune in to TNT at 9 p.m. to see if Enes Kanter, his stache, and the Thunder can keep the momentum rolling.
KSR starts in an hour
Hopefully we'll have some Bolden scuttlebutt to discuss.