BBNBA: Anthony Davis and Lakers get back to winning ways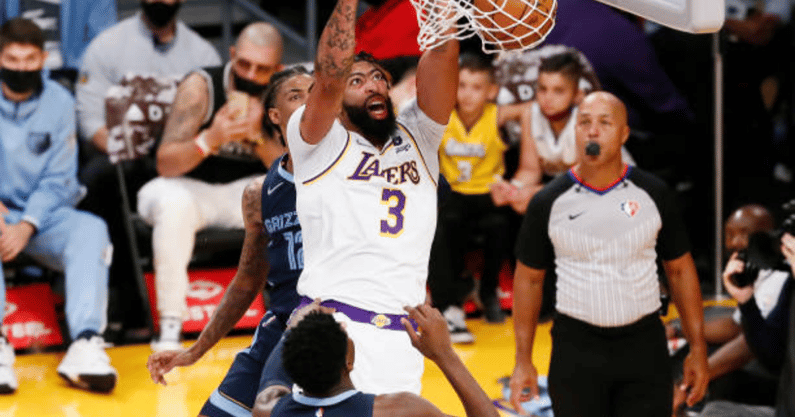 Sunday was the first time the NBA had to go up against the NFL this season. Football is king in this country, but there was still a decent amount of action on the court yesterday. So, let's take a look at how some of our former 'Cats did in the association last night.
Fighting your teammates might actually be good
Carmelo Anthony stole all the headlines last night, as he usually tends to enjoy doing, with his 28-point performance off the bench in the Lakers 121-118 win over the Grizzlies. Anthony Davis quietly had another efficient night, posting 22 points on 15 shots. Other than Melo, Anthony Davis put up the most points for the Lakers. If this is the formula for LA to keep getting wins, I like this, keep doing this.
Malik Monk is carving out a nice role for himself as one of the first people to come off the bench for Frank Vogel early into the season. Last night against the Grizzlies, Monk dropped in 12 points on 4-7 shooting in 21 points of action. Rajon Rondo didn't see action last night due to coaches decision, so that'll be something to monitor as well.
Shai Gilgeous-Alexander can't pull it out alone
Shai is the definition of a trooper. The point guard continues to go ball out for a franchise and a general manager who hordes first-round picks like they may save him from nuclear fallout. Gilgeous-Alexander dropped a 29 piece on 9-18 shooting; he did go 1-6 from three but we'll excuse that for early season conditioning. He was also pushing for a triple-double, dishing out eight assists and grabbing six boards in the process.
It's not ideal that Shai's best help right now is coming from a rookie. Josh Giddey actually had a pretty impressive night dropping 19 points, eight rebounds and seven assists on 8-13 shooting. Other than that, there really isn't much else that Gilgeous-Alexander can hang on to in the 115-103 loss.
So instead, he was forced to attack and embarrass another former 'Cat. Tyrese Maxey had a pretty pedestrian night in the 76ers win. He dropped in 14 points, but it was on an inefficient 4-13 shooting and only dished out two assists. He's still getting starter minutes though, which is all that matters at this point.
Knicks falter at the Garden
The Kentucky Knicks might have been riding the high of a 30 point win a little too strong this weekend. After whopping the Magic on Friday night down in Florida, they came back flat and took a 110-104 loss at home.
While Julius Randle didn't have a great night shooting, he was still able to stuff the stat sheet. The quasi point forward had 30 points and 16 rebounds on 8-24 shooting, 2-10 from deep. It's nothing to worry about though–Julius will have these off nights every once in a while.
Immanuel Quickley struggled off the bench, missing all of his shots en route to a 0 in the scorebook. Nerlens Noel still is out due to a sore left knee, and Kevin Knox went back to sitting on the bench for the entirety of the contest.
Take a look at how all of the former 'Cats fared last night:
| | | | | | | | | | | |
| --- | --- | --- | --- | --- | --- | --- | --- | --- | --- | --- |
| Player | Results | Points | FG (3PA) | Rebounds | Assists | Steals | Blocks | TOs | Mins | +/- |
| Anthony Davis (LAL) | 121-118 W vs. MEM | 22 | 8-15 (1-3) | 8 | 2 | 0 | 4 | 3 | 34 | -8 |
| Malik Monk (LAL) | 121-118 W vs. MEM | 12 | 4-7 (2-3) | 2 | 4 | 1 | 0 | 0 | 21 | 19 |
| Julius Randle (NYK) | 110-104 L vs. ORL | 30 | 8-24 (2-10) | 16 | 3 | 2 | 4 | 2 | 38 | -1 |
| Immanuel Quickley (NYK) | 110-104 L vs. ORL | 0 | 0-4 (0-2) | 2 | 1 | 0 | 0 | 0 | 12 | -2 |
| P.J. Washington (CHA) | 111-95 W @ BKN | 5 | 2-7 (1-5) | 6 | 1 | 2 | 0 | 2 | 26 | 15 |
| Nick Richards (CHA) | 111-95 W @ BKN | 0 | 0-0 | 0 | 0 | 0 | 0 | 0 | 1 | 0 |
| De'Aaron Fox (SAC) | 119-107 L vs. GSW | 17 | 8-16 (1-6) | 5 | 6 | 0 | 0 | 7 | 34 | -11 |
| Shai Gilgeous-Alexander (OKC) | 115-103 L vs. PHI | 29 | 9-19 (1-6) | 6 | 8 | 1 | 1 | 2 | 39 | 1 |
| Tyrese Maxey (PHI) | 115-103 W @ OKC | 14 | 4-13 (0-4) | 5 | 2 | 0 | 1 | 3 | 34 | -3 |
Today in the NBA
7:00: Bucks @ Pacers (Jackson)
7:00: Celtics (Kanter) @ Hornets (Washington, Richards)
7:30: Magic @ Heat (Herro, Adebayo)
7:30: Pistons (Diallo, Lyles) @ Hawks
8:00: Pelicans @ Timberwolves (Towns, Vanderbilt)
10:30: Trail Blazers @ Clippers (Bledsoe)