BBNBA: Anthony Davis & Karl-Anthony Towns both go for 31 in losses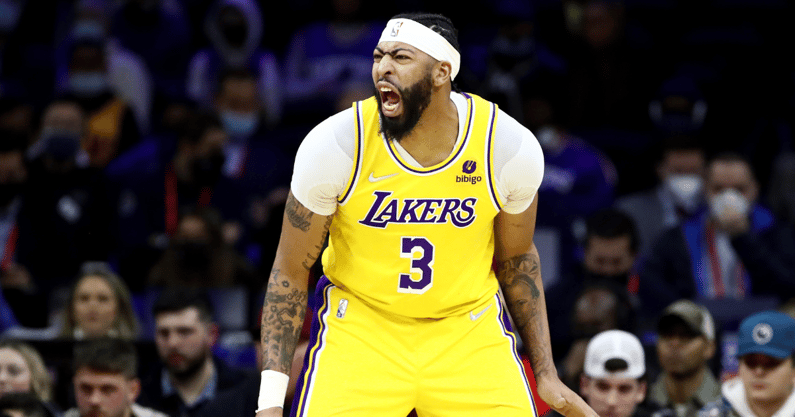 Only two NBA games last night, but both featured several former 'Cats and a pair of solid performances from UK big men. Let's chat.
AD is all the way back
After missing a month due to an MCL injury, Anthony Davis returned against Brooklyn the other day but only played 24 minutes and scored eight points.
Last night against Philly, the All-NBA forward looked like his true self. Davis carried the load in another poor Lakers performance, scoring 31 points on 66% shooting. AD also swatted four shots and hauled in 12 rebounds in the loss to outmatch Joel Embiid across the board. But the rest of LA, which was without LeBron James, failed to help Davis and managed just 56 total points in the 105-87 loss.
Pathetic offensive showing, but credit the Philly defense, which is always one of the best in the NBA with Embiid as its anchor. Tyrese Maxey not only played solid defense, but he also scored 14 points, dished out 10 assists, corralled seven boards and even blocked a pair of shots.
Look, Maxey is no Ben Simmons. Although he does offer a lot of the traits Simmons brought to the court: perimeter defense, ballhandling, the ability to drive the lane and pass to open shooters. While Philly is at an impasse with their All-Star point-forward, Maxey is plugging in and playing well wherever the Sixers need him.
T-Wolves fall despite big night from Towns
Karl-Anthony Towns may have lost the game last night, but he showed the deranged NBA All-Star voters who really deserved that other frontcourt starting spot in the West next to LeBron James and Nikola Jokic.
In case you're unaware, Towns' former teammate Andrew Wiggins, now a Golden State Warrior, was awarded a starting spot in the All-Star game next month, despite a fairly large discrepancy in statistical profiles between the two.
Utter disrespect from the voting body to include Wiggins over Towns. So KAT decided to show Wiggins up last night with 31 points, 12 rebounds and six assists with above 50% shooting from the field — business as usual for the uber-talented center. Business as usual also for Andre Wiggins, who failed to score 20 points as one of the many foot soldiers in the shadow of Steph Curry out in San Fran.
Golden State went on to win the game, but I'll say KAT won the night by proving his superiority over Wiggins. It probably doesn't matter, though. The folks who voted Andrew Wiggins as an All-Star starter most likely don't spend any time watching the actual games.
Statistics
Player
Result
Points
FG(3PA)
Rebounds
Assists
Steals
Blocks
Turnovers
Minutes
+/-
Anthony Davis (LAL)
105-87 L @ PHI
31
14-21
(0-1)
12
1
2
4
3
34
-7
Karl-Anthony Towns (MIN)
124-115 L @ GSW
31
12-22
(2-6)
12
6
2
0
2
36
-16
Tyrese Maxey (PHI)
105-87 W vs. LAL
14
5-14
(2-6)
7
10
0
2
2
39
+27
Malik Monk (LAL)
105-87 L @ PHI
11
3-13
(1-6)
4
5
2
0
3
31
-8
Jarred Vanderbilt (MIN)
124-115 L @ GSW
9
3-4
(0-0)
8
1
3
0
0
30
-12
Today in the NBA
7:00 p.m. Pistons (Lyles, Diallo) @ Magic
7:00 p.m. Celtics (Freedom) @ Hawks
7:30 p.m. (ESPN) Lakers (Davis, Monk) @ Hornets (Washington, Richards)
8:00 p.m. Nuggets (Cousins) @ Pelicans
8:00 p.m. Clippers (Boston, Bledsoe) @ Heat (Herro, Adebayo)
8:00 p.m. Trail Blazers @ Rockets
8:00 p.m. Jazz @ Grizzlies
8:00 p.m. Pacers (Jackson) @ Thunder (Gilgeous-Alexander)
8:30 p.m. Bulls @ Spurs (Johnson)
9:00 p.m. Timberwolves (Towns, Vanderbilt) @ Suns (Booker)
10:00 p.m. (ESPN) Knicks (Randle, Quickley, Noel) @ Bucks