BBNBA: Bam Adebayo forced to eat own words; Heat drop Game 2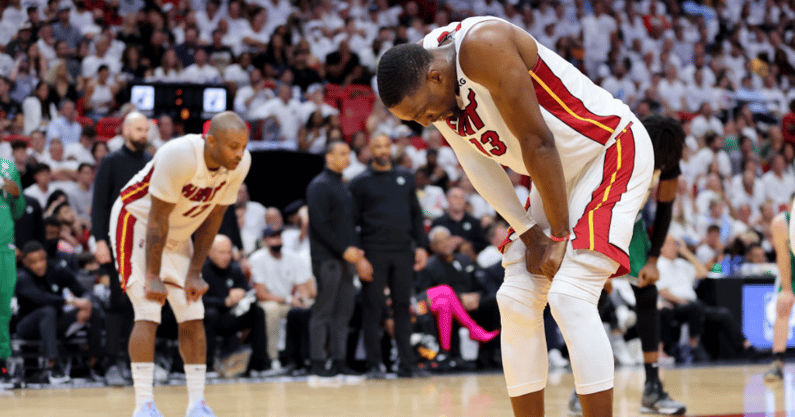 Bam Adebayo and Tyler Herro had impressive performances in Game 1 of the Eastern Conference Finals Tuesday night that left them both flexing in the postgame press conference. But before Bam rolled up his sleeves at that presser, he talked about what changed for the Miami Heat and led to their dominant third quarter:
"I feel like our energy shifted. That was the biggest key. Our energy shifted. We started getting stops on defense and running, getting in transition and the crowd got into it."
That quote may sound innocent enough on its surface, but those steeped in the sump of NBA Twitter know that it was a clear jab toward the Boston Celtics.
Back in late January, Jaylen Brown tweeted, "The energy is about to shift," and for the Celtics, shift it did. Boston got hot right after this proclamation and since then, all things "energy shift" has been a battle cry for Celtics fans.
Bam mocking this and thus giving Jayson Tatum and company bulletin board material might not have been the smartest move in the world. This proved true on Thursday night when the Celtics routed Adebayo and the Heat 127-102 to even the series 1-1.
Bam Adebayo and Tyler Herro struggle
Jimmy Butler put up his usual big numbers, tallying 29 points for the Heat, but former 'Cats Adebayo and Herro never got going.
After a stellar defensive performance in Game 1 that saw Bam Adebayo rack up four blocks including a highlight-reel worthy one, he failed to record a single block or steal in Game 2. He finished with just six points, nine rebounds, and two assists.
Herro didn't do much better. He finished with 11 points, three assists, and one rebound, but he led his team in the +/- category with a total of -33. Say what you want about how meaningful that stat may or may not be, but when your team has a 33-point deficit while you're on the floor, that, well, isn't great.
The Celtics, on the other hand, had three players score more than 20 points (Tatum, Brown, and Smart) and Grant Williams, another former SEC Kentucky foe playing well for the Celtics alongside Al Horford, had 19.
On a positive note, Jayson Tatum's son, Deuce, might not be a big Tennessee fan, himself. When Williams went around the locker room giving out fist bumps, little Deuce straight up left him hanging. Tatum might be a Dukie, but you have to give respect to his son for his baller move.
After the game, Bam kept his sleeves rolled down and sounded a little more humble: "They came out and hit us in the mouth and we didn't know how to respond."
The Heat have a chance to shift the energy back in their direction in Game 3 in Boston on Saturday.
Results and Upcoming Playoff Schedule
(2) Boston Celtics 127 @ (1) Miami Heat 102 | Series tied 1-1

Western Conference Finals
(4) Mavericks vs. (3) Warriors
• TONIGHT: Game 2: Dallas vs. Golden State | Friday, May 20 | 9 ET | TNT
• Game 3: Golden State vs. Dallas | Sunday, May 22 | 9 ET | TNT
• Game 4: Golden State vs. Dallas | Tuesday, May 24 | 9 ET | TNT
• Game 5*: Dallas vs. Golden State | Thursday, May 26 | 9 ET | TNT
• Game 6*: Golden State vs. Dallas | Saturday, May 28 | 9 ET | TNT
• Game 7*: Dallas vs. Golden State | Monday, May 30 | 8 ET | TNT
* if necessary
Eastern Conference Finals
(2) Celtics vs. (1) Heat (Adebayo, Herro)
• Game 3: Miami vs. Boston | Saturday, May 21 | 8:30 ET | ABC
• Game 4: Miami vs. Boston | Monday, May 23 | 8:30 ET | ABC
• Game 5: Boston vs. Miami | Wednesday, May 25 | 8:30 ET | ESPN
• Game 6*: Miami vs. Boston | Friday, May 27 | 8:30 ET | ESPN
• Game 7*: Boston vs. Miami | Sunday, May 29 | 8:30 ET | ESPN
* if necessary