BBNBA: Bam Adebayo, Tyler Herro flex and help Heat to Game 1 win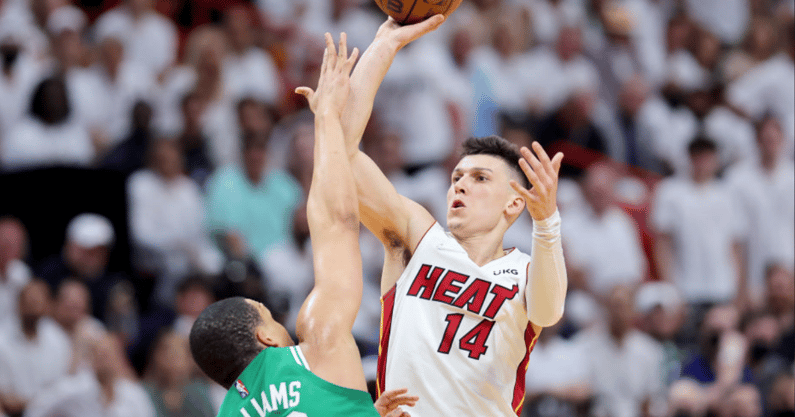 Ever since Luka sledgehammered the Phoenix Suns and Devin Booker out of the playoffs, Kentucky fans have only the Miami Heat (with Bam Adebayo, Tyler Herro, and Mychal Mulder) left to cheer on in the NBA playoffs. The Heat took on a short-handed Boston Celtics in Game 1 of the Eastern Conference Finals Tuesday night, with Marcus Smart out with a foot sprain and Al "I can't believe that dude who played at Florida millions of years ago and is still good in the NBA" Horford out in the league's health and safety protocols.
The game got off to a slow start for the Miami Heat when Boston Celtics jumped out to an early lead in the first quarter. But that's when NBA 6th Man of the Year, Tyler Herro entered the chat.
Herro hit a quick 3-pointer followed by a string of floaters which led to 15 points in the first half. His playmaking kept the Heat within striking distance at halftime, only down eight when it could have easily been much worse.
In the third quarter, it was Bam Adebayo's turn to take over, but with his defense. He anchored the middle of what was an incredible team defensive performance that didn't allow the Celtics to make a field goal for the first seven minutes of the third quarter.
Bam also gave everyone a case of deju vu when he came up with yet another insane block on Jaylen Brown because that's simply what Bam does against the Celtics in the playoffs. Adebayo finished with four of the Heat's 10 blocks on the night, earning praise from Kyle Kuzma on Twitter who said, "Bam is phenomenal defensively."
Jimmy Butler's 41 points helped too, and the Miami Heat took the 1-0 series lead over the Celtics.
Bam Adebayo and Tyler Herro's Postgame Gun Show
After the game, Tyler Herro showed up fashionably late to the press conference where Bam Adebayo was already seated. Herro walked in wearing a cut-off shirt, a hat, and sunglasses which caused Bam to burst out laughing. Herro couldn't hold back either.
Adebayo subsequently rolled up his sleeves too and the two giggled like school children throughout the rest of the press conference, taking turns flexing and handing out two tickets to their gun show.
Results and Stats
(2) Boston Celtics 107 @ (1) Miami Heat 118 | Miami leads series 1-0

Bam Adebayo finished with 10 points, four rebounds, and a monstrous four blocks while Tyler Herro tallied 18 points, eight rebounds, and four assists.
Upcoming NBA Games
Western Conference Finals
(4) Mavericks vs. (3) Warriors
• TONIGHT: Game 1: Dallas vs. Golden State | 9 ET | TNT
• Game 2: Dallas vs. Golden State | Friday, May 20 | 9 ET | TNT
• Game 3: Golden State vs. Dallas | Sunday, May 22 | 9 ET | TNT
• Game 4: Golden State vs. Dallas | Tuesday, May 24 | 9 ET | TNT
• Game 5*: Dallas vs. Golden State | Thursday, May 26 | 9 ET | TNT
• Game 6*: Golden State vs. Dallas | Saturday, May 28 | 9 ET | TNT
• Game 7*: Dallas vs. Golden State | Monday, May 30 | 8 ET | TNT
* if necessary
Eastern Conference Finals
(2) Celtics vs. (1) Heat (Adebayo, Herro)
• Game 2: Boston vs. Miami | Thursday, May 19 | 8:30 ET | ESPN
• Game 3: Miami vs. Boston | Saturday, May 21 | 8:30 ET | ABC
• Game 4: Miami vs. Boston | Monday, May 23 | 8:30 ET | ABC
• Game 5*: Boston vs. Miami | Wednesday, May 25 | 8:30 ET | ESPN
• Game 6*: Miami vs. Boston | Friday, May 27 | 8:30 ET | ESPN
• Game 7*: Boston vs. Miami | Sunday, May 29 | 8:30 ET | ESPN
* if necessary