BBNBA: Booker leads hot Suns team to 14th straight win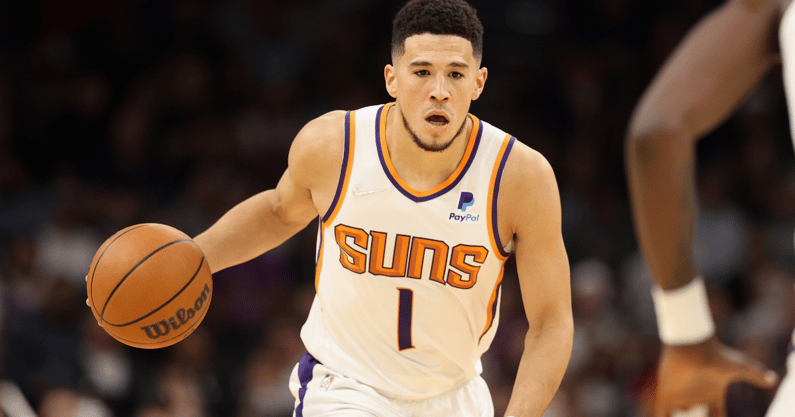 Happy Thanksgiving, BBN! Last night was another exciting NBA Wednesday. Before you take that post-turkey nap, let's talk about it.
Suns post 14th straight W
The Phoenix Suns are hot–pun intended. Last night, they sealed their 14th straight victory with a 120-115 win over the Cavaliers in Cleveland.
Former Wildcat Devin Booker is having an impressive start to his season. Booker has led the Suns in scoring in nine of their last 14 games, averaging 22.4 points per game (17th in the NBA). Last night, Booker led the way with 35 points, four rebounds and three assists. He shot 66.7% from the field and from three.
Veteran point guard Chris Paul added 17 points and 12 rebounds of his own, pushing the Suns past a scrappy Cavs team. Paul, 36, currently leads the NBA in assists per game this season at 10.3. The win marked Suns head coach Monty Williams' 100th win in The Valley. His team will travel to Madison Square Garden to face the Knicks on Friday in hopes of extending their streak.
LeBron leads Lakers in return from suspension
LeBron James made a statement in his return from his one-game suspension. James, who was suspended for striking Pistons center Isaiah Stewart in the face on Sunday, netted 39 points in L.A.'s OT win over the Pacers last night, to go along with five rebounds, six assists, one steal and two blocks. Six of those 39 points came at the most crucial point in the game. James hit back-to-back three-pointers in overtime, giving his team the lead.
Former Wildcat Malik Monk did his part as well. Monk ended just shy of a double-double with 17 points and eight rebounds. After the game, Monk emphasized how thankful he was to get to play with LeBron, "the Jordan of our generation," as he called him.
Despite the loss, Indiana looked good. Malcolm Brogdon led with 28 points. Each of the Pacers starting five scored in double digits, as well as two players off the bench. The Pacers led the whole game until 4:35 left in regulation, when Monk hit a go-ahead three to take the lead.
Kings hold on to win after Fox ejection
This was a chippy one, featuring six technicals and two player ejections. In the end, though, the Sacramento Kings held on to beat the Trail Blazers 125-121 at home just days after firing head coach Luke Walton.
Former 'Cat De'Aaron Fox was on fire early last night. The point guard had 19 points and five assists at the half, but struggled in the last two quarters. Fox scored only two more points before being ejected midway through the fourth quarter after back-to-back technicals. Fortunately enough for the Kings, the rest of the team was able to step up in. his absence. Buddy Hield and Davion Mitchell had 22 and 16 points respectively, and Marvin Bagley II hit a clutch three-pointer with half a minute remaining to seal the win.
Fox has been under some fire for his sluggish start to the season. He posted really impressive numbers last season, but looks to have regressed a bit. His scoring average is sitting at 19.9 now compared to 25.2 last year – but that's not the only thing. He's shooting just 42.1% overall and 24.4% from three-point range.
Full stats from last night's NBA games:
| | | | | | | | | | | |
| --- | --- | --- | --- | --- | --- | --- | --- | --- | --- | --- |
| Player | Result | Points | FG (3P) | Reb. | Ast. | Stl. | Blk. | TO. | +/- | Min. |
| Devin Booker (PHX) | 120-115 W over Cavaliers | 35 | 14-21 (2-3) | 4 | 3 | 1 | 0 | 4 | -2 | 39 |
| De'Aaron Fox (SAC) | 125-121 W over Trail Blazers | 21 | 8-13 (1-3) | 2 | 6 | 1 | 0 | 5 | +5 | 27 |
| Tyrese Maxey (PHI) | 116-96 L to Warriors | 19 | 5-15 (0-1) | 3 | 5 | 0 | 1 | 2 | -9 | 33 |
| Trey Lyles (DET) | 114-93 L to Bucks | 19 | 7-15 (2-8) | 7 | 0 | 0 | 0 | 1 | +3 | 23 |
| Bam Adebayo (MIA) | 113-101 L to Timberwolves | 18 | 7-10 | 5 | 3 | 1 | 0 | 4 | -8 | 36 |
| Malik Monk (LAL) | 124-116 W over Pacers (OT) | 17 | 6-11 (3-6) | 8 | 1 | 1 | 0 | 2 | +15 | 34 |
| Tyler Herro (MIA) | 113-101 L to Timberwolves | 16 | 5-18 (4-11) | 7 | 2 | 0 | 1 | 5 | -9 | 34 |
| Keldon Johnson (SA) | 124-106 L to Hawks | 15 | 6-13 (2-4) | 4 | 1 | 1 | 0 | 1 | -22 | 35 |
| Karl Anthony-Towns (MIN) | 113-101 W over Heat | 11 | 4-12 (1-5) | 6 | 4 | 0 | 2 | 2 | +21 | 29 |
| Jarred Vanderbilt (MIN) | 113-101 W over Heat | 8 | 2-3 | 15 | 3 | 4 | 0 | 1 | +8 | 25 |
| Enes Kanter (BOS) | 123-104 L to Nets | 7 | 2-3 | 5 | 0 | 0 | 2 | 0 | -8 | 7 |
| Mychal Mulder (ORL) | 106-99 L to Hornets | 6 | 2-8 (2-7) | 1 | 0 | 0 | 0 | 0 | -20 | 24 |
| Hamidou Diallo (DET) | 114-93 L to Bucks | 6 | 3-6 | 5 | 0 | 1 | 1 | 0 | -10 | 20 |
| Nick Richards (CHA) | 106-99 W over Magic | 2 | 1-1 | 3 | 0 | 0 | 2 | 1 | +1 | 7 |
| PJ Washington | 106-99 W over Magic | 0 | 0-2 (0-1) | 1 | 0 | 0 | 1 | 1 | +2 | 6 |