BBNBA: Clippers outlast Anthony Davis, Malik Monk and the Lakers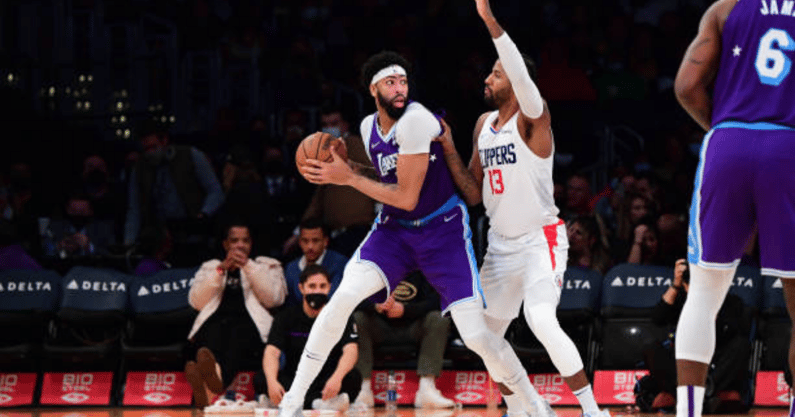 Action from some of our former Wildcats is a little down right now due to some nagging injuries our guys are having. Meanwhile, we still have more than enough news from former 'Cats still able to go at it. Let's dive in
Davis and Monk combine for 47 in the loss
The Lakers-Clippers rivalry has kind of lost its juice over the past couple years. The Clippers have been a massive disappointment ever since they courted away Kawhi and Paul George from their respective franchises. The Lakers have been a mystery to understand ever since Anthony Davis and LeBron won the bubble ring.
With Kawhi is still watching games from the box suited above the arena and the Lakers middling around as an average team, last night's 119-115 win for the Clippers just doesn't move the needle like it should.
Anthony Davis again led the Lakers in scoring. AD put up 27 points, ten boards and four assists on 10-15 shooting. His woes from deep continued as he missed both attempts from three.
The best thing the Lakers did all offseason was somehow getting Malik Monk to agree to a veteran's minimum contract. Monk is averaging ten points and two assists on 24 minutes of action off the bench. Last night, Malik went for 20 points with a 4-8 mark from deep. Monk's presence off the bench is going to be vital if this Lakers team, sitting at 12-12 now, ever figures things out before it's too late.
Herro adds 18 in complimentary win for the Heat
Even while still missing Bam Adebayo, Jimmy Butler, and Victor Oladipo due to various ailments, the Heat still put together a complete performance in the 113-104 win over the Pacers. Kyle Lowry and Duncan Robinson led the charge for Miami with 26 and 24 points respectively.
Tyler Herro added 18 points on 7-16 shooting, but with a 3-4 line from deep. Putting up just under his average of 21.6 points per game, Herro is back to being a bucket for Miami, who is looking like a legit contender once again. Even with the injuries. And look, Tyler even has some fans copying him.
| | | | | | | | | | | |
| --- | --- | --- | --- | --- | --- | --- | --- | --- | --- | --- |
| Player | Result | Points | FG (3PA) | Rebounds | Assists | Steals | Blocks | TOs | Mins | +/- |
| Anthony Davis (LAL) | 119-115 L vs. LAC | 27 | 10-15 (0-2) | 12 | 4 | 1 | 1 | 2 | 36 | -9 |
| Malik Monk (LAL) | 119-115 L vs. LAC | 20 | 8-15 (4-8) | 4 | 2 | 2 | 0 | 1 | 29 | 0 |
| Tyler Herro (MIA) | 113-104 W @ IND | 18 | 7-16 (3-4) | 5 | 1 | 1 | 0 | 2 | 34 | -2 |
| Tyrese Maxey (PHI) | 98-96 W @ ATL | 11 | 4-10 (0-1) | 3 | 5 | 1 | 1 | 0 | 33 | 4 |
| Jarred Vanderbilt (MIN) | 110-105 L @ BKN | 10 | 5-8 | 15 | 3 | 1 | 1 | 1 | 30 | 3 |
| Eric Bledsoe (LAC) | 119-115 W @ LAL | 8 | 2-3 | 1 | 4 | 0 | 0 | 1 | 18 | -6 |
| B.J. Boston (LAC) | 119-115 W @ LAL | 2 | 0-1 | 0 | 0 | 0 | 0 | 1 | 7 | -4 |
| Mychal Mulder (ORL) | 118-116 L @ HOU | 0 | 0-1 (0-1) | 1 | 0 | 0 | 0 | 0 | 6 | -6 |
| Enes Freedom (BOS) | 137-130 L @ UTA | 0 | 0-1 | 1 | 0 | 0 | 0 | 0 | 3 | -1 |
| Rajon Rondo (LAL) | 119-115 L vs. LAC | DNP _ Coach's Decision | – | – | – | – | – | – | – | – |
| Isaiah Jackson (IND) | 113-104 L vs. MIA | DNP – Coach's Decision | – | – | – | – | – | – | – | – |
| Bam Adebayo (MIA) | 113-104 W @ IND | DNP – Thumb | – | – | – | – | – | – | – | – |
| Karl-Anthony Towns (MIN) | 110-105 L @ BKN | DNP – Back | – | – | – | – | – | – | – | – |
| Willie Cauley-Stein (DAL) | 107-91 L vs. NOP | DNP – Personal | – | – | – | – | – | – | – | – |
| Devin Booker (PHX) | 118-96 L @ GSW | DNP – Hamstring | – | – | – | – | – | – | – | – |
Tonight in the NBA
1:00: Nuggets (Murray – out) @ Knicks (Randle, Quickley, Noel, Knox)
8:00: Bulls @ Nets
8:00: Heat (Adebayo – out, Herro) @ Bucks
8:30: Grizzlies @ Mavericks (Cauley-Stein – out)
8:30: Spurs (Johnson) @ Warriors
10:00 Celtics (Freedom) @ Trail Blazers
10:00: Clippers (Bledsoe, Boston) @ Kings (Fox)