BBNBA: Devin Booker, Suns burn out in Phoenix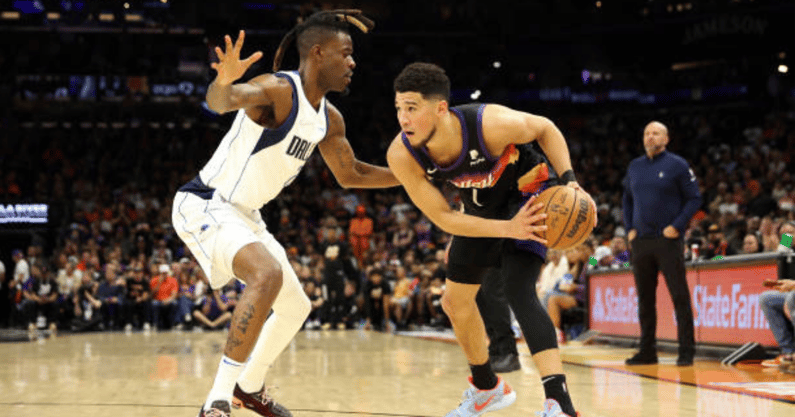 In a complete stunner, Devin Booker and the Phoenix Suns essentially no-showed their Game 7 against the Mavericks and were boat raced from the jump. Let's take a closer look at how the disaster happened.
Sunday's Results
(4) Mavericks 123 @ (1) Suns 90 | DAL wins series 4-3
(3) Bucks @ (2) Celtics 109 | BOS wins series 4-3
Booker and Paul no show game seven
Sunday's performance was just so unlike any other we've seen from the Suns over the past couple of seasons. Being at home for a do-or-die playoff game should give you some sort of advantage, right?
Guess not, as the Suns never even had a chance in the contest. They're scoring was abysmal, tallying up a whole 27 points at the half. They did put up a 40-point quarter in the fourth, but the game was way out of hand at that point.
Devin Booker might've had the worst playoff performance of his young career so far. The star guard went 3-14 on the night from the field with a 0-4 mark from deep, finishing with 11 points. His playmaking wasn't there either, only picking up two assists on the night.
It's not all that shocking to see Chris Paul in the middle of another collapse, the guy has made a career off of losing Game 7s at this point, no matter who the ref is. Paul just wasn't all that involved, only throwing up eight shot attempts and dishing four assists.
Everything will be fine in Phoenix, they'll still be a wagon come next season. For now though, it's going to be a long summer in the desert.
Conference Finals have been set
Eastern Conference Finals
(2) Celtics vs. (1) Heat (Adebayo, Herro)
• Game 1: Boston vs. Miami | Tuesday, May 17 | 8:30 ET | ESPN
• Game 2: Boston vs. Miami | Thursday, May 19 | 8:30 ET | ESPN
• Game 3: Miami vs. Boston | Saturday, May 21 | 8:30 ET | ABC
• Game 4: Miami vs. Boston | Monday, May 23 | 8:30 ET | ABC
• Game 5*: Boston vs. Miami | Wednesday, May 25 | 8:30 ET | ESPN
• Game 6*: Miami vs. Boston | Friday, May 27 | 8:30 ET | ESPN
• Game 7*: Boston vs. Miami | Sunday, May 29 | 8:30 ET | ESPN
* if necessary
Western Conference Finals
(4) Mavericks vs. (3) Warriors
• Game 1: Dallas vs. Golden State | Wednesday, May 18 | 9 ET | TNT
• Game 2: Dallas vs. Golden State | Friday, May 20 | 9 ET | TNT
• Game 3: Golden State vs. Dallas | Sunday, May 22 | 9 ET | TNT
• Game 4: Golden State vs. Dallas | Tuesday, May 24 | 9 ET | TNT
• Game 5*: Dallas vs. Golden State | Thursday, May 26 | 9 ET | TNT
• Game 6*: Golden State vs. Dallas | Saturday, May 28 | 9 ET | TNT
• Game 7*: Dallas vs. Golden State | Monday, May 30 | 8 ET | TNT
* if necessary