BBNBA Finals: Jamal Murray's explosive first-half powers Nuggets to Game 1 win
The Denver Nuggets hadn't played a game since May 22 until Thursday night, but there was no sign of rust from the franchise looking to win its first world championship. Behind 18 first-half points from former Kentucky guard Jamal Murray, Denver blitzed the Miami Heat in Game 1 of the 2023 NBA Finals by a score of 104-93.
The Nuggets' 11-point win doesn't tell the whole story though. Denver came out firing on all cylinders playing in the altitude of the Mile High City, preserving their still-perfect unbeaten streak at home throughout these playoffs (9-0). The Nuggets took a nine-point lead after the opening quarter before Murray got rolling in the second. By halftime, Denver already held a commanding 17-point advantage.
The Heat, which had just two days of rest since beating the Boston Celtics in a thrilling seven-game series, appeared to run out of gas in the opening minutes. Miami had won all three of its Game 1 opportunities (on the road, to boot) until Thursday night. It wasn't until the fourth quarter — with Denver leading by 21 — that the Heat finally showed some life.
But it was too little and far too late. The Nuggets were simply too deep and too focused from the opening tip to the final buzzer. This team is in a serious groove with just three wins separating them from an NBA title.
"I think that's what the beauty of this team is," Murray said postgame. "We have so many different weapons and so many different looks. You've got to guard everybody… Free-flowing, and it's a lot of fun."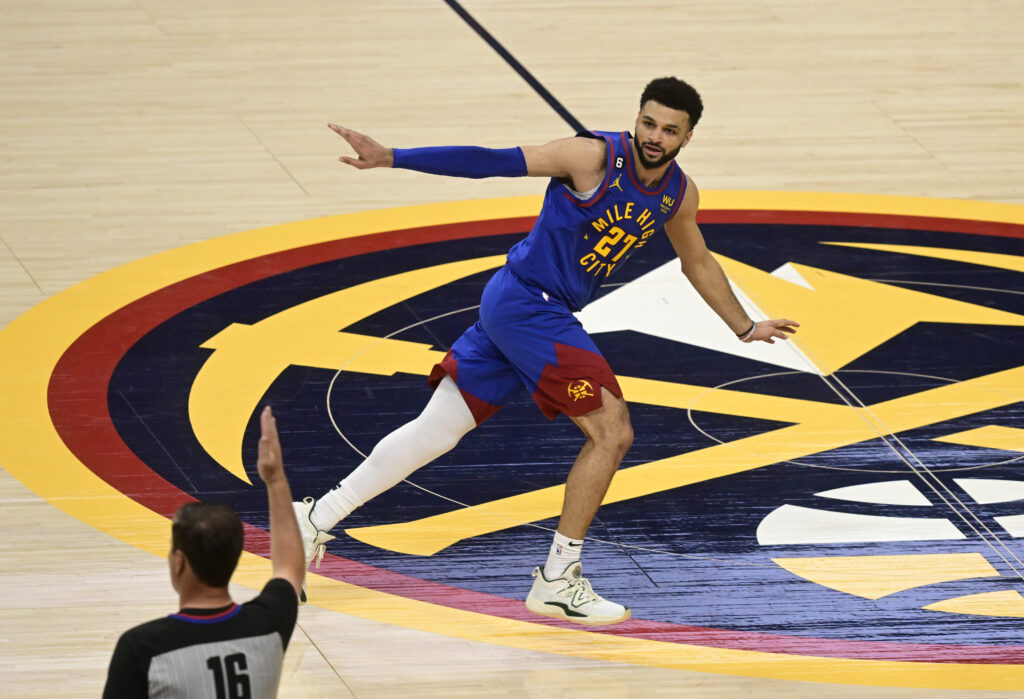 Murray finished with 26 points in his NBA Finals debut, chipping in six rebounds and 10 assists for a double-double performance. He played a team-high 44 minutes while shooting 11-22 from the floor overall and 2-7 from beyond the arc. Not to be outdone, two-time MVP Nikola Jokic went for his ninth triple-double of the playoffs so far, recording 27 points, 10 rebounds, and 14 assists (10 of his dimes coming before the half).
We're witnessing a historic postseason run from the tag-team duo of Murray and Jokic.
For Miami, former Wildcat center Bam Adebayo played one of his best games of the postseason so far, registering 26 points, 13 rebounds, and five assists in 40 minutes of action. He made 13 of his career-high 25 shot attempts but didn't receive nearly enough help from his teammates. Jimmy Butler added 13 points, seven rebounds, and seven assists on 6-14 shooting while Gabe Vincent was the Heat's second-leading scorer with 19 points on five made triples. Caleb Martin and Max Strus combined to shoot 1-17 overall.
The Heat went just 2-2 from the free-throw line, the fewest attempts in an NBA Finals game in league history. Meanwhile, Denver went 16-20 from the stripe. As for some potential good news in regards to Miami, shooting guard Tyler Herro is inching closer to a return. ESPN's Adrian Wojnarowski reported ahead of Game 1 that Herro could return as soon as Game 2. If not then, Herro is likely to make his return in Game 3 next week. He's been sidelined since April 16 with a broken shooting hand. Miami sure could use his scoring right now.
Game 2 is set for Sunday night back at Ball Arena.
NBA Finals schedule
• Game 1: Nuggets 104, Heat 93 | DEN leads 1-0
• Game 2: Heat @ Nuggets | Sun., June 4 | 8 p.m. ET (ABC)
• Game 3: Nuggets @ Heat | Wed., June 7 | 8:30 p.m. ET (ABC)
• Game 4: Nuggets @ Heat | Fri., June 9 | 8:30 p.m. ET (ABC)
• Game 5: Heat @ Nuggets | Mon., June 12 | 8:30 p.m. ET (ABC) * if necessary
• Game 6: Nuggets @ Heat | Thurs., June 15 | 8:30 p.m. ET (ABC) * if necessary
• Game 7: Heat @ Nuggets | Sun., June 18 | 8 p.m. ET (ABC) * if necessary
Discuss This Article
Comments have moved.
Join the conversation and talk about this article and all things Kentucky Sports in the new KSR Message Board.
KSBoard