BBNBA Finals Roundtable: Three former Wildcats take the stage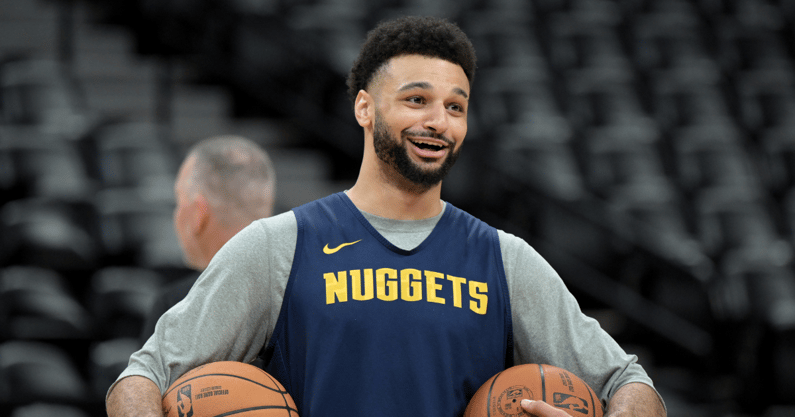 After an eventful first three rounds of the NBA Playoffs, the Finals have officially arrived. Game 1 between the Western Conference-winning Denver Nuggets and the Eastern Conference-winning Miami Heat is set for Thursday night at 8:30 p.m. EST on ABC in the Mile High City. As has been the case for a few years runnings now, former Kentucky Wildcats are once again helping steal the headlines.
This season's NBA Finals feature a trio of one-time 'Cats, plus one famous executive. Jamal Murray will suit up for the Nuggets as the starting point guard alongside two-time MVP Nikola Jokic while Bam Adebayo and (hopefully) Tyler Herro will take the floor for the Miami Heat. Additionally, Pat Riley, who was a shooting guard under Adolph Rupp at UK from 1964-67, is the Heat president. Known as the "Godfather" of basketball, Riley has been a part of 25 percent of all NBA Finals throughout league history — three as a player, 10 as a coach, and now six as an executive.
The Kentucky ties run plenty through the 2023 NBA Finals.
For Denver, this is the franchise's first-ever Finals appearance. Murray and Jokic have been the engine behind the team's success, powering them to the Western Conference's top overall seed (53-29) and a 12-3 record in the playoffs so far. Meanwhile, Adebayo and Herro will look to avenge Miami's 2020 NBA Finals loss to the Los Angeles Lakers. The Heat are just the second-ever eight-seed to make the NBA Finals. Denver is heavily favored.
• Game 1: Heat @ Nuggets | Thurs., June 1 | 8:30 p.m. ET (ABC)
• Game 2: Heat @ Nuggets | Sun., June 4 | 8 p.m. ET (ABC)
• Game 3: Nuggets @ Heat | Wed., June 7 | 8:30 p.m. ET (ABC)
• Game 4: Nuggets @ Heat | Fri., June 9 | 8:30 p.m. ET (ABC)
• Game 5: Heat @ Nuggets | Mon., June 12 | 8:30 p.m. ET (ABC) * if necessary
• Game 6: Nuggets @ Heat | Thurs., June 15 | 8:30 p.m. ET (ABC) * if necessary
• Game 7: Heat @ Nuggets | Sun., June 18 | 8 p.m. ET (ABC) * if necessary
After another season of covering the BBNBA here at KSR, it all comes down to this final playoff series. Let's dive into our thoughts and predictions for what should be an exciting stretch of high-level basketball.
Adam Stratton
Can the Miami Heat really be considered a Cinderella? Sure, they are a No. 8 seed, but they had the preseason's 7th best odds to win the NBA title.
The Heat's run to the Finals is eerily akin to Kentucky's 2013-14 team. After starting off as one of the highest-ranked teams in college basketball, a series of regular season losses dropped them all the way down to an 8-seed in the NCAA tournament. There, they went on an incredible run and after several dramatic games, they wound up in the championship.
While the Denver Nuggets are nothing like UConn that year, they did start off the season with worse odds (9th to be exact) to win the title. Sure, Nikola Jokic is unstoppable, however, no one saw Jamal Murray rising to his pre-injury self like this and vaulting the Nuggets to new heights.
I'd love to see Bam Adebayo have a great series and it would be amazing if Tyler Herro were to return to the lineup, however, just like Kentucky in 2014, the storybook postseason will come up short, and it won't really be all that competitive.
Denver in 5.
Ian Alvano
The BBNBA season sees its doors shutting slightly as we approach a David v. Goliath-like clash for the Larry O'Brien trophy. While it may seem unfair to compare the Miami Heat to David, the Denver Nuggets are certainly a Goliath that has been consistent all season long.
If there were any doubts about Jamal Murray's abilities once this season began, they should be answered by now. Murray's return from the ACL injury has him balling just as he was when he caught people's eyes in the NBA Bubble. He averaged 32.5 PPG in the Western Conference Finals while shooting over 50% from the field. If he scores like this in The Finals, I don't see Miami standing a chance.
On to Miami — and this one seems pretty simple. If Bam Adebayo can score efficiently, then Miami has a shot in any game. Bam scored 20 or more points two out of seven times in the Eastern Conference Finals. For a guy who averaged 20.4 PPG this season, it seemed like a struggle for him to score the basketball this postseason. I get it, the games won't be as high-scoring and the defense is better. However, I worry with Bam matched up against Jokic. I think Bam has one breakout game but gets outplayed by the two-time MVP in the rest of the series. Murray's scoring also doesn't seem to stop and Denver wins its first-ever NBA Championship.
Denver in 6.
Zack Geoghegan
I'll agree with the above thoughts. The Nuggets have the advantage in just about every aspect of this series. From star power to depth to overall talent, Denver has the upper hand. But for some indescribable reason, Miami thrives in these situations.
A chunk of this series could come down to how effectively Adebayo defends Jokic, who is performing like the world's best player right now. No one can "stop" Jokic, but slowing him down and making him work on the defensive end of the floor will be key. Tiring out the 300-pound big man — a task proving to be easier said than done — should be the goal. Adebayo just has to bring something more on offense to help make this series more competitive. If he doesn't, Miami could get bounced quickly.
I'm not sure Murray will average the 30-plus points he did in the previous series, but he's going to get his. The bright side for Miami in this situation is their perimeter defenders will have a much better shot at sticking with Murray than the Los Angeles Lakers did. Limiting Murray from his signature hot streaks is another important key for the Heat.
As for Herro, I'm not entirely sure Miami needs him to return. While it would be preferred in terms of adding more depth and a capable shooter, the Heat live and die by the "next man up" mantra and it's paid off so far. As the rotation currently stands for head coach Erik Spoelstra, Miami can roll out five-man units with no defensive deficiencies. That would change if Herro returns, but with some added shooting in place.
Denver in 6.
Discuss This Article
Comments have moved.
Join the conversation and talk about this article and all things Kentucky Sports in the new KSR Message Board.
KSBoard