BBNBA: Heat advance, Suns-Mavs headed for Game 7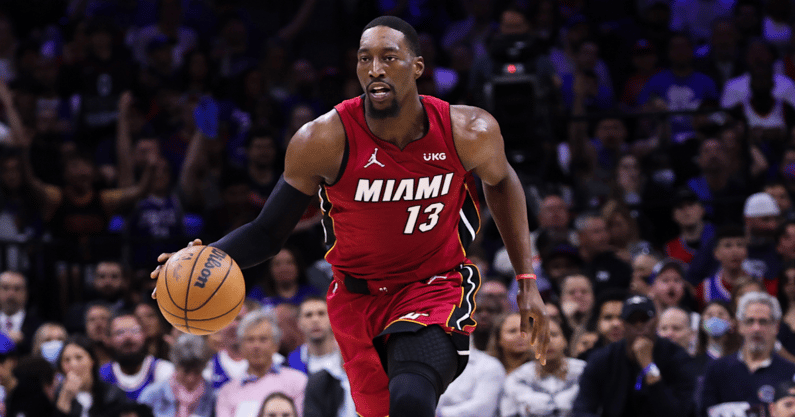 The Miami Heat is on to the Eastern Conference Finals while the Dallas Mavericks defeated the Phoenix Suns to force a Game 7 in Phoenix. Everything and more from a pivotal Wednesday night of NBA Playoff action:
Wednesday's Results
(1) Heat 99 @ (4) 76ers 90 | MIA wins series 4-2
(1) Suns 86 @ (4) Mavericks 113 | Series tied 3-3
Heat eliminate 76ers in Game 6
Miami put the final nail in the coffin of a strange and yet again disappointing 76ers season with a Game 6 victory on Philly's home court. Jimmy Butler provided his fourth straight 30-point outing on the road to seal the deal against his former employer. After he got done picking apart the Sixers to end their season, he chirped to reporters outside the locker room, "Tobias Harris over me?" It was a reference to Philadelphia's decision to move on from Butler and extend Harris after the 2019 season. Yikes. Just a rough night for the 76ers all the way around.
Putting on a Kentucky lens, Tyler Herro and Bam Adebayo will be moving onto the Conference Finals for the second time in the last three postseasons. Of course, they won the East and were Finals runner-ups in the 2020 bubble. Now, they'll get a chance to head back to the title series if they can defeat either Boston or Milwaukee in the next round.
Tyrese Maxey's stellar second season is officially done. He and Joel Embiid were really the lone bright spots in 2022 for a team that was defined more by its off-court hullabaloo than its success on the court. I have no clue how the coaching staff or the rest of the roster will shake out after yet another early postseason exit, but Maxey and Embiid seem to be the only reliable dudes in the whole organization.
Maxey wound up leading all Sixers in minutes in both the regular season and the Playoffs. And after averaging 17.5 points in the regular season, he stepped up to score 20.8 points a night in the postseason while shooting efficiently from the field. His numbers were far better than James Harden's! Who Philly is slated to pay $47 million to next season! Woof. Not a great Friday morning in the City of Brotherly Love, I guarantee you that.
Mavs blow out Suns in Game 6
Home teams are undefeated in this Western Conference Semifinals series. Phoenix won the first two, Dallas took the next couple, and then each blew the other out on their home court in Games 5 and 6. After trouncing Dallas by 30 the last time out, Phoenix fell 113-86 in Game 6 to force a Game 7 on Sunday.
Devin Booker put on his worst performance of the postseason Wednesday night. He and Chris Paul combined for 13 turnovers — almost twice as many as Dallas had total (6) — while Book made just 6-17 shots, missing all four of his threes. After carrying the Phoenix offense for most of the series, one bad game is nothing to panic over. But the Suns just don't have other players picking up the slack. Particularly Chris Paul. Dallas' plethora of big versatile wing defenders have suffocated CP3 throughout the series and he just hasn't been effective.
Make no mistake, this Dallas team is great. Luka Doncic is one of the best five players in the world right now and Jason Kidd surrounds him with a healthy balance of shooting and defense. They know what they want to do — spread it out, shoot threes and let Luka cook — and they do it well. I like the Suns to bounce back in Game 7 to win the series. But it won't be easy and a win is far from certain.
If Phoenix does win, I think they have taken down their toughest opponent left this season. These teams are terrific.
Statistics
Player
Result
Points
FG(3PA)
Rebounds
Assists
Steals
Blocks
Turnovers
Minutes
+/-
Tyrese Maxey (PHI)
99-90 L vs. MIA
20
9-22
(1-7)
3
4
0
1
4
42
-24
Devin Booker (PHO)
113-86 L @ DAL
19
6-17
(0-4)
8
3
1
1
8
39
-19
Tyler Herro (MIA)
99-90 W @ PHI
10
5-12
(0-2)
3
1
1
0
0
16
-6
Bam Adebayo (MIA)
99-90 W @ PHI
10
5-5
(0-0)
8
0
2
1
3
34
+20
Tonight in the NBA
7:30 p.m. (ESPN) Celtics @ Bucks | MIL leads 3-2
10:00 p.m. (ESPN) Grizzlies @ Warriors | GSW leads 3-2