BBNBA: Heat drop Game 5 to Celtics with Tyler Herro sidelined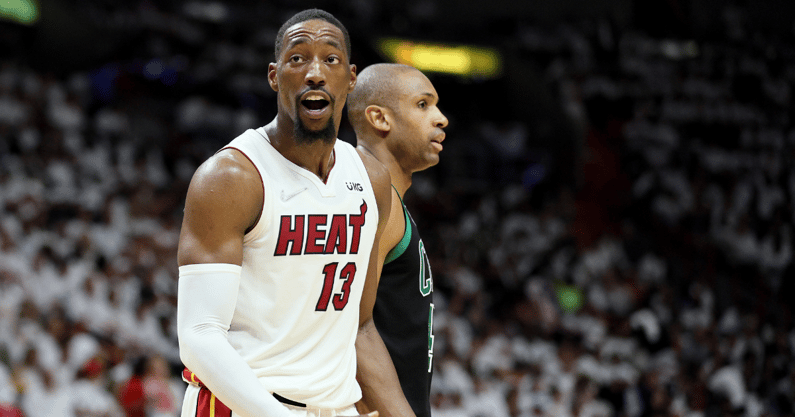 With Tyler Herro sidelined due to injury and Bam Adebayo having to take on the bulk of the responsibilities, the Miami Heat limped out of Game 5 with a critical loss.
Miami is now down 3-2 to the Boston Celtics in the 2022 Eastern Conference Finals following a decisive 93-80 Game 5 loss on Wednesday that saw the Heat struggle all evening long. Physical defense has been a staple of this series from the onset, but this was a matter of poor offense (on both ends, really). Miami shot all of 15.6 percent (Not good!!) from 3-point range on the night, converting on just 31.9 percent of the team's overall field goal attempts.
The Celtics doubled up Miami in the third quarter 32-16 following a first half that saw both teams combine for just 79 points. It was sloppy. It was ugly. And everyone is injured, specifically for Miami.
Herro was ruled out 90 minutes before tipoff with a strained left groin that kept him out of Game 4 and could prevent him from returning to this series entirely. ESPN's Ramon Shelburne says Herro's injury typically requires a two-to-four week recovery process. He initially suffered the injury in the third quarter of Game 3 on Saturday.
Adebayo has been expected to step up in Herro's absence but has only truly performed beyond his expectations once this series in Game 3. He dropped 31 points, 10 rebounds, six assists, and four steals in that win. In the other four outings against Boston, Adebayo has averaged just 10.8 points, 7.3 rebounds, 1.5 assists, and 0.0 steals. Miami is 1-3 in those four games.
To be fair to Adebayo, he finished with 18 points and 10 rebounds in Game 5 on 8-15 shooting. But with Herro out, Jimmy Butler playing through injury, and Kyle Lowry looking 52 years old, it wasn't nearly enough. Adebayo needs to assume primary scoring responsibilities throughout the course of this series and it's not happening — it's admittedly a lot to ask of the defensive-minded 24-year-old.
As a result, the Heat are finding points tough to come by against the league's top defense. Nothing is falling and everything is a tough look.
In Miami's last two outings — both losses — they have been outscored by 33 combined points with Adebayo posting a plus/minus of -39 while on the floor. He almost looks afraid to attack Boston center Robert Williams, who is a terrific defender but isn't getting much of a fight from Adebayo on a consistent basis. With the series heading back to Boston for Game 6, even with the Celtics sorting through their own injuries, it doesn't feel like the Heat have enough in the tank to force a Game 7.
Boston's Jaylen Brown was magnificent in the second half with 19 points (13 in the fourth quarter) on 8-12 shooting, including a 3-5 mark from deep. He finished with 25 on the night while Jayson Tatum added 22 points, 12 rebounds, and nine assists for the Celtics. On the Miami side, Butler shot a poor 4-18 from the floor, finishing with 13 points. Gabe Vincent was the lone bright spot for the Heat, dropping 15 points in 23 minutes off the bench.
Results and upcoming schedule
(2) Boston Celtics 93 @ Miami Heat 80 |  BOS leads 3-2
Western Conference Finals
(4) Mavericks vs. (3) Warriors
• TONIGHT: Dallas vs. Golden State | Thursday, May 26 | 9 ET | TNT
• Game 6*: Golden State vs. Dallas | Saturday, May 28 | 9 ET | TNT
• Game 7*: Dallas vs. Golden State | Monday, May 30 | 8 ET | TNT
* if necessary
Eastern Conference Finals
(2) Celtics vs. (1) Heat (Adebayo, Herro)
• Game 6: Miami vs. Boston | Friday, May 27 | 8:30 ET | ESPN
• Game 7*: Boston vs. Miami | Sunday, May 29 | 8:30 ET | ESPN
* if necessary