BBNBA: Malik Monk, LeBron James lead Lakers over Atlanta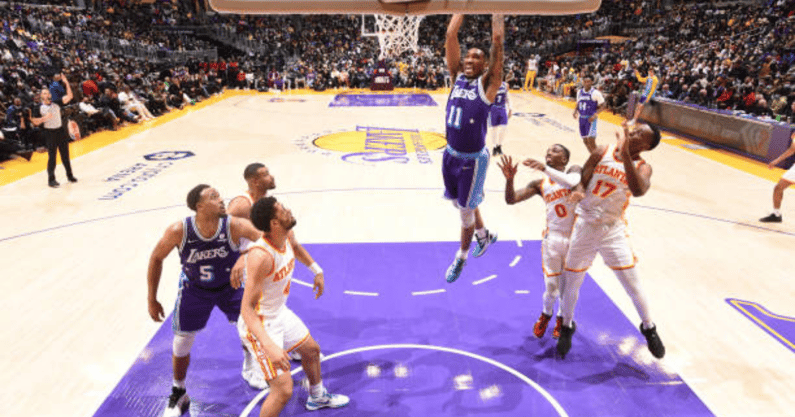 Who needs Anthony Davis anyway? Well, the Lakers do, but in the meantime they have Malik Monk taking over as quite possibly the second best player on the team. Let's discuss.
Lakers rely on Monk and LeBron to close out win
Is Malik Monk the greatest league minimum contract player of all time? He's certainly making the case.
Monk continued his absolutely stellar run as of late with a season-high 29 points in a 134-118 win over Trae Young and the Atlanta Hawks. The guard shot 11-20 from the field with an absurd 7-12 line from three-point land to go along with four rebounds and a few assists. Since being inserted to the starting lineup just over a week ago, Malik has been fantastic.
Due to questionable coaching decisions to begin the year, Monk is only up to 12.1 points-per-game on the year, but now is seeing career highs in nearly every shooting metric. Since being inserted to the starting lineup, we've seen a comfortable and confident Malik Monk. Something that has been sorely missing since his days in Lexington.
LeBron was still his usual self with a 32 point, eight rebound and nine assist night in the win. We know that's going to happen though, so no surprises there. What is shocking is that we may be seeing in real time the switch from Anthony Davis to Malik Monk as LeBron's second in command. We'll have to see what Davis looks like when he gets back, but right now it looks like Malik Monk is having no trouble handling the pressure.
Karl-Anthony Towns and Vanderbilt contribute to 'Wolves blowout
Karl-Anthony Towns and Jarred Vanderbilt were back to being key cogs for the Minnesota Timberwolves in their 135-105 rout over Shai Gilgeous-Alexander and the Thunder on Friday. After putting up 17 points and 16 rebounds in a successful return to action on Wednesday against OKC, Towns put up 19 and eight in only 27 minutes of action. KAT shot 7-11 from the floor with a 5-6 mark from the free throw line to help.
Jarred Vanderbilt was able to drop another double-double yesterday as his ferocious attack of the boards continued. Vanderbilt finished with 11 points and 16 rebounds to go along with three steals in 29 minutes of action. Since being inserted into the starting lineup this season, Vanderbilt has been an absolute menace on the glass and on the defensive side of the ball. His offensive numbers often seem insignificant, but his worth and value is provided on defense, where Vanderbilt excels.
De'Aaron Fox goes for 30 in loss to Denver
If you want a quick synapsis of how the 121-111 win for Denver over the Kings went, Alex Len was the second-highest scorer for Sacramento.
It was a struggle for De'Aaron Fox and the Kings as they dropped to nine games below .500 with the loss to the Nuggets. Fox, given very little help from the rest of his team, scored 30 on 11-23 shooting in the loss as no other starter gave them more than 14 points.
Fox has gotten back into somewhat of a consistent scoring flow with his third straight 30 point game. Now as long as he can keep this up as the trade deadline soon comes along, things will be getting very interesting in California.
Statistics
| | | | | | | | | | | |
| --- | --- | --- | --- | --- | --- | --- | --- | --- | --- | --- |
| Player | Result | Points | FG (3PA) | Rebounds | Assists | Steals | Blocks | Turnovers | Minutes | +/- |
| De'Aaron Fox (SAC) | 121-111 L @ DEN | 30 | 11-23 (0-3) | 7 | 5 | 1 | 0 | 2 | 38 | 5 |
| Malik Monk (LAL) | 134-118 W vs. ATL | 29 | 11-20 (7-12) | 4 | 3 | 2 | 0 | 0 | 35 | 14 |
| Karl-Anthony Towns (MIN) | 135-105 W @ OKC | 19 | 7-11 (0-2) | 8 | 5 | 1 | 3 | 4 | 27 | 22 |
| Shai Gilgeous-Alexander (OKC) | 135-105 L vs. MIN | 12 | 4-11 (0-3) | 3 | 6 | 2 | 1 | 4 | 28 | -13 |
| Jarred Vanderbilt (MIN) | 135-105 W @ OKC | 11 | 5-9 | 16 | 3 | 3 | 0 | 1 | 29 | 17 |
| Rajon Rondo (CLE) | 114-101 W vs. POR | 11 | 2-9 (2-8) | 5 | 3 | 1 | 0 | 1 | 5 | 17 |
| Anthony Davis (LAL) | 134-118 W vs. ATL | DNP-Knee | – | – | – | – | – | – | – | – |
| Wille Cauley-Stein (DAL) | 130-106 W @ HOU | DNP-Personal | – | – | – | – | – | – | – | – |
| Keldon Johnson (SAS) | 119-100 W @ PHI | DNP-Health Protocol | – | – | – | – | – | – | – | – |
| Tyrese Maxey (PHI) | 119-100 L vs. SAS | DNP-Health Protocol | – | – | – | – | – | – | – | – |
Today in the NBA
3:30 p.m. Grizzlies @ Clippers (Bledsoe, Boston Jr., Gabriel)
7:00 p.m. Bucks @ Hornets (Washington, Richards)
7:00 p.m. Jazz @ Pacers (Jackson)
7:00 p.m. Magic (Mulder) @ Pistons (Diallo, Lyles)
7:30 p.m. (NBA TV) Knicks (Randle, Quickley, Noel, Knox) @ Celtics (Freedom)
9:00 p.m. Heat (Herro, Adebayo*) @ Suns (Booker)
* — Inactive