BBNBA: No Herro, no problem as Heat win and force Game 7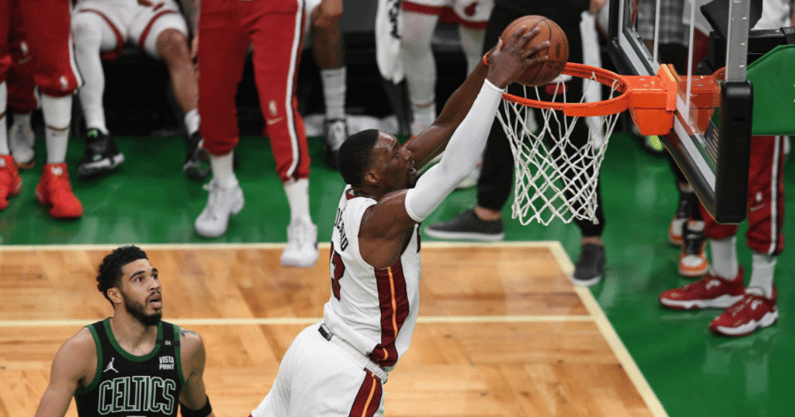 Former Kentucky Wildcat, Tyler Herro, missed his third straight game for the Miami Heat Friday night in Game 6 of the Eastern Conference Finals. Herro suffered a groin strain in the fourth quarter of Game 3 and it has sidelined him ever since. With all the series momentum in favor of the Boston Celtics, it looked like the Heat's season was sure to flame out.
But in the immortal words of Lee Corso, Jimmy Butler essentially said, "Not so fast, my friend."
Butler, the man who claimed the nickname Jimmy Buckets back when future Bucket, Tyler Herro, was just 11 years old, took it upon himself to nearly single-handedly beat the Celtics. Butler racked up 47 points, nine rebounds, and eight assists against one of the best defenses in the league.
As if that wasn't enough, he threw in four steals and a block for good measure, and the Heat took down the Celtics much to the disappointment of every Boston bar that was ready to help the city celebrate a trip to the NBA Finals.
Butler's 47-point explosion ranks seventh in NBA Playoff history for most points scored in an elimination game, a few slots behind Kentucky's own Jamal Murray, who put up 50 in a Game 6 playoff Denver Nuggets win in 2020.
After the game, former Kentucky star, Bam Adebayo, said of Butler's performance: "The game speaks for itself."
Bam Adebayo let others focus on scoring
Adebayo, himself, didn't have his best showing. Bam led the Heat in scoring with 18 points in their Game 5 loss but tallied just six points in Game 6. In this series, Bam's performance has been as volatile as BitCoin, however, he did pull down nine rebounds, added a steal, and led his team in the plus/minus category with +12.
Bam spoke to his team's motivation for coming out and getting a decisive win to send the series back to Miami for Game 7: "Everybody counted us out. Everybody thought this series was over. That was the only motivation we needed."
Although they have clearly shown they can win without him, the Heat hope to get Tyler Herro back before their next win-or-go-home showdown on Sunday. There were murmurs that Herro might try and suit up in Game 6, but ultiamtely sat out.
Head coach Erik Spoelstra said, "He's definitely made progress, but he's not quite ready." Hopefully the Heat can get the NBA 6th Man of the Year and additional Bucket back on the court for Game 7.
Results and upcoming schedule
(2) Boston Celtics 103 @ (1) Miami Heat 111 |  Series tied 3-3
Eastern Conference Finals
(2) Celtics vs. (1) Heat (Adebayo, Herro)

• Game 7*: Boston vs. Miami | Sunday, May 29 | 8:30 ET | ESPN