BBNBA Offseason: Tracking UK alums around the NBA
[caption id="attachment_225948" align="alignnone" width="2043"]
Brad Penner-USA TODAY Sports
[/caption] This summer has been a busy one for the University of Kentucky's alums in the National Basketball Association as many former Wildcats were involved in offseason transactions around the league. Several former Wildcats will be wearing new uniforms when the season tips off, some even on the same team; while others who aren't as sought-after are still anxiously awaiting a contract offer from any of the 30 organizations with an open spot. Then there are the eight newcomers to the professional ranks, fresh off their Elite Eight run within John Calipari's program this past spring. Five of them have already signed deals, but the three others have yet to find a new home for their skills. Let's track all their moves in this lengthy recap of the summer...  
---
The University of Kentucky had three players drafted, all in the lottery: De'Aaron Fox went fifth overall to the Sacramento Kings; Malik Monk went 11th overall to the Charlotte Hornets; and Bam Adebayo came off the board earlier than many predicted, at No. 14 to the Miami Heat. Projected salaries for the three drafted rookies are as follows:
De'Aaron Fox 2017/18: $4,609,200 2018/19: $5,470,920
Malik Monk 2017/18: $2,904,480 2018/19: $3,447,480
Bam Adebayo 2017/18: $2,490,360 2018/19: $2,955,840
---
One other member of the 2016-17 Kentucky Wildcats,
Derek Willis, 
also signed an NBA deal this summer, despite going undrafted. After a brief stint with the Detroit Pistons in the Orlando Summer League, in which he averaged only 3.5 points per game, Willis signed on with the Pistons for a one-year deal that will likely make him an "affiliate player" within the organization. Affiliate players are automatically allocated to a team's NBA G League affiliate -- in this case, the Grand Rapids Drive -- if they do not make the final roster after training camp. Willis will be a part of the Pistons' training camp next month, but the intent (and expectation) is he will begin his career in Grand Rapids. Willis will be available to all 30 teams during his time in the G League, but the Pistons hope to develop him into a player who can be useful one day on down the road.
---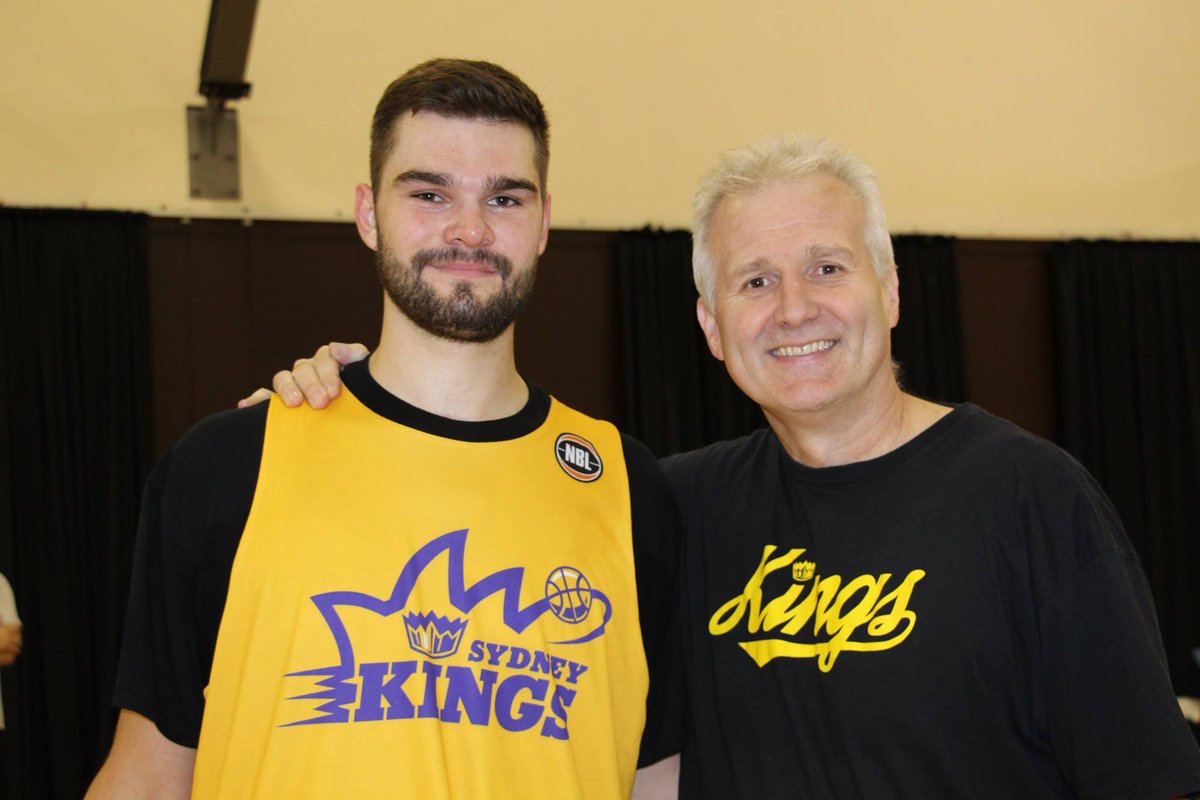 A fifth member of last year's Kentucky basketball team,
Isaac Humphries
, also signed a professional deal this summer, although his is not with an NBA organization. Humphries has returned home to Sydney, Australia after signing a one-year deal with the Sydney Kings of the National Basketball League. He turned down more lucrative offers from many other professional leagues around the globe, he says, to earn a living playing basketball amongst his family and friends in his hometown. The Kings sent scouts to watch Humphries on multiple occasions during his sophomore season in Lexington. He admitted that the opportunity was always in the back of his mind, which explains why he made the decision to test the NBA waters after two seasons when many believed he was making a mistake.
---
The three other NBA hopefuls from last season are still looking for their first professional contracts. All-SEC Tournament selection
Dominique Hawkins 
is still in search of a deal at the next level, while toying with NFL dreams in the process. He worked out with the Philadelphia Eagles to test his football talents, but has said he still hopes to play basketball for a living. Then there is
Isaiah Briscoe
, who had a shot at getting drafted, but did not hear his name called on draft night. He played for the Philadelphia 76ers in the Utah and Las Vegas summer leagues, but that contract expired and we haven't heard anything about him since.
Mychal Mulder 
played for the Toronto Raptors in the Las Vegas summer league.
---
Joining Isaiah Briscoe on the Sixers' summer league roster were
Alex Poythress
and
Aaron Harrison
, who each played well over the summer, but are still looking for opportunities in the NBA. Philadelphia used an injured player exception to sign Poythress late last season, and he could be back as a two-way player with Philly this fall. As a two-way player (it's a new contract option under the CBA that extends NBA rosters by two extra spots), the Sixers could move him back and forth from the G League if he doesn't make the 15-man roster out of training camp, which won't be easy due to depth at his position. The Los Angeles Clippers have also expressed interest in adding him as a two-way player. In Aaron Harrison's case, he's waiting for the phone to ring with a training camp opportunity, as far as I know.
---
One former Wildcat who really shined in the summer league was 
Dakari Johnson
, and he was rewarded for his play with a two-year deal with the Oklahoma City Thunder. Johnson got the call-up from the team that drafted him in 2015, following two years of growth with OKC Blue, the Thunder's G-League affiliate.
---
Oklahoma City didn't stop with the addition of Dakari Johnson to its roster, which already included another former Wildcat in Enes Kanter; it also added
Patrick Patterson
via free agency, making it three former Cats in OKC. Patterson signed a three-year deal worth $16,354,800 and he is expected to start for the new West contender. However, things are already off to a rocky start as Patterson underwent an arthroscopic procedure on his left knee, and is expected to miss four to six weeks to start the season.
---
Transitioning to Kentucky's oldest and most seasoned NBA veteran, four-time All-Star
Rajon Rondo 
signed with his fifth NBA team this summer. Rondo signed a one-year deal with the New Orleans Pelicans for a base salary of $3.3 million in 2017-18. Pelicans head coach Alvin Gentry has already said Rondo and Jrue Holiday, the team's returning starting point guard, will start together in the backcourt. They will, of course, start alongside two other former Wildcats in DeMarcus Cousins and Anthony Davis. Cousins was instrumental in bringing Rondo, his former teammate in Sacramento, to New Orleans.
---
The Pelicans also signed a fourth former Wildcat to its roster this summer with the addition of 
Darius Miller
, who, of course, won a national championship with Anthony Davis at Kentucky. Miller made his way back to the NBA after starring for Brose Bamberg of the German Basketball Bundesliga. Miller helped guide the team to back-to-back league championships in 2016 and 2017, while earning All-BBL First Team honors in 2017; Second Team honors in 2016; and being named BBL Finals MVP after the 2016 title. Miller rejoins the Pelicans after he was selected No. 46 overall by New Orleans in 2012. He averaged 3.1 points, 1.3 rebounds and 0.9 assists in 102 games during his first stint with the team.
---
And now for some unfortunate news regarding one of your favorite former Wildcats,
Brandon Knight
, who is expected to miss the entire 2017-18 season with a torn ACL. Knight suffered the injury while playing in a pro-am game near his home in South Florida. Prior to the injury, he had been mentioned in possible trade scenarios for Cleveland point guard Kyrie Irving. Knight's injury likely hurt the potential of that deal, although the impact on his own career is much greater. Knight has three years left on his contract, with a salary of $13.6 million this season and $43.9 million through 2019-20. This past season was considered a disappointment as he played a career-low 21.1 minutes per game with averages of only 11.0 points and 2.4 assists.
---
One of Knight's old teammates in Phoenix,
Archie Goodwin
, is in search of a new home in the NBA after he was waived by the Brooklyn Nets this summer. Goodwin appeared in 12 games for the Nets in the 2016-17 season, recording averages of 7.9 points, 2.3 rebounds and 1.9 assists in 15.4 minutes per game. He originally signed a 10-year deal to join the team back in March; then signed another 10-day contract to extend his stay; before inking a multi-year deal in April. Goodwin cleared waivers and became an unrestricted free agent on July 30.
---
Nerlens Noel
is still on the market, somehow. After the 2016 summer saw several mediocre centers sign insane contracts beyond comprehension, Noel is still searching for his. It's been reported that Noel is disappointed in the contract talks with the Dallas Mavericks, the organization that traded for him in April. It has also been reported that he and his agent want a max deal, so that may explain the hold up.
---
James Young 
is also waiting patiently on the market. His best bet is that his time in the summer league with the New Orleans Pelicans will earn him a camp invite.
---
A fresh start is exactly what
Trey Lyles
needed after a very disappointing second season in which he averaged only 16.3 minutes per game with 6.2 points and 2.6 rebounds in 71 appearances. Lyles' new beginning begins in Denver after he was traded from the Jazz to the Nuggets in a swap for draft picks.
---
Kyle Wiltjer
and
DeAndre Liggins
were involved in the NBA's biggest trade of the summer as both former Cats were shipped from the Rockets to the Clippers in the Chris Paul deal. Houston acquired Liggins from Dallas specifically for the trade, while Wiltjer was dealt to L.A. after playing in only 14 games in his rookie season with Houston. The Clippers waived Wiltjer on July 18. Liggins remains on the team.
---
Maybe the most surprising news of the summer is
Terrence Jones
is already out of the NBA, not too far removed from his starting role with the Houston Rockets. Jones started 71 games in 2013-14 and would've had another big year in the starting lineup in 2014-15, if not for a nerve inflammation in his left leg that kept him out of 41 games. He had another injury plagued season in 2015—16, and hasn't found a stable situation in the league since. Jones is now on his way to the Chinese Basketball Association, where he signed one of the largest single-season deals in China history. He'll be a member of the Qingdao DoubleStar, reportedly for $2 million for the one year. Jones hopes he'll be a hot commodity in NBA free agency after the season away.
---
Jodie Meeks
has a new NBA team, his sixth, after he signed a two-year, $7 million deal with the Washington Wizards. Meeks averaged 9.1 points on 40.9 percent shooting from outside with Orlando last season, playing in only 36 games due to injury. Prior to joining the Magic, Meeks played only 63 games in two years with the Detroit Pistons, and only three games in the 2015-16 season.
---
Continuing the Wizards theme, we'll wrap things up with
John Wall
and his new "super-max" contract. The extension is a four-year deal for $170 million that should keep him in Washington until 2023. When asked about the lucrative payday, Wall smiled and said, "My kids' kids' kids should be fine."
---
To summarize: Kentucky has produced a lot of professional basketball players.