BBNBA: PJ Washington outduels Tyler Herro in Hornets win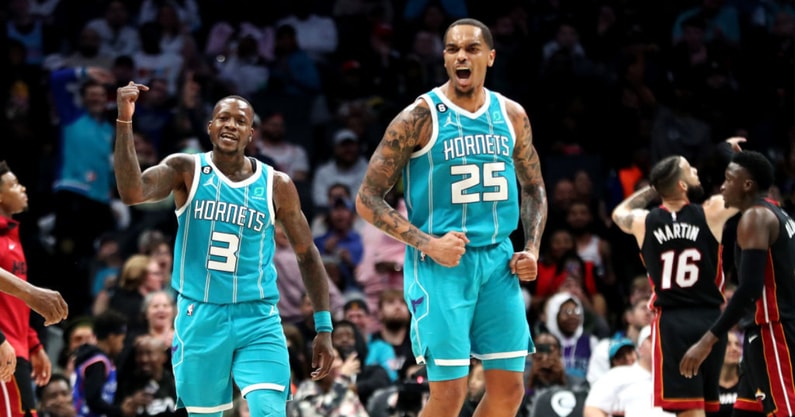 The Charlotte Hornets and Miami Heat are trending in opposite directions. The Heat have won seven of their last 10 games and keep inching their way up the Eastern Conference standings. The Hornets, on the other hand, are 15-36 on the year and the only ladder they appear to be climbing is the one toward the top of the lottery. However, on Sunday, PJ Washington outdueled his former Kentucky brethren Tyler Herro and Bam Adebayo to help get the Hornets a 122-117 win.
PJ Washington finished the night with 27 points, six rebounds, five assists, and a steal in his 36 minutes on the court. This was Washington's fourth-highest scoring output of the season, his most since November 18th, and comes off the heels of three consecutive single-digit scoring games.
This type of inconsistency is one of the reasons the Hornets did not extend Washington and he will enter this offseason as a restricted free agent. If the Hornets don't plan on signing him, they could look to trade the former Kentucky power forward before the trade deadline on February 9th. This game, however, helped his cause.
For the Heat, Tyler Herro scored 24 points, including 5-9 from behind the arc, grabbed five rebounds, and dished out three assists in the loss. Meanwhile, Bam Adebayo, who rests squarely on the NBA All-Star bubble, had a classic Bam stat line of 17 points, four boards, six assists, and three steals.
Miami has battled a slew of player absences this season but looks to make a strong push in the second half of the season to be title contenders once again. When this team gets hot, they are tough to beat, thanks largely to the duo of Herro and Bam. Well, Jimmy Butler and Kyle Lowry help too.
Brandon Boston Jr. scores season-high 24 points
With John Wall, Paul George, Kawhi Leonard, and Reggie Jackson sitting out for one reason or another for the LA Clippers, Brandon Boston Jr. was the next man up. Reminiscent of what everyone believed to be his coming out party last season when he dropped 27 points against the Boston Celtics, BJ put up 24 on Sunday against the Cleveland Cavaliers in a blowout loss.
If you think PJ Washington has been inconsistent this season, Boston says, "Hold my beer." Ranging everywhere from "DNP – Coach's Decision" designations to double-digit scoring nights, Boston still looks to find his NBA footing. Sunday helped.
Boston played 34 minutes off the bench and led his team in scoring. He is not typically the most efficient bucker-getter in the world, but Boston shot 9-19 from the field and added three assists (also tying a season-high) on the night as well.
This was clearly a throw-away game for LA with so many of their stars out, so don't expect this to be the norm for Boston, but it was good to see him have this type of performance to remind everyone, including himself, that he has it in him.
Other BBNBA Notes
Isaiah Jackson was the fifth former Kentucky player to score in double figures on Sunday, putting up 13 points in the Indiana Pacers loss to the Memphis Grizzlies. He also pulled down three rebounds and had three assists. It hasn't been the breakout season some of us thought Jackson would have, but he has put up solid minutes during his time on the court.
1/29/2023 Statistics
| | | | | | | | | | | |
| --- | --- | --- | --- | --- | --- | --- | --- | --- | --- | --- |
| Player | Score | PTS | FG (3PT) | REB | AST | STL | BLK | TO | MIN | +/- |
| PJ Washington (CHA) | 122-117 W vs. MIA | 27 | 11-19 (3-7) | 6 | 5 | 1 | 0 | 1 | 36 | +4 |
| Brandon Boston Jr. (LAC) | 99-122 L vs. CLE | 24 | 9-19 (1-3) | 1 | 3 | 1 | 0 | 3 | 34 | -10 |
| Tyler Herro (MIA) | 117 – 122 L vs. CHA | 24 | 9-21 (5-9) | 5 | 3 | 0 | 0 | 0 | 35 | +5 |
| Bam Adebayo (MIA) | 117 – 122 L vs. CHA | 17 | 8-15 (0-0) | 4 | 6 | 3 | 0 | 2 | 36 | +5 |
| Isaiah Jackson (IND) | 100-112 L vs. MEM | 13 | 6-10 (0-0) | 3 | 3 | 0 | 0 | 3 | 28 | -5 |
| Nick Richards (CHA) | 122-117 W vs. MIA | DNP – CD |   |   |   |   |   |   |   |   |
| John Wall (LAC) | 99-122 L vs. CLE | DNP – Abdominal |   |   |   |   |   |   |   |   |
Tonight in the NBA
7:00: Magic @ 76ers (Maxey)
7:30 (NBA TV): Lakers (Davis: out, Gabriel) @ Nets
8:00: Kings (Fox, Monk, Lyles) @ Timberwolves (Towns: out)
8:00: Warriors @ Thunder (Gilgeous-Alexander)
8:00: Wizards @ Spurs (Johnson)
8:30: Pistons (Knox, Noel, Diallo) @ Mavericks
9:00: Raptors @ Suns (Booker: out)
10:00 (NBA TV): Hawks @ Trail Blazer (Sharpe)