BBNBA: A plethora of double-doubles were served across the league on Wednesday night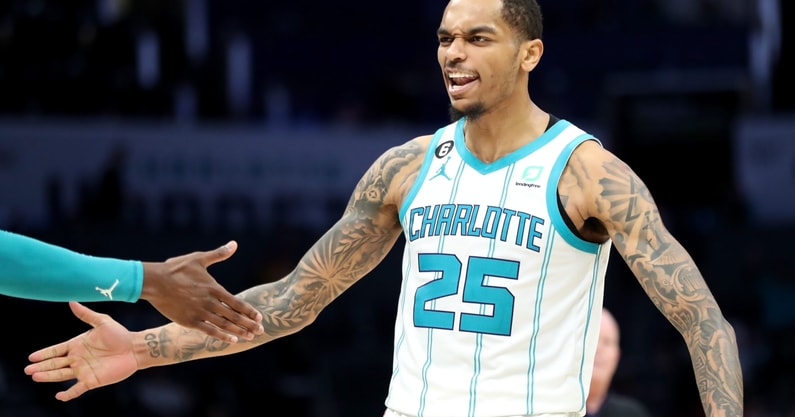 It didn't matter who you were or where you were playing. If you were a BBNBA member, there was a good chance a double-double was coming your way. In fact, four ex-Wildcats wrapped up Wednesday night with 10+ in two statistical categories.
We start in Charlotte where PJ Washington Jr. notched his second double-double of the season. Washington rolled out a big night at home and finished with 22 points and 10 rebounds. The Hornets have won their last two after losing seven in a row. Baby steps.
As for Washington, well he's now tallied exactly 22 points in three-straight games. Not much is going the Hornets' way right now in Charlotte, considering they're the second-worst team in the Eastern Conference. However, PJ is getting buckets. Washington knew stacking the wins going into the All-Star break is crucial.
Someone who isn't a stranger to double-doubles is Julius Randle. Randle put up his 38th double-double of the season in New York's 122-101 win in Atlanta. The two-time All-Star posted 25 points and 11 boards in a fairly regular stat line for himself. He scores and rebounds with ease and is ferocious in the paint night in and night out. Don't believe me? Here.
Randle is averaging 24.8 PPG and 10.8 RPG this year, so yes, he's used to this. The Knicks go into the break winners of their last three and sitting in sixth in the East. Randle's got the Big Apple rolling.
Only Halfway Done
I said four double-doubles and I'll give you four. BBNBA had two more usual suspects getting buckets and thrashing the boards. Bam Adebayo and Anthony Davis were both the best players for their respective squads yesterday.
Unfortunately for the BBNBA, one person did end up taking a loss in the double-double gang. Adebayo's undying efforts were barely contained by the Brooklyn Nets. Adebayo went for a team-high 24 points and another team-high 13 rebounds in Miami's 116-105 loss.
Like Randle, Bam is used to these numbers. Adebayo is on his way to his second-ever All-Star game and rightfully so. He's Miami's most consistent piece so far as we approach the break. The Heat currently sit in seventh in the East and would be a play-in team if the season were to end right now. Bam will be heavily relied upon in the second half of the season if Miami wants to contend.
Anthony Davis was a man on a mission on Wednesday night. Perhaps playing with a pissed-off mindset due to his debatable All-Star snub, Davis went to work versus his old team. AD propelled LA to a 120-102 win over New Orleans. The Brow finished with 28 points and 10 rebounds. Both team-highs for the Purple and Gold.
Say what you will about Davis missing time this season due to injuries. However, don't deny what he's done when he's been on the court. AD is averaging over 25 PPG and 12 RPG. He looks like his old self on the court. The Lakers are still four games under .500. That being said, there were moves made before the NBA trade deadline, one including the likes of an underrated BBNBA contributor this season. It's now or never for Davis and the Lakers after the All-Star break.
BBNBA delivers in OKC
Shai Gilgeous-Alexander did what he does best on Wednesday night. Score. SGA led all scorers with 29 points vs. Houston. His near 30-piece helped OKC dismantle the Rockets 133-96. Gilgeous-Alexander won't exactly get a rest period before the Thunder take the court again in a week. SGA's first-ever All-Star selection won't keep him off the court for long, a trade-off that I'm sure the young Canadian will take.
The Thunder's top dog goes into the break averaging a whopping 30.8 PPG. SGA is one of seven players averaging 30 or more. His name is crisply among the likes of Luka, Giannis, and LeBron. Not that bad of a first half to the season for Gilgeous-Alexander.
Wednesday in Oklahoma City also saw a sweet cameo from TyTy Washington, who got 18 minutes of action from Houston. Washington posted eight points and one rebound off the bench. TyTy has gotten the ball rolling as of late, featuring in six of Houston's last seven games.
After he played sparingly early on in the season, Washington is slowly proving that he deserves a place among the Rockets' rotation. It may be something about playing against the Thunder for TyTy. About two weeks ago, the rook scored his career-high, 20 points, while facing off with SGA.
While the increase in playing time may come at the wrong time for Washington, with a nine-day hiatus until Houston's next game, it's certainly reassuring that TyTy hasn't been forgotten. With the Rockets sitting at 13-40 on the season, it would be smart to assume that he gets more opportunities in the second half of the year. Houston's young core is promising despite its record so far. Washington has to make sure that he's in the plans of that young core moving forward.
Other BBNBA notes
Tyrese Maxey and Immanuel Quickley both helped their respective squads off the bench in wins. Maxey went for 16 points in Philly's win over Cleveland. Quickley posted 14 points in New York's road win in Atlanta.
Hamidou Diallo saw some action in Detroit's loss in Boston. Diallo finished with 10 points and one rebound in 15 minutes of play.
Finally, Nick Richards had a block party in Charlotte. Richards recorded a career-high five blocks yesterday. Six points, nine rebounds, and five blocks was his final stat line. Quick the defensive night for him.
2/15/23 BBNBA statistics
| | | | | | | | | | | |
| --- | --- | --- | --- | --- | --- | --- | --- | --- | --- | --- |
| Player | Score | PTS | FG (3PT) | REB | AST | STL | BLK | TO | MIN | +/- |
| Shai Gilgeous-Alexander (OKC) | 133-96 W vs. HOU | 29 | 8-16 (0-2) | 2 | 6 | 0 | 2 | 1 | 29 | +27 |
| Anthony Davis (LAL) | 120-102 W vs. NOP | 28 | 13-17 (0-1) | 10 | 5 | 1 | 2 | 0 | 30 | +18 |
| Julius Randle (NYK) | 122-101 W @ ATL | 25 | 9-19 (3-8) | 11 | 2 | 0 | 0 | 3 | 34 | +20 |
| Bam Adebayo (MIA) | 116-105 L @ BKN | 24 | 10-19 (0-0) | 13 | 6 | 0 | 2 | 2 | 37 | -17 |
| PJ Washington Jr. (CHA) | 120-110 W vs. SAS | 22 | 8-14 (4-8) | 10 | 1 | 1 | 3 | 2 | 32 | +3 |
| Keldon Johnson (SAS) | 120-110 L @ CHA | 21 | 6-20 (1-6) | 8 | 4 | 0 | 0 | 1 | 35 | -10 |
| Tyrese Maxey (PHI) | 118-112 W vs. CLE | 16 | 6-12 (2-4) | 2 | 2 | 0 | 0 | 2 | 27 | -10 |
| Immanuel Quickley (NYK) | 122-101 W @ ATL | 14 | 5-11 (2-6) | 4 | 2 | 1 | 0 | 0 | 23 | +10 |
| Hamidou Diallo (DET) | 127-109 L @ BOS | 10 | 5-8 (0-0) | 1 | 0 | 0 | 0 | 1 | 15 | -16 |
| TyTy Washington Jr. (HOU) | 133-96 L @ OKC | 8 | 3-11 (2-6) | 1 | 0 | 0 | 0 | 0 | 18 | -24 |
| Nick Richards (CHA) | 120-110 W vs. SAS | 6 | 2-5 (0-0) | 9 | 0 | 0 | 5 | 2 | 18 | +3 |
| Jarred Vanderbilt (LAL) | 120-102 W vs. NOP | 6 | 3-3 (0-0) | 4 | 2 | 1 | 1 | 1 | 27 | +10 |
| Wenyen Gabriel (LAL) | 120-102 W vs. NOP | 0 | 0-1 (0-1) | 0 | 1 | 0 | 0 | 0 | 3 | -2 |
| Isaiah Jackson (IND) | 117-113 W vs. CHI | 0 | 0-0 (0-0) | 1 | 0 | 0 | 0 | 0 | 5 | -15 |
| Tyler Herro (MIA) | 116-105 L @ BKN | DNP | – | – | – | – | – | – | – | – |
| Nerlens Noel (DET) | 127-109 L @ BOS | DNP | – | – | – | – | – | – | – | – |
| Jamal Murray (DEN) | 118-109 W vs. DAL | DNP | – | – | – | – | – | – | – | – |
Tonight in the NBA
7:30: Milwaukee Bucks @ Chicago Bulls
8:00: Washington Wizards @ Minnesota Timberwolves (Towns: out)
10:00: Los Angeles Clippers (Boston Jr.) @ Phoenix Suns (Booker)