BBNBA: Randle and Washington propel opening night victories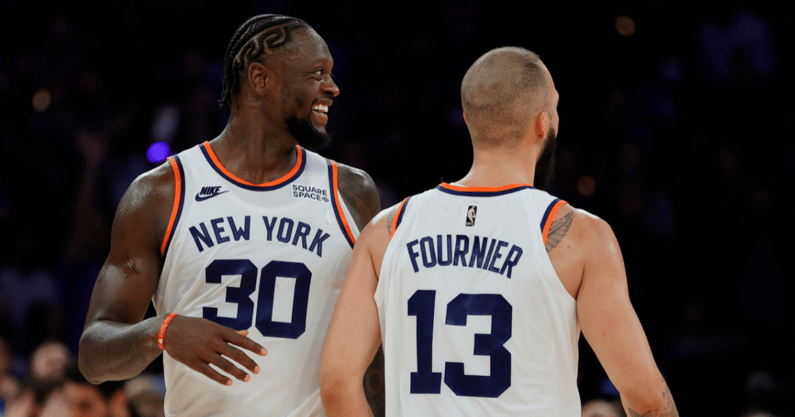 Julius Randle and PJ Washington made huge plays down the stretch of their games as an exciting night of NBA action kicked off the 2021-22 season for a slew of teams. Here's how our former 'Cats did:
RECAP
Randle hangs 35 as Knicks win in double-OT
The New York Knicks were a delightful surprise a season ago, perhaps the most fun story in the NBA, and spearheaded by Julius Randle's breakout. Last night, they picked back up right where they left off, returning to a full and boisterous Madison Square Garden with an exhilarating double-overtime win over the rival Celtics.
New York overcame a double-digit second-half deficit to take the lead early in the fourth behind a string of dunks from Obi Toppin that about blew the roof off MSG. Then it was the Celtics who made a comeback. The Knicks were up four with 10 seconds to play but allowed two ridiculous Boston threes to tie the game.
In overtime, Julius Randle found Evan Fournier for three straight triples, but each time the Celtics were able to respond with points of their own, eventually tying the game and sending it into a second OT.
Randle scored a driving and-one layup to give New York its first lead in the second overtime and another Fournier 3-pointer buried the C's for good as New York came away the victors in their NBA opener.
Randle finished with a near triple-double: 35 points, 8 rebounds, 9 assists, and made several key passes late in the game. Immanuel Quickley hit just one shot to finish with two points and an assist as Nerlens Noel sat out with a minor injury. Kevin Knox did not the see the floor for New York.
PJ denies Sabonis to cap off Hornets comeback
PJ Washington is rarely the star of an individual game, but when his number is called in the biggest moments, he delivers.
The Indiana Pacers led the Hornets 84-63 with 8:48 left in the third quarter. Charlotte proceeded to score the next 22 points and held Indiana scoreless for five minutes to take an 85-84 lead in one of the more bizarre runs I've witnessed in an NBA game. I guess Indiana woke up after that 22-point smack in the face, though, because the two teams tussled it out the rest of the way.
On the Hornets' final possession of the game, down one, Gordon Hayward crashed aimlessly towards the basket and threw up a pitiful layup attempt that ended in a scrum in the middle of the paint. PJ Washington eventually picked up the ball and went to shoot but was fouled with just four seconds left.
The third-year BBNBA'er calmly knocked down the pair of foul shots to give Charlotte the lead. And on Indiana's final possession, Washington walled up Domantas Sabonis and forced a tough miss to secure Charlotte the victory.
PJ finished with just five points on 1-7 shooting, but he won the game in the final 10 seconds.
Tyrese Maxey scores 20 as starting point guard for Philly
Ben Simmons who? It's the Tyrese Maxey show. In the absence of the Sixers' blubbering crybaby, Maxey filled in at point guard and did so admirably.
He showed off an array of NBA-level moves to reach the 20-point mark. His floater package was on display, he hit some jumpers on the move, including a three, and knocked another one down off the catch.
Maxey also played well as a point guard, running some nice pick-and-roll sets with the Sixers center tandem of Joel Embiid and Andre Drummond, and he also hit the glass hard for a guard. Tyrese finished with a utilitarian stat line of 20 points, seven rebounds and five assists while shooting over 50% from three and from the field.
Impressive showing in his first NBA game this season.
KAT and the T-Wolves with a statement in season-opener
Could a perennial loser finally be climbing out of the NBA's basement after a decade in the dark? Sort of like housekeeper's husband from Parasite. (Although let's hope the Wolves have a different fate).
Am I overreacting after a victory over a team that's actively trying to lose? Yes. But Minnesota's win over the Houston Rockets is reason to celebrate nonetheless.
The Timberwolves' two no. 1 picks, Karl-Anthony Towns and Anthony Edwards, poured in 30 and 29 points apiece on a combined 21-36 shooting to overwhelm the rebuilding Rockets 124-106. Point guard D'Angelo Russell recorded 22 to round out Minnesota's Big Three. But no other player recorded double-digits.
Not even the recently paid Jarred Vanderbilt. He had two free throws, three rebounds and two steals to show for his 15 minutes.
Statistics
| Player | Result | Points | FG (3PA) | Rebounds | Assists | Steals | Blocks | TOs | +/- | Mins |
| --- | --- | --- | --- | --- | --- | --- | --- | --- | --- | --- |
| P.J. Washington (CHA) | 123-122 W vs. IND | 5 | 1-7 (1-3) | 5 | 3 | 0 | 1 | 0 | -10 | 19 |
| Isaiah Jackson (IND) | 122-123 L @ CHA | DNP-CD | — | — | — | — | — | — | — | — |
| Hamidou Diallo (DET) | 88-94 L vs. CHI | 8 | 2-5 (0-1) | 0 | 1 | 1 | 1 | 0 | +8 | 15 |
| Trey Lyles (SAS) | 88-94 L vs. CHI | 4 | 2-4 (0-1) | 6 | 1 | 2 | 0 | 2 | 0 | 17 |
| Enes Kanter (BOS) | 134-138 L (2OT) @ NYK | DNP-CD | — | — | — | — | — | — | — | — |
| Julius Randle (NYK) | 138-134 W (2OT) vs. BOS | 35 | 12-27 (3-8) | 8 | 9 | 0 | 3 | 7 | +10 | 46 |
| Immanuel Quickley (NYK) | 138-134 W (2OT) vs. BOS | 2 | 1-4 (0-3) | 0 | 1 | 1 | 0 | 1 | -8 | 8 |
| Nerlens Noel (NYK) | 138-134 W (2OT) vs. BOS | DNP-Knee | — | — | — | — | — | — | — | — |
| Kevin Knox (NYK) | 138-134 W (2OT) vs. BOS | DNP-CD | — | — | — | — | — | — | — | — |
| John Wall (HOU) | 106-124 L @ MIN | DNP-CD | — | — | — | — | — | — | — | — |
| Karl-Anthony Towns (MIN) | 124-106 W vs. HOU | 30 | 11-15 (3-4) | 10 | 2 | 2 | 2 | 3 | +34 | 29 |
| Jarred Vanderbilt (MIN) | 124-106 W vs. HOU | 2 | 0-0 | 3 | 1 | 2 | 0 | 0 | +4 | 15 |
| Tyrese Maxey (PHI) | 117-97 W @ NOP | 20 | 8-14 (2-3) | 7 | 5 | 0 | 0 | 1 | +23 | 33 |
| Keldon Johnson (SAS) | 123-97 W vs. ORL | 15 | 6-12 (0-1) | 4 | 1 | 0 | 0 | 2 | +4 | 27 |
| Shai Gilgeous-Alexander | 86-107 L @ UTA | 18 | 7-17 (1-7) | 4 | 2 | 0 | 0 | 1 | -21 | 32 |
| Jamal Murray (DEN) | 110-98 W @ PHX | DNP-Knee | — | — | — | — | — | — | — | — |
| Devin Booker (PHX) | 98-110 L vs. DEN | 12 | 3-15 (2-7) | 4 | 4 | 1 | 0 | 3 | -24 | 30 |
| De'Aaron Fox (SAC) | 124-121 W @ POR | 27 | 9-22 (2-8) | 5 | 8 | 0 | 1 | 5 | +6 | 36 |
| Nick Richards (CHA) | 123-122 W vs. IND | DNP-CD | — | — | — | — | — | — | — | — |
Today in the NBA
7:30 (TNT): Mavericks (Cauley-Stein) @ Hawks
8:00: Bucks @ Heat (Herro, Adebayo)
10:00 (TNT): Clippers (Bledsoe) @ Warriors