BBNBA: A salute to Bam Adebayo and "Heat Culture"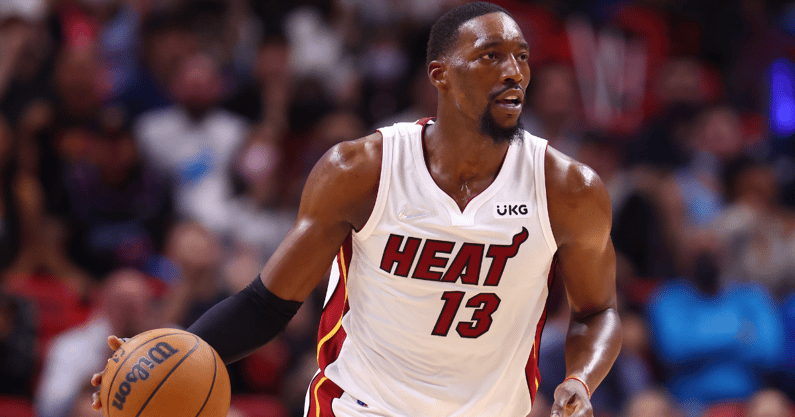 We had SIXTEEN former Kentucky players earn minutes in NBA games last night. Expectedly, several finished with noteworthy performances. Let's chat about it.
Bam Adebayo is BACK
Technically it was his second game back since recovering from a UCL injury that kept him out for a month and a half. But Bam Adebayo returned to his full self in yesterday's home win over Portland.
Adebayo tallied 20 points on 8-12 made shots, but the scoring was hardly his best aspect of the game. Bam also grabbed 11 rebounds, dished out four assists and had FIVE steals and two blocks. All-Defense level of performance from Bam and an efficient 20-point game on the scoreboard as well. Excellent performance that helped his team to a win.
A bit of sour news, though. As Adebayo returned from injury, fellow 'Cat Tyler Herro almost immediately landed in COVID protocols. He shouldn't be out any more than a week but his brief absence is yet another roster roadblock for a Heat team that hasn't been healthy in several months.
The roster carousel hasn't taken a toll on Miami on the court whatsoever, judging by their record. Since December 1st, the Heat have won more games than any other Eastern Conference team despite missing Butler and Adebayo for most of the two-month stretch. These are their top-seven scorers during that stretch: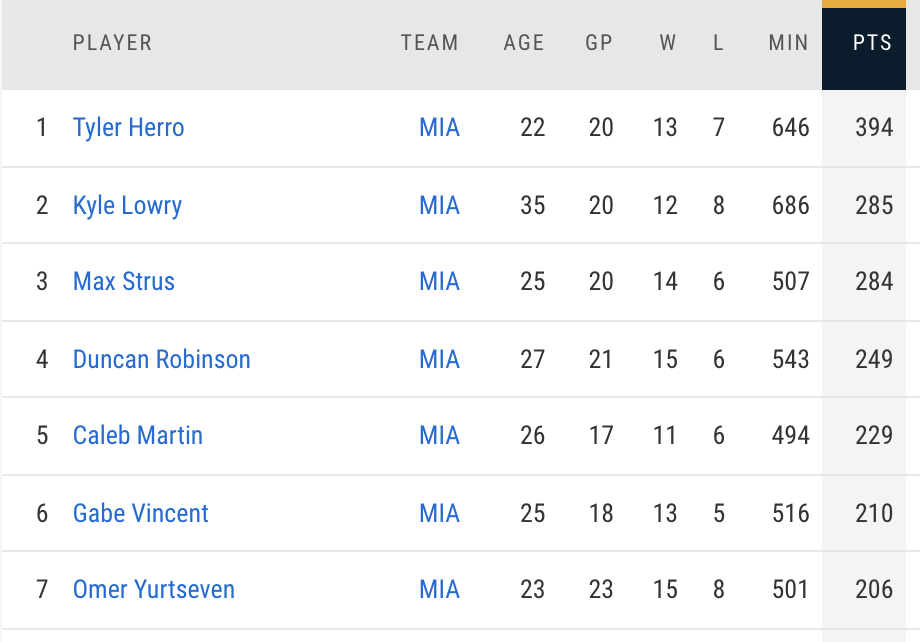 Tyler Herro, Kyle Lowry, Duncan Robinson and a bunch of dudes you'd only know if you follow the NBA intensely or play a lot of 2K. Heat Culture is over-discussed, but you have to credit the next-man-up mentality when Miami pulls off the best record in the East with a bunch of former and future G-Leaguers.
De'Aaron Fox scores big in BAD loss
What do you even say at this point with Sacramento? The front office and coaching staff were washed away Great-Flood-style over the past two years and nothing seems to have changed. De'Aaron Fox is still playing at an All-Star level while the team continues to lose in embarrassing fashion.
Yesterday, Fox scored 27 points and dished out eight assists in a losing effort at home to Detroit. The Detroit frickin' Pistons, 11-33 on the season. Sacramento also got a 35-point eruption from Terence Davis — that's 62 points from their starting backcourt! — yet the Kings gave up 133 and lost by two points, giving up a 13-1 run to end the game.
Instead of continuing to grieve over another wasted Kings season, I took a look at the Twitter responses to their official account, which was a good source of comedy.
This final score tweet got "ratioed" big time, as the Twitterverse would say. Replier Adam Camarena noted, "This is why the stadium has been empty. No one wants to pay to watch this team consistently suck." Red's Dad proclaimed that 2021-22 is "the worst season the Kings have had," which is really "saying something." Pray for Fox and pray for Kings fans. They need it.
Clippers nearly outlast Nuggets
The Clippers are missing both Paul George and Kawhi Leonard at the moment, but went on the road and gave the probable MVP frontrunner all he could handle for 53 minutes. Ultimately, Nikola Jokic's 49 points, 14 rebounds and 10 assists helped Denver narrowly edge LAC in overtime but the Clippers stayed competitive throughout.
Partially because of their Kentucky bench. Brandon Boston Jr. led LA's reserve unit with 16 points on 6-13 shooting while Eric Bledsoe experienced an uncharacteristically good shooting night, making three of his four threes while finishing with 13 total points.
Other NBA Notes
Maxey scores 14 in easy win. Joel Embiid scored 20 points in the first quarter as Tyrese Maxey was the only starting Sixer to score before the second. Embiid wound up with 50 as Maxey chipped in 14 and Philly soundly beat Orlando.
Off-night for SGA. He shot just 5-21 from the field and scored 13 points vs. San Antonio. Not one of Shai Gilgeous Alexander's better nights, but he's allowed a few poor outings considering he's the entire Thunder offense. Fellow 'Cat Keldon Johnson also scored 13 but needed far fewer than 21 shots. He also continued his hot three-point shooting by going 3-5 from deep.
Another rough Lakers loss. LAL fell at home to the Pacers, currently third-to-last in the East standings. Perhaps they should've looked to Malik Monk a bit more. He's shot the ball well for the last month and only took six shots yesterday, making four, including his only three-point attempt.
Statistics
Player
Result
Points
FG(3PA)
Rebounds
Assists
Steals
Blocks
Turnovers
Minutes
+/-
De'Aaron Fox (SAC)
133-131 L vs. DET
27
10-20
(0-3)
6
8
1
0
2
37
+0
Bam Adebayo (MIA)
104-92 W vs. POR
20
8-12
(0-0)
11
4
5
3
3
32
-1
Karl-Anthony Towns (MIN)
134-122 L @ ATL
17
6-13
(1-5)
10
7
2
1
4
34
-12
BJ Boston (LAC)
130-128 L @ DEN
16
6-13
(4-7)
4
2
0
0
0
27
+16
Tyrese Maxey (PHI)
123-110 W vs. ORL
14
6-10
(2-3)
3
2
1
0
0
35
+21
Shai Gilgeous-Alexander (OKC)
118-96 L @ SAS
13
5-21
(0-4)
3
7
2
0
3
30
-25
Keldon Johnson (SAS)
118-96 W vs. OKC
13
5-7
(3-5)
1
0
0
1
1
23
+20
Eric Bledsoe (LAC)
130-128 L @ DEN
13
5-10
(3-4)
2
2
1
0
2
25
+10
Jarred Vanderbilt (MIN)
134-122 L @ ATL
10
4-7
(0-0)
8
3
3
0
1
21
-5
Malik Monk (LAL)
111-104 L vs. IND
10
4-6
(1-1)
1
2
0
0
0
28
-3
Hamidou Diallo (DET)
133-131 W @ SAC
9
4-5
(0-1)
3
3
0
0
0
27
-4
Trey Lyles (DET)
133-131 W @ SAC
9
3-9
(1-4)
6
0
0
1
0
19
-11
Enes Freedom (BOS)
11-102 L vs. CHA
5
1-1
(0-0)
3
0
0
1
0
19
-5
Isaiah Jackson (IND)
111-104 W @ LAL
2
1-2
(0-0)
2
0
0
1
1
10
-3
Kevin Knox (ATL)
134-122 W vs. MIN
2
1-2
(0-1)
0
0
0
0
0
3
+0
PJ Washington (CHA)
111-102 W @ BOS
2
1-4
(0-3)
3
1
1
2
1
19
+2
Nick Richards (CHA)
111-102 W @ BOS
DNP – CD
–
–
–
–
–
–
–
–
Wenyen Gabriel (LAC)
130-128 L @ DEN
DNP – CD
–
–
–
–
–
–
–
–
Rajon Rondo (CLE)
117-104 L @ CHI
DNP – Hamstring
–
–
–
–
–
–
–
–
Tyler Herro (MIA)
104-92 W vs. POR
DNP – Health Protocol
–
–
–
–
–
–
–
–
Today in the NBA
7:30 p.m. Pelicans @ Knicks (Randle, Quickley, Noel)
7:30 p.m. (TNT) Suns (Booker) @ Mavericks
10:00 p.m. (TNT) Pacers (Jackson) @ Warriors