BBNBA: Suns led by Devin Booker, KAT wins over the Warriors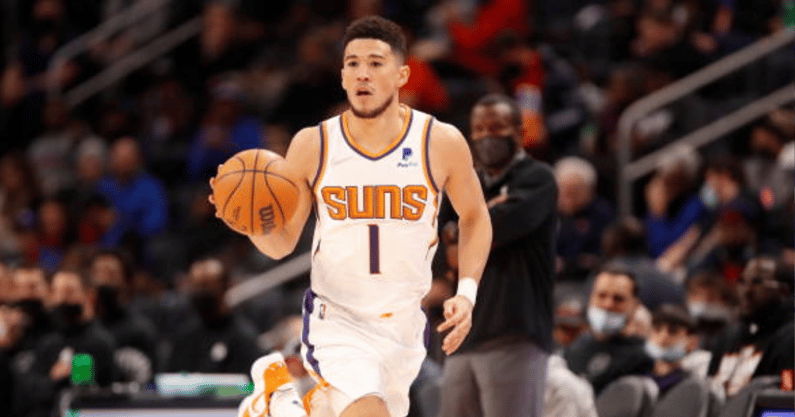 Devin Booker and KAT headlined what was a light one in the NBA on Sunday. Let's get into it.
Devin Booker 30-burger drives Phoenix
Sunday's 135-108 blowout win for the Suns over Detroit was memorable for a few reasons. For one, it was at least an entertaining, high-scoring game led by Devin Booker that provided some sparks.
Secondly, we got to see quite possibly the funniest ejection to ever occur in an NBA game. Throwing out the number one pick because of taunting feels like it should be illegal; robbing good citizens of a product they paid for. Such a shame.
Anyway, this game saw Devin Booker be Devin Booker with another efficient night from the field. Book ended up with 30 points in 30 minutes of action. He shot 11-18 with a 1-5 mark from deep but added seven points from the line.
It's been a while since Devin Booker's hamstring injury has hindered his play on the court, he's back to his All-Star form and looks as if he should be taking another trip this year.
KAT paces Minnesota over the Warriors
Sunday's win for Minnesota was another big one for their team and confidence. Sitting at a game below .500, they're still middling around as an average team but need to find a streak soon to keep them into playoff position. Beating the one-seeded Warriors isn't a bad place to start.
KAT lead all scorers in the game with 26 points on 11-20 shooting while only playing 26 minutes. He also grabbed a couple of blocks on the defensive side of the ball.
I'm sure he cares more about the team success and accolades, but KAT is putting himself in prime position to make another All-Star game. The center is now averaging 24.6 points per game and nearly 10 rebounds per game on a team that is in position to make a run at the postseason. Send 'em to Cleveland in a few weeks.
| | | | | | | | | | | |
| --- | --- | --- | --- | --- | --- | --- | --- | --- | --- | --- |
| Player | Result | Points | FG (3PA) | Rebounds | Assists | Steals | Blocks | Turnovers | Minutes | +/- |
| Devin Booker (PHX) | 135-108 W @ DET | 30 | 11-18 (1-5) | 4 | 4 | 0 | 0 | 1 | 30 | 20 |
| Karl-Anthony Towns (MIN) | 119-99 W vs. GSW | 26 | 11-20 (1-6) | 11 | 1 | 0 | 2 | 1 | 30 | 7 |
| Trey Lyles (DET) | 135-108 L vs. PHX | 18 | 6-8 (0-1) | 6 | 2 | 0 | 0 | 0 | 19 | -11 |
| De'Aaron Fox (SAC) | 118-112 L vs. HOU | 14 | 6-12 (1-2) | 3 | 4 | 0 | 0 | 3 | 26 | -3 |
| Hamidou Diallo (DET) | 135-108 L vs. PHX | 10 | 4-8 | 4 | 0 | 0 | 1 | 2 | 29 | -19 |
| Jarred Vanderbilt (MIN) | 119-99 W vs. GSW | 10 | 5-5 | 6 | 1 | 0 | 1 | 1 | 24 | -5 |
Today in the NBA
12:30 p.m. Pelicans @ Celtics (Freedom)
2:00 p.m. 76ers (Maxey) @ Wizards
3:00 p.m. Nets @ Cavaliers (Rondo)
3:30 p.m. (TNT) Bulls @ Grizzlies
3:30 p.m. Pacers (Jackson) @ Clippers (Bledsoe, Boston, Gabriel)
6:00 p.m. (TNT) Bucks @ Hawks (Knox)
7:00 p.m. Trail Blazers @ Magic
7:30 p.m. Raptors @ Heat (Herro, Adebayo*)
8:30 p.m. Suns (Booker) @ Spurs (Johnson)
8:30 p.m. Thunder (Gilgeous-Alexander) @ Mavericks (Cauley-Stein*)
10:30 (NBA TV) Jazz @ Lakers (Monk, Davis*)
* — Inactive