BBNBA: Trey Lyles' Big Night Fuels Another Kings Victory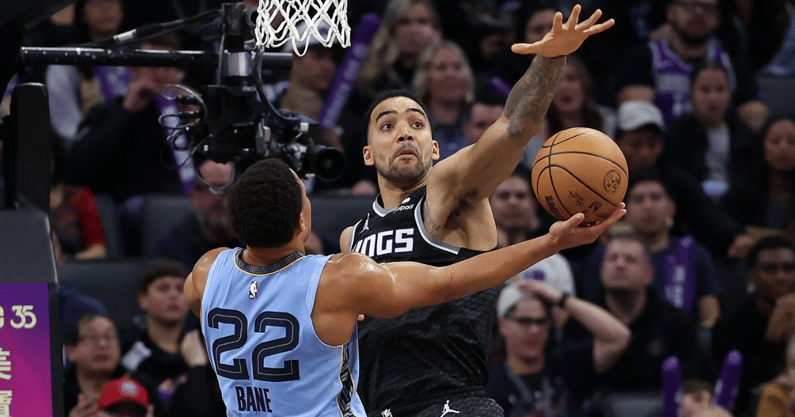 The Sacramento Kings may just be the biggest surprise of the 2022-23 NBA season to this point.
If you were to travel back in time to before the start of the season, the Kings were on nobody's radar. Sacramento had a pretty lowkey offseason, signing BBN favorite Malik Monk to a two-year deal and drafting Iowa's Keegan Murray with the fourth overall pick in the 2022 NBA Draft. They were expected to have a bright future, but not turn into contenders as soon as they have.
With their 33-point drumming of the Memphis Grizzlies on Monday night, the Kings have slithered into third place in the Western Conference and are just 5.5 GB of the Denver Nuggets for the one seed. Nobody saw this coming.
Sacramento's leading scorer Monday night just so happened to be a former 'Cat not named De'Aaron Fox (17 points, 10 assists) or Malik Monk (13 points, nine rebounds). Trey Lyles had one of the most efficient nights of his career, pouring in 24 points on 8-11 shooting (6-8 3PT), seven rebounds and three blocks in 25 minutes off the bench. Lyles' +/- came in at +24, the fourth-highest in his career. His high of +36 came back in 2019, also against the Memphis Grizzlies.
Lyles often slips the mind of BBN faithful but was a solid contributor to Kentucky's 38-1 squad in 2014-15. The 6-foot-9 forward averaged a quiet 8.7 PPG and 5.2 RPG across 36 games played in Lexington, leading him to become the 12th overall pick in the 2015 NBA Draft.
Other BBNBA Notes
Fan-favorite Shaedon Sharpe enjoyed the second-highest scoring game of his young NBA career Monday night, scoring 19 points on 8-12 shooting while posting a team-high +26 in a 20-point blowout of the San Antonio Spurs. Sharpe will be taking part in the NBA's All-Star Slam Dunk Contest on February 18th.
On the other side of Monday night's Blazers-Spurs matchup, Keldon Johnson led the slumping Spurs with 20 points on 8-15 shooting. The Spurs have been nothing short of miserable lately, losing eight of their last 10 contests.
BBNBA Stats
| | | | | | | | | | | |
| --- | --- | --- | --- | --- | --- | --- | --- | --- | --- | --- |
| Player | Score | PTS | FG (3PT) | REB | AST | STL | BLK | TO | MIN | +/- |
| Trey Lyles (SAC) | 133-100 W vs MEM | 24 | 8-11 (6-8) | 7 | — | 2 | 3 | 2 | 25 | +25 |
| Keldon Johnson (SAS) | 127-147 L @ POR | 20 | 8-15 (3-7) | 4 | 1 | 1 | 1 | 2 | 30 | -12 |
| Shaedon Sharpe (POR) | 147-127 W vs SAS | 19 | 8-12 (3-4) | 3 | — | 1 | — | 1 | 27 | +26 |
| De'Aaron Fox (SAC) | 133-100 W vs MEM | 17 | 7-14 (1-3) | 5 | 10 | 4 | — | 6 | 33 | +14 |
| Malik Monk (SAC) | 133-100 W vs MEM | 13 | 5-9 (2-5) | 9 | 8 | — | — | 2 | 24 | +24 |
| Hamidou Diallo (DET) | 130-150 L vs MIL | 11 | 4-7 (0-0) | 3 | 1 | 1 | — | 3 | 21 | -20 |
| Kevin Knox (DET) | 130-150 L vs MIL | 5 | 2-4 (1-2) | 5 | — | 1 | — | 2 | 19 | +2 |
| Nick Richards (CHA) | 102-120 L @ UTA | 4 | 2-3 (0-0) | — | — | 1 | 2 | — | 4 | +7 |
| Jarred Vanderbilt (UTA) | 120-102 W vs CHA | 4 | 0-3 (0-1) | 6 | 4 | 2 | — | — | 21 | +10 |
| Nerlens Noel (DET) | 130-150 L vs MIL | 3 | 0-1 (0-0) | 2 | — | — | — | 2 | 6 | +1 |
| PJ Washington (CHA) | 102-120 L @ UTA | 3 | 1-7 (0-2) | 3 | 1 | 1 | — | 3 | 27 | -20 |
| TyTy Washington (HOU) | 119-114 W vs MIN | 0 | 0-3 (0-1) | 1 | 1 | 1 | — | 1 | 13 | -14 |
| Karl-Anthony Towns (MIN) | 114-119 L @ HOU | DNP | — | — | — | — | — | — | — | — |
Tonight in the NBA:
7:00: Bulls @ Pacers (Jackson)
7:30 (TNT): Celtics @ Heat (Adebayo, Herro)
7:30: Cavaliers @ Knicks (Quickley, Randle)
8:00: Nuggets (Murray) @ Pelicans
8:30: Wizards @ Mavericks
9:00: Hornets (Richards, Washington) @ Suns (Booker: Out)
10:00 (TNT): Clippers (Boston, Wall) @ Lakers (Davis: Out, Gabriel)