BBNBA: Welcome Back, Anthony Davis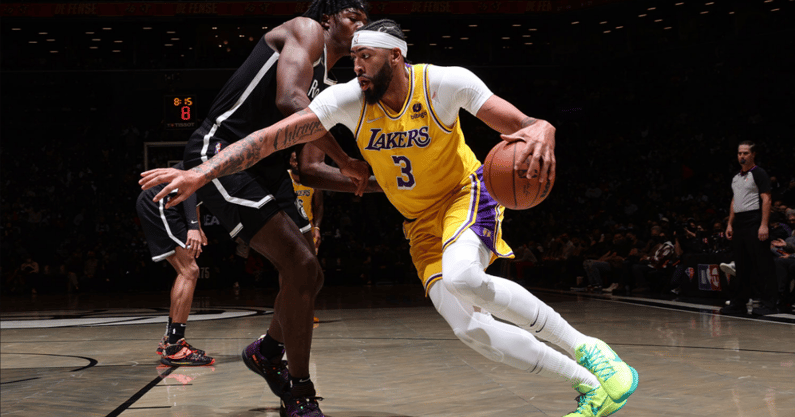 While the BBN was sweating its collective pants off last night in Lexington, the Los Angeles Lakers were busy in Brooklyn, welcoming a brow-dacious individual named Anthony Davis back to the court. How did the Lakeshow fare with their superstar center back in the fold? Read on and find out!
Lakers top Nets in Davis' return
Well, that wasn't much for suspense, I guess. I'm not great with secrets. On the night of Anthony Davis' much-anticipated return from his month-long sprained knee absence, the Lakers earned a huge 106-96 road victory over James Harden and the Brooklyn Nets.
Davis played 25 minutes in the win, chipping in eight points. He got in the flow early, with a little help from Lebron James:
The big man also got involved defensively, blocking four shots:
In the end, L.A. was able to pull away in the Barclays Center despite Harden's 33-point triple-double. James finished with 33 of his own, while our guy Malik Monk nailed six triples off the bench en route to 22 points.
Davis will have another chance to get back in the groove on Thursday, as the Lakers travel to Philly to face Tyrese Maxey's Sixers on TNT. Y'all got no excuse to miss that one.
Edwards' 40 propels Wolves by Blazers
The Minnesota Timberwolves won their 24th game of the season on Tuesday, edging Portland 109-107 on a last-second goaltending call. Twenty-four wins is one more than Minny amassed all of last season, and five more than their 2020 total. In fact, it's the latest in the year that the Timberwolves (24-23) have been above .500 since 2018.
Why does this matter? It doesn't, unless you're a long-suffering Wolves fan (if so, kudos). But it does show the beginnings of progress in the Karl-Anthony Towns/Anthony Edwards era.
Minnesota currently sits a half-game ahead of the Lakers for the seventh spot in the West, which is play-in territory. And they've gotten this far thanks largely to #1 pick Edwards, who's averaging 22.7 PPG in his sophomore campaign. On Tuesday, he dropped 40 for the fourth time in his young career:
Towns had a quietly excellent performance, attempting just seven shots but still managing a 17-point, 17-board double-double. Enjoy some highlights:
Jarred Vanderbilt showed out as well, adding 13 points and 13 boards in starter's minutes. Minnesota is looking like one of the NBA's hottest teams heading toward the All-Star break, having won eight of 11.
Clips complete impossible comeback in D.C.
The wildest result of the night came from the nation's capital, where the Clippers overcame a 35-point first-half deficit to beat the Wizards. They did so by outscoring Washington 80-49 in the second half, capped with one of the more unbelievable nine-second stretches you'll ever see from Luke Kennard. These are consecutive plays:
Kennard hit the clinching free throw, sentencing the Wizards to one of the more gut-wrenching regular-season collapses in recent memory. Check out this bonkers stat:
Where "amazing" happens, indeed. I hate to celebrate a Dukie, but you just don't see that every day. A few 'Cats were involved in the comeback, though: Eric Bledsoe and Brandon Boston Jr. contributed seven and five points, respectively. At the very least, they got courtside seats to a heckuva show…
News & Notes
De'Aaron Fox sat out Sacramento's embarrassing 53-point loss to the Celtics for an undisclosed injury. Sounds an awful lot like "get-me-out-of-here-itis."
Hamidou Diallo put up 14 in a loss to the Nuggets, including a vicious slam that forced Nikola Jokic to make a business decision.
Wednesday's marquee matchup (below) features birthday boy Tyler Herro and the first-place Heat taking on Julius Randle's Knicks on ESPN. Plan accordingly.
Full stats from yesterday:
Player
Result
Points
FG(3P)
Rebounds
Assists
Steals
Blocks
Turnovers
Minutes
+/-
Malik Monk (LAL)
106-96 W @ BKN
22
7-13 (6-12)
5
2
1
0
0
28
+14
Karl-Anthony Towns (MIN)
109-107 W @ POR
17
4-7
(3-4)
17
2
0
4
3
37
+13
Keldon Johnson (SAS)
134-104 W @ HOU
16
7-10 (2-5)
4
1
2
0
1
27
+17
Hamidou Diallo (DET)
110-105 L vs. DEN
14
7-16 (0-2)
5
1
2
0
2
26
-5
Jarred Vanderbilt (MIN)
109-107 W @ POR
13
5-7 (0-0)
13
6
2
1
2
36
-2
Tyrese Maxey (PHI)
117-107 W vs. NOP
10
4-10 (2-4)
3
5
0
0
1
35
+8
Trey Lyles (DET)
110-105 L vs. DEN
10
2-7 (1-4)
6
2
2
0
0
23
-4
Anthony Davis (LAL)
106-96 W @ BKN
8
3-8 (0-1)
2
2
1
4
1
25
-1
Eric Bledsoe (LAC)
116-115 W @ WSH
7
2-3
(1-1)
1
4
0
2
1
15
+5
Brandon Boston Jr. (LAC)
116-115 W @ WSH
5
1-7 (0-1)
4
0
1
0
1
20
-6
P.J. Washington (CHA)
125-114 L @ TOR
3
1-1 (1-1)
0
0
0
0
0
4
-4
Enes Freedom (BOS)
128-75 W vs. SAC
0
0-2 (0-0)
4
0
0
0
2
12
+11
Nick Richards (CHA)
125-114 L @ TOR
0
0-1 (0-0)
1
0
0
0
1
4
+7
De'Aaron Fox (SAC)
128-75 L @ BOS
DNP – Injury
—
—
—
—
—
—
—
—
Jamal Murray (DEN)
110-105 W @ DET
DNP – ACL
—
—
—
—
—
—
—
—
John Wall (HOU)
134-104 L vs. SAS
DNP – Personal
—
—
—
—
—
—
—
—
Today in the NBA
7:00 – Bucks @ Cavaliers (Rondo)
7:00 – Hornets (Washington, Richards) @ Pacers (Jackson)
7:00 – Clippers (Bledsoe, Boston Jr.) @ Magic
7:30 – Kings (Fox*) @ Hawks (Knox)
7:30 (ESPN) – Knicks (Randle, Quickley, Noel) @ Heat (Adebayo, Herro)
8:00 – Nuggets (Murray*) @ Nets
8:00 – Raptors @ Bulls
8:30 – Grizzlies @ Spurs (Johnson)
10:00 (ESPN) – Suns (Booker) @ Jazz
10:00 – Mavericks @ Trail Blazers
* – inactive