BBNFL: Former 'Cats impress on defense in Week 3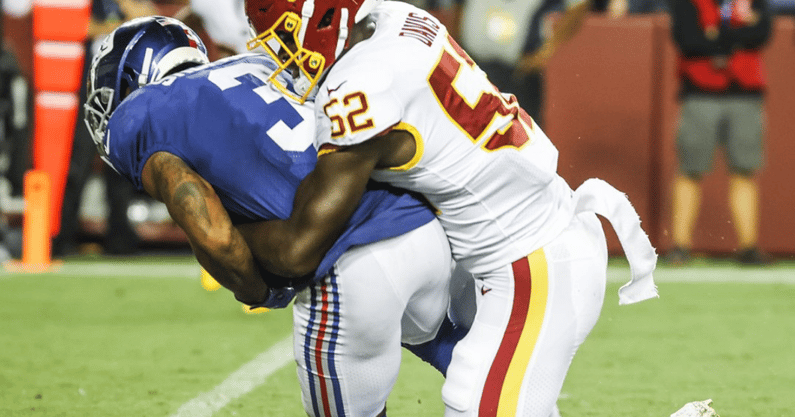 Another week, another win for the current 'Cats who now sit in quite the advantageous spot at 4-0 as the Gators come in to Lexington this weekend. It would come to you as no surprise if you watched the game Saturday, but most of the impact plays and players were on the defensive side of the ball. It was pretty standard for a Mark Stoops win. So, in that same spirit, let's take a look at how some of his former defenders did in Week 3 of the NFL this past weekend.
First Rounder for a reason
Jamin Davis simply refuses to stop being good at football. The first round pick from this past draft is still being limited to roughly 50% of the Football Team's snaps on defense, simply because he's one of seemingly 25 first round picks on that defense. That doesn't seem to matter at all though, as Davis recorded six tackles on only 41 snaps in Week 3, including a hit-stick on fourth down to force a turnover.
If we're following a pattern of his stats here, Davis is on track for eight tackles next week with no signs of slowing down. Just like he did in Lexington, Davis is about to force some people's hands far quicker than anticipated.
Defensive backs actually tackle
More impressive of a journey though may be that of Brandin Echols. It was one thing to somehow make the roster as a rotational corner on the worst team in football. It's another to actually be performing decently well given the circumstance of being thrown into a dumpster fire to begin his career.
For the second time in three weeks, Echols had five tackles while playing slightly over 60% of the snaps on defense in Week 3. He's not playing at a top-tier level by any means, but what he's been able to do in such a short amount of time should be commemorated. Who would've thought last year that Echols would be the only one in the secondary last year currently with a starting spot in the NFL?
Speaking of defensive backs, Lonnie Johnson Jr. has looked impressive during his two weeks of action so far. After barely seeing the field in Week 2, Johnson Jr. played all 73 snaps for the Texans' defense while recording seven tackles in the loss.
And despite expectation to score a couple more touchdowns this past week, Mike Edwards had to settle with three tackles after seeing his playing time significantly drop to just 23 snaps against the Rams.
Other notable performances in Week 3
Corey Peters had two combined tackles despite only playing 17 snaps this past week
Josh Allen couldn't keep his sack streak going, recording one tackle against the Cardinals
Quinton Bohanna got some run on Monday night, recording two combined tackles on 21 snaps.