BBNFL: Mike Edwards makes history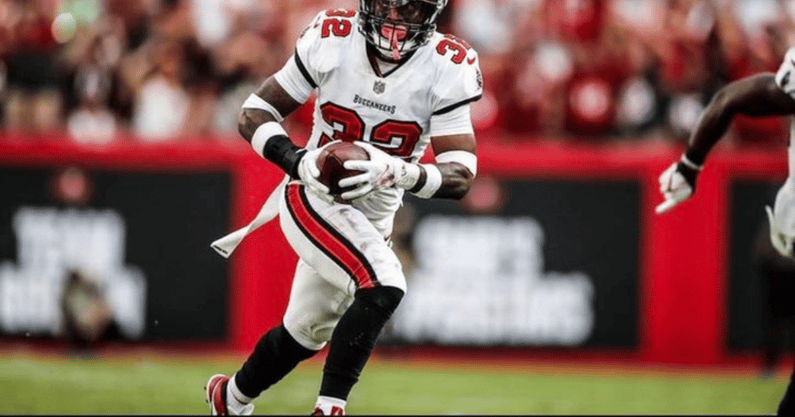 It's been a long weekend for the BBN. Half are still dreaming of an 11-1 season that leads the 'Cats out to Atlanta. The other half are on the top of the Fifth Third building, searching for another five-star basketball recruit to pick Kentucky this week so they can have any reason step off the ledge. So let's take a step back, breathe, and see how our former 'Cats fared in the NFL this week.
Mike Edwards can't stop scoring
I'm absolutely thrilled to report that the best thing out of Raymond James Stadium this past week had nothing to do with Tom Brady. Instead, Mike Edwards clinched the game and stole the show with two pick-6s in the fourth quarter against the Falcons.
The second one happened so fast you might've thought they were showing a replay. Be in good spots and the ball will find you. Edwards added four tackles throughout the game to go with his record-breaking performance.
Rookie looking right in primetime
It's hard to get on the field when the entire defense is former first-round picks. Despite his time on the field dropping to just under 40% of defensive snaps, Jamin Davis shined again on Thursday night. The lone first-round pick for the 'Cats this past year looked the part with his limited time, grabbing four tackles. One of them coming in a pretty clutch situation near the goal line in the second half.
It's nothing new for those who watched him grow and mature during his time in Lexington. The dude went from a back-up to a first-rounder in less than a year–it really can't be overstated. And hey, the nerds loved the performance too.
Josh Allen back in the flow
Let's try this one again. Josh Allen on the JAGUARS has been dominant early in his comeback season after dealing with nagging leg injuries for most of last season. After recording a sack in week one, Allen came back with a repeat performance that put warmth in everybody's heart in Lexington. The defensive end recorded another sack and three tackles against the Broncos this past Sunday.
Other notable performances from the BBN
Brandin Echols keeps impressing out in New York, or New Jersey if you really want to be that guy. He only had one tackle this past week, but he's legitimately a starting corner for the Jets after being grabbed in the sixth round a few months ago.
Lonnie Johnson Jr. had two tackles on 43% of snaps for the Texans.
Bud Dupree had one tackle on 72% of snaps for the Titans.
Corey Peters had one tackle on 43% of snaps for the Cardinals.
Randall Cobb had 26 yards on three catches for the Packers.