BBNFL Preseason: 27 'Cats Crack Rosters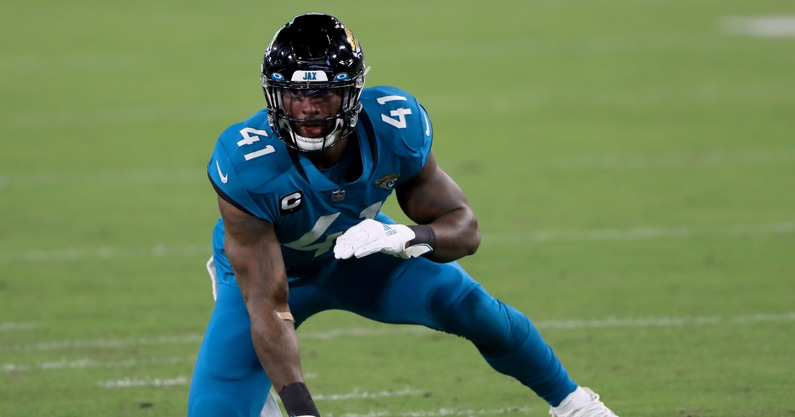 Folks, football is finally back. At seven o'clock tonight, the first matchup of the 2022 NFL Preseason kicks off. A whopping 27 former Kentucky Wildcats are rostered at the start of the three-week season this year — including eight rookies — and each one of them has a chance to make an impact as the countdown to Week 1 continues. Let's break it down.
OFFENSE
Kentucky has been steadily growing its NFL representation throughout the Mark Stoops era, but for a long time, those numbers have been predominantly on defense. Outside of Randall Cobb, it's been some time since the 'Cats had a significant offensive presence in the league; but that may well be changing. Wan'Dale Robinson, now a New York Giant, is one of four rookies to break camp on the offensive side of the ball, bringing the total number into double-digits for the first time.
Those other first-year players include Jaguars' third-round draftee Luke Fortner, fifth-round pick Darian Kinnard in Washington, and Ohio-born Justin Rigg, who signed with his hometown Cincinnati Bengals after going undrafted.
The only other roster change for 2022 is A.J. Rose, who joins the Super Bowl champs in L.A. after spending last season in the Vikings organization. He's one of the 11 offensive players in total from Kentucky to crack a roster this year, ranging in age from Robinson (21) to Cobb (31). Here they are:
Lynn Bowden – WR, Miami Dolphins #3
Wan'Dale Robinson – WR, New York Giants #17
Randall Cobb – WR, Green Bay Packers #18
A.J. Rose – RB, Los Angeles Rams #24
Benny Snell – RB, Pittsburgh Steelers #24
John Toth – C, Washington Commanders #61
Landon Young – OT, New Orleans Saints #67
Logan Stenberg – OL, Detroit Lions #71
Darian Kinnard – OT, Kansas City Chiefs #75
Luke Fortner – C, Jacksonville Jaguars #79
Justin Rigg – TE, Cincinnati Bengals #87
DEFENSE
On the other side of the ball, UK's professional representation is stacked and deep. Sixteen 'Cats are currently rostered for preseason play, with a roughly even split of linemen, tackles and backfield threats. Josh Allen remains one of the most dangerous men in football, even on the depleted Jaguars roster. Meanwhile, veterans Bud Dupree and Za'Darius Smith are still rock-solid, with the former holding things down in Tennessee and the latter joining the Vikings for his eighth pro season.
The rookies on defense this year are Josh Pachal, fresh off his second-round selection by the Lions; Marquan McCall, who signed with the Panthers; Yusuf Corker, who joined Robinson in New York; and Quandre Mosely, who became the third 'Cat in Dallas when he signed with the Cowboys as a free agent.
The movers and shakers in this group include Lonnie Johnson, who was traded from Houston to Kansas City in the offseason; Chris Westry, who signed with the Panthers after appearing in six games for the Ravens last year; and T.J. Carter, who gets a chance with the Saints after last appearing in the USFL.
Lonnie Johnson – CB, Kansas City Chiefs #1
Kelvin Joseph – CB, Dallas Cowboys #1
Yusuf Corker – S, New York Giants #21
Mike Edwards – S, Tampa Bay Buccaneers #32
Brandin Echols – CB, New York Jets #26
Chris Westry – CB, Carolina Panthers #39
Quandre Mosely – CB, Dallas Cowboys #39
Josh Allen – DE, Jacksonville Jaguars #41
Bud Dupree – LB, Tennessee Titans #48
Jamin Davis – LB, Washington Commanders #52
Za'Darius Smith – LB, Minnesota Vikings #55
T.J. Carter – DE, New Orleans Saints #61
Phil Hoskins – DT, Carolina Panthers #71
Marquan McCall – DT, Carolina Panthers #78
Josh Paschal – DE, Detroit Lions #93
Quinton Bohanna – DT, Dallas Cowboys #98
You can catch Robinson and Corker in action tonight, as the Giants face the Patriots at 7 p.m. ET. Paschal is due to debut against the Falcons on Friday.