BBNFL Week 13 Recap: Jamin Davis records back-to-back 10-tackle games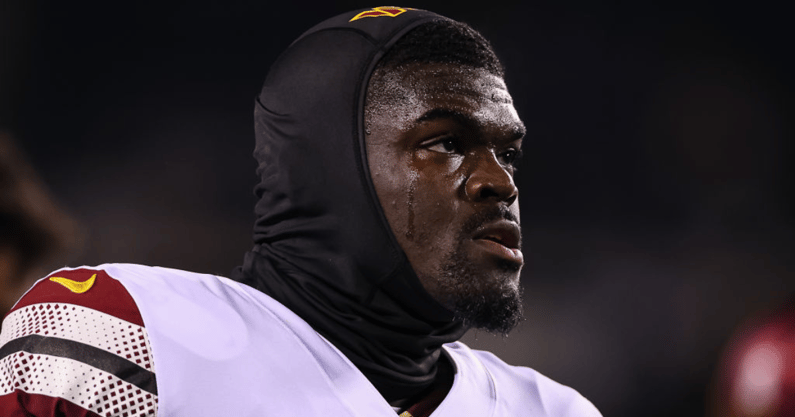 Jamin Davis has been on a tear lately, showing he is worthy of his first-round selection last season. The former Kentucky linebacker recorded his second 10-tackle game in as many weeks on Sunday for the Washington Commanders against the New York Giants. The teams gave a nod to soccer with the World Cup going on, and ended their matchup in a thrilling tie, as the game finished 20-20.
Fans have been fickle in their opinions of Davis this season, ranging everywhere from calling him a wasted pick, to a victim of poor defensive scheming, to a tremendous talent ready to show what he is capable of doing.
But Davis has been firmly in the latter category in recent weeks. Whatever transpired earlier in the year has seemed to work itself out. The Commanders are long-shots for the playoffs, but they've been playing much better as of late, in part due to tough defense from Jamin Davis.
He now leads the team with 78 tackles on the year.
Benny Snell honors former Kentucky teammate, Chris Oats
Benny Snell broke out in a big way last week on Monday Night Football, scoring the game-winning touchdown in his first carries of the season after Najee Harris went down with an injury. Though Harris was back this week, Snell filled in as a formidable backup.
Snell finished the day with six rushes for 24 yards and one catch for 11 yards. It has been a rough year for the Steelers, though they did manage to eke out a win over the Atlanta Falcons. But seeing the Benny we remember from Kentucky get back in the groove as a running back has been great to see. Hopefully, he can ride this momentum into a new contract next season, whether that is in Pittsburgh or elsewhere.
The coolest thing Benny Snell did on Sunday, though, was honor his former teammate at Kentucky, Chris Oats. As part of the NFL's My Cause My Cleats program, Benny laced up some custom handpainted masterpieces that featured Oats standing in front of a checkerboard background to help promote the 22 Oats Strong Foundation.
The organization was founded to help assist and support families of young stroke victims. Checkerboard never looked so good.
Other BBNFL Notes
Staying on the offensive side of the ball, Randall Cobb received four targets but couldn't manage to haul any of them in this week for the Packers, while Luke Fortner kept doing this thing, once again playing every single snap at center for the Jaguars.
It was a modest week for Kentucky defensemen. Za'Darius Smith failed to record a sack in his race to stay amongst league leaders, though he did have two QB hits to go along with his two tackles and a pass deflection in the Vikings' win over the Jets.
On the other hand, Bud Dupree did record a sack for the Tennessee Titans in their loss to the Eagles. He finished the day with two tackles (both solo) and another QB hit.
Rounding out the former 'Cats, Josh Allen (Jaguars), Brandin Echols (Jets), and Kelvin Joseph (Cowboys) each had two tackles. Bossman Fat had a pass deflection as well. Josh Paschal got back in the stat column for the Detroit Lions, recording a tackle in their dominating win over Jacksonville.