BBNFL Week 7 Recap: Josh Paschal makes NFL debut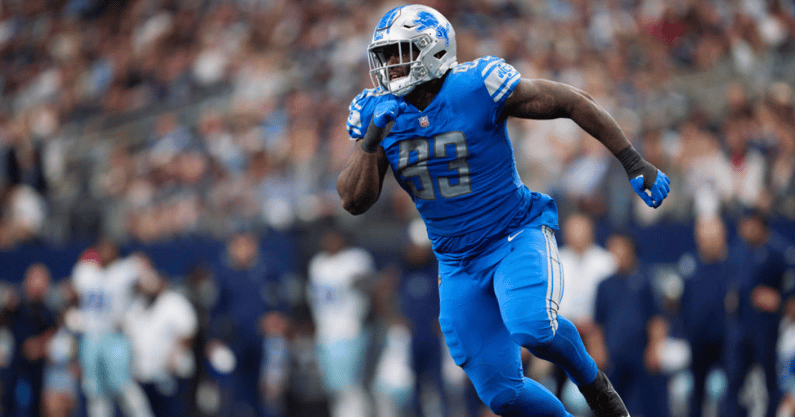 Former Kentucky defenseman and malignant melanoma survivor, Josh Paschal, made an impression during his NFL debut this week for the Detroit Lions. Paschal incurred an untimely sports hernia that forced him to miss the first six weeks of the season, but the Lions wasted no time throwing him into the fire once he was ready to take the field.
Paschal played 89% of the Lions' defensive snaps, and while the statistician only credited him with two tackles (the same number that quarterback, Jared Goff, had if that tells you anything about the Lions' offense), he made a big impact. Most notably, he provided another edge threat that meant teams can no longer exclusively double-team Aidan Hutchinson on the other side of the line. This move helped free Hutch up for two sacks against the Dallas Cowboys.
Fans are stoked to have Paschal finally available, with Lions Twitter raving over the rookie's inaugural performance. This team might not win very many games this season, but there exists a ton of optimism that the combination of Hutchison and Paschal could serve as a bedrock for this defense for years to come.
It's been a long road for Josh Paschal to finally suit up for an NFL team, but the hard work that resulted in his dream coming true is the stuff inspirational posters are made of.
Wan'Dale Robinson is the New York Giants' best wide receiver
Last week, Wan'Dale Robinson made what was essentially his NFL debut after being sidelined early in his Week 1 debut with a knee injury. Now, he is becoming Daniel Jones' favorite target.
The former Kentucky pass-catcher hauled in six of his eight targets on Sunday for 50 yards. He led his team in both receptions and targets, stepping up nicely for New York's hobbled wide receiver room.
Robinson's impact has been turning the heads of Las Vegas oddsmakers as well. Wan'Dale jumped to having the 8th best odds to win Offensive Rookie of the Year (OROY) at +1600. With a lot of football left to be played, there is plenty of room for him to keep climbing that list. Some books have him as high as 5th amongst OROY candidates and +1200 odds. Those odds are only going to keep shrinking.
Kentucky's other wide receiver, Randall Cobb, missed Green Bay's game against Washington with a high ankle sprain he suffered last week.
Benny Snell had both a tackle and a return; Luke Fortner used to play soccer
The Pittsburgh Steelers have relegated Benny Snell exclusively to special teams, but that doesn't mean he's not making the most of his opportunities on the field. During Sunday Night Football against the Miami Dolphins, Snell had a rare combination of both returning a kickoff and recording a tackle in the same game. It was his first tackle of the season and his second kick return. The latter went for eight yards.
It may not be the type of rushing success Kentucky fans thought they'd see when Snell first entered the NFL, but strong special teams play is what is keeping Benny in the league, so Snell yeah.
Rounding out the offensive players, Luke Fortner deserves a huge shoutout. The rookie center for the Jacksonville Jaguars has played every single offensive snap this season, showing not only the tremendous amount of trust the team has in him but also his durability. Jacksonville lost to the Giants in a heartbreaking fashion — drawing similarities to the Super Bowl XXXIV finish — where the receiver came up one yard short of the would-be winning touchdown in the final seconds.
After the game, Fortner said "I feel like I've been constantly improving…kinda, learning what (I) don't know, if that makes sense. There's so much you don't know you don't know."
Next week his team flies to London, which Fortner claims will be his first-ever trip out of the country. Fortner said he played soccer when he was a kid (back when he was skinny) but glad he chose football instead. Those two childhood passions will come full circle for him when he plays at Wembley Stadium on Sunday.
Kentucky defensemen keep doing their thing
As for former Kentucky defensive players, Mike Edwards returned to action for the Tampa Bay Buccaneers and picked up where he left off, totaling six tackles (four solo). He was a lone bright spot on an otherwise abysmal day for TB12's team in a loss to the Carolina Panthers, who are fresh off trading Christian McCaffrey to officially enter tank mode and vie for the ability to draft Will Levis.
Elsewhere amongst Kentucky's bigger names on the defensive side of the ball, Jamin Davis racked up five tackles (three solo) including two for a loss in the Commanders' aforementioned win over the Packers. For the Tennessee Titans, Bud Dupree secured a sack as part of a big day that also included three tackles (two solo), one for a loss, and two QB hits. Josh Allen finished with two tackles (one solo) and a QB hit in the Jaguars' tough defeat.
Additionally, Brandin Echols had two tackles (one solo) for the Jets, while Corey Peters (JAX), Marquan "Bully" McCall (CAR), and Lonnie Johnson (TEN) each recorded a tackle for their teams as well.
Keep it up, men.