Beau Allen is WAC Newcomer of the Year, UK Target Wins JUCO Heisman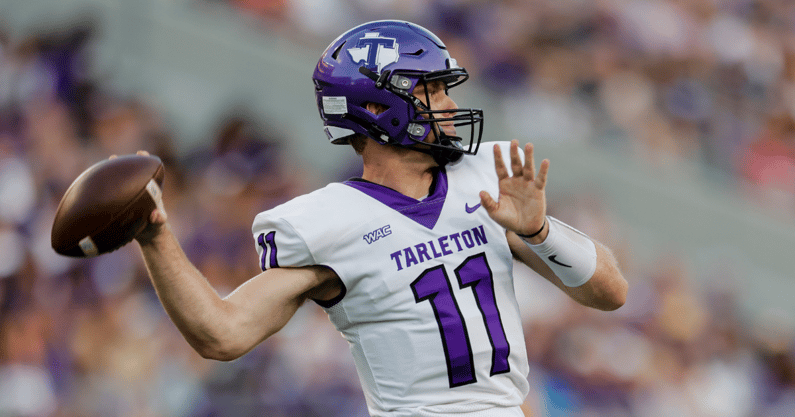 A former Wildcat and a potential future Wildcat each received significant postseason honors this week.
Lexington native Beau Allen entered the transfer portal just before the start of the 2022 Kentucky football season and quickly found a new home in Texas. In his first season quarterbacking at Tarleton State, Beau Allen shined. He was named WAC Newcomer of the Year, one of the conference's five major awards, after leading the league in touchdowns (23) and passing yards (2,838).
Allen passed for 300+ yards five different times, highlighted by a career-high 406-yard performance in a 42-40 win at Southern Utah. He completed 56.8% of his passes, threw 11 interceptions and had a QB rating of 142.7. The Texans missed the FCS playoffs after posting a 6-5 record in Allen's debut.
Robert Henry Wins Walter Jones Award
Meanwhile in Mississippi, one Kentucky football recruit made history. This year the Walter Jones Award was established, tabbed as the junior college counterpart to the Heisman Trophy. The honor's namesake, Walter Jones, started his career at a Mississippi JUCO, then transferred to Florida State. The offensive tackle was a first round draft pick by the Seattle Seahawks, first team All-Pro four times and selected to nine Pro Bowls. Jones was inducted into the Pro Football Hall of Fame in 2014.
This fall running back Robert Henry became the first recipient of the Walter Jones Award. Henry is the best running back in the JUCO ranks and he has the stats to back it up. He led the NJCAA in rushing with 1,302 yards (130.2 yards per game) and 18 touchdowns to propel Jones College to an 8-2 record and a playoff berth. Henry also caught 19 passes for 128 yards.
Henry, a 5-foot-10, 194-pound tailback, received relatively little recruiting fanfare until recently. A late push from a couple of programs could land him in the SEC. He will officially visit Kentucky in December, followed by a trip to South Carolina on the final weekend before the start of the Early Signing Period.