Beechwood Defeats LCA on Late Field Goal; Wins 16th State Title - Presented by Kroger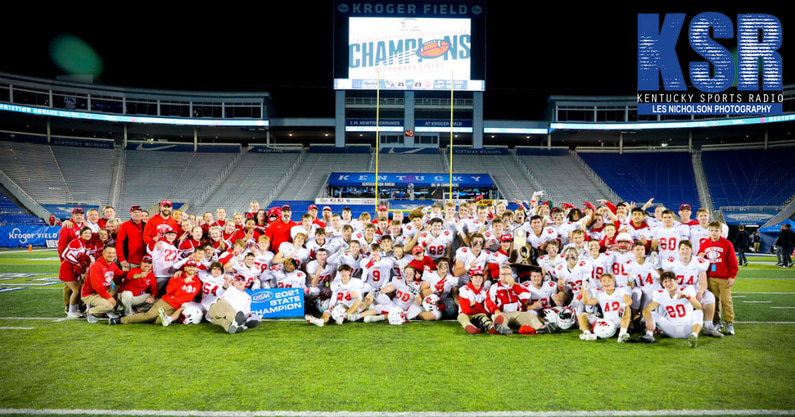 The Beechwood Tigers defeated the LCA Eagles 23-21 to win the 2021 UK Orthopedics 2A State Football Championship on a beautiful December day at Kroger Field. Jake Conrad's 36-yard field goal inside two minutes proved to be the game-winner. Both teams came in undefeated for the highly anticipated matchup. This was the second straight championship for the Tigers and 16th overall. They defeated the Eagles 21-20 (OT) in last season's championship game on a blocked extra point by Brady Moore. Special teams decided this one, too.
LCA nearly blocked Conrad's field goal, but he got it off and cleared the upright by only a few yards with 1:50 remaining.
"I had no idea," Conrad said after the game when asked if he knew he had enough leg on the kick. "All the glory goes to God, I know he had a plan. All the credit goes to my holder, Parker Mason, snapper, the offensive line. They're incredible. They did everything perfect."
"We had already put him in that situation twice this year and he has come through both times, and both (were) critical situations," Coach Noel Rash said about the decision to kick the field goal on 4th and 18.
LCA had one final drive. They set up for a 53-yard Andrew Dobbs field goal on 4th and 12, but elected to go for it after a Beechwood timeout. The pass to the end zone, intended for Mason Moore, was just overthrown, preserving the Tigers' victory.  
"That quarterback to 16 (Moore) that's been a great combination for them all year so why wouldn't you do it," Rash said of the play call.
Dobbs double-doinked a potential game-winning field goal at the end of regulation in last year's game and has the leg to make it. LCA's coach Doug Charles cited the fact that Beechwood had almost blocked two earlier extra points, along with the narrow goalposts at Kroger Field in explaining the rationale behind the decision. It makes sense to me considering the Eagles lost on a blocked kick last year.  
Beechwood quarterback Cam Hergott, last year's co-Mr. Football, was named player of the game. He finished with 29 carries for 195 yards and two touchdowns, while completing 6-of-12 passes for 58 yards. He was a senior last year but elected to return for another season. He said he watched Rocky 4 before the game for inspiration.
Like last year, the Tigers scored on their first possession, with Cam Hergott rushing for a 28-yard touchdown. The PAT was blocked.
Also, just like last year's rematch, Beechwood forced several LCA turnovers. Parker Mason recovered this fumble in LCA territory.
After LCA forced a punt, the Eagles fumbled again, and it was recovered by Liam McCormack of Beechwood. That set up another Hergott touchdown. 
LCA put together a good drive on their next possession, but Beechwood stopped them on 4th and 1 inside the red zone.
Mitchell Berger would then stretch the Tigers' lead to 20-0 with an 8-yard rushing TD.
LCA was not going away though. Not at all.  
Drew Nieves connected with Parker Chaney right before halftime to give the Eagles the spark they needed.
The Eagles picked up where they left off after halftime. A good return and 57-yard pass from Nieves to Jeffrey Selby quickly got the Eagles inside the Beechwood 5-yard line to start the second half. UVA commit Xavier Brown punched it in three plays later to bring LCA to within 20-13 and 10:42 remaining in the third quarter.  
The Eagles forced a Cam Hergott fumble that was scooped up by Tyler Morris to give them a 21-20 lead with 7:55 remaining. That's 21 points in less than five minutes if you are scoring at home.
The defenses settled in after that. Beechwood punted. LCA punted, pinning Beechwood inside their own 5-yard line. Then Beechwood punted it again, with LCA taking over at the Beechwood 41-yard line. Despite being in field goal range of the excellent kicker Dobbs, LCA went for it on 4th and 6 from the Beechwood 25, but the Tigers got heavy pressure on Nieves, forcing an incompletion.
However, LCA got good pressure on Hergott again, forcing an interception. When they were able to hurry Hergott, the Eagles had success.
Beechwood quickly forced another punt, which they partially blocked to give the Tigers the ball back on the LCA 45-yard line with 6:40 remaining in the game. Hergott converted a key 3rd and 7 with a 21-yard pickup on the ground to the LCA 21. A pass interference penalty moved Beechwood up to the 11-yard line but a big 3rd down sack for a loss of 10 yards by J'Veontae Emerson and Morris set up 4th and 18. That set up Conrad's heroics to convert the winning field goal with 1:50 remaining.  
This was the Eagles' 4th state finals appearance. They defeated Mayfield in 2009 and lost to the Tigers in 2007 and 2020 in dramatic games.  
All season, LCA has possessed a championship-or-bust mentality and used the likely rematch with Beechwood as extra motivation. They went undefeated against a loaded schedule, picking up early regular-season wins over Class A champion Pikeville, Class 4A finalist Boyle County, and Class 6A semifinalist Madison Central.
Last year LCA outgained Beechwood by over 100 yards but had four turnovers. Last year the Tigers jumped out to a 14-0 lead. This season it was 20-0.
"I told our kids I love them," LCA's Coach Charles said after the game. "When you're on top of the mountain it's easy to be all happy and smiles, but when you're deep in the valley sometimes you have to rely on your faith and your character. I love our kids."
Beechwood started out ranked #1 in Class 2A in our preseason rankings, and only slipped to second due to LCA's stronger schedule. They will easily finish in the Top 5, regardless of state. Not too shabby for a 2A school, but LCA and Beechwood are not your average 2A school.
"I am just one lucky, lucky soul to be a part of Beechwood high school," Coach Rash said postgame. "To be a part of their football program it means the world to me. I just feel extremely fortunate."
A Message from Kroger:
We're excited to tell you about something new from our friends at Kroger. Did you know Kroger is America's largest grocery chain that started over 135 years ago? They are doing something they've never done before: bringing fresh groceries right to you with a new service called Hometown Pickup. 
That's right, for those of you in Cynthiana, Midway, Eminence, Bedford, McKee, Dry Ridge, Carlisle, Eubank, Georgetown, Mt. Vernon, Jackson, Frenchburg, Irvine, Mt. Olivet, and Paris, Kentucky you can now order all your groceries online and pick them up at a central location in your hometown. No more long drives into the city to get fresh food for you and your family. Now THAT is truly Fresh for Everyone. Thanks, Kroger. 
Learn more and place your first order at Kroger.com/hometown.