Beechwood, Hergott take down Colonels in Kroger KSR Game of the Week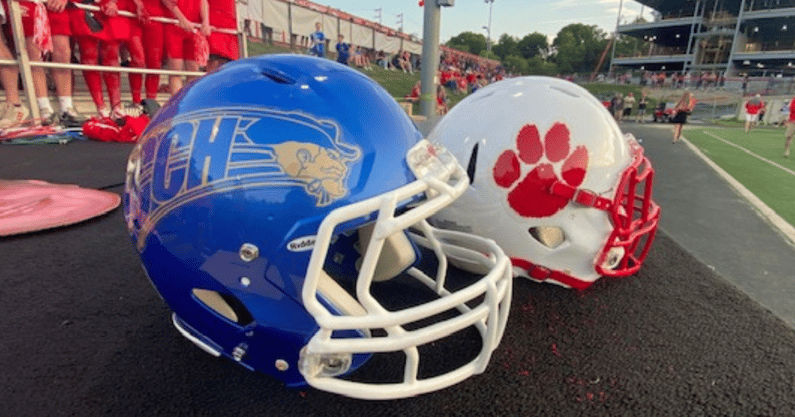 "We came out and punched them in the mouth," Beechwood quarterback Cameron Hergott said post-game.
If you weren't at Beechwood High School Friday night to witness the Tigers' 27-7 victory over rival Covington Catholic — you missed out. Beechwood defeated the Colonels for the first time since 2014 with 3,000 plus fans on hand for the Kroger KSR Game of the Week.
"Look at the community, it's awesome," running back Avery Courtney said after the game. "… I've never seen Beechwood like this. Over 3,000 ticket sales — nuts."
First Quarter: Beechwood 7, CovCath 0
Beechwood asserted its dominance right out of the gate. Hergott broke free from the Colonel defense for 62 yards on the first play, setting up a Mitchell Berger touchdown on third down from the four.
"The past three games I usually take off and get a big play," Hergott said about his long rush. "I knew this one was big because everyone's here looking … from then, (my) confidence went up."
The Colonels came out hot through the air, including a timely fourth down connection from CovCath quarterback Adam Holtz to Zion Mason, setting them up in the red zone. A bad snap followed by a couple of unwarranted decisions from Holtz forced his team into a field goal attempt which proved no good from the 18-yard line. 
Second Quarter: Beechwood 20, CovCath 7
On the first play of the second quarter, Hergott took it upon himself to scramble for 50 yards and the score. A missed PAT attempt by the Tigers' kicker kept the score at a modest 13-0.
CovCath proved that Hergott wasn't the only quarterback who could get it done on the ground as Holtz pushed in their first score from five yards out, trucking over a couple of Beechwood defenders.
The Tigers took that personally and Parker Mason took the ensuing kickoff back inside the Colonel 15. Mason took two kickoff returns for a combined 101 yards on the night. 
Hergott snuck past the pylon from inside the one three plays later with 10 seconds remaining in the half. He had nine rushes for 132 yards (14.7 average) and two touchdowns through two quarters.
Second Half: Beechwood 27, CovCath 7
The Colonels received the ball to begin the second half and were quickly forced to punt. After the change of possession, Hergott and the Tigers offense punched the ball downfield for the final eight minutes of the quarter before Courtney scored on a three-yard rush to put Beechwood up 20 with less than a minute remaining in the quarter.
"It was awesome," Courtney said about his touchdown. "I was waiting for it all night, I knew I'd get one."
The Colonels couldn't find their way onto the scoreboard in the fourth and the Tigers were able to run out the clock for the victory.
Hergott finished 5-5 for 35 yards through the air but made his mark on the ground with 17 rushes for 165 yards and two touchdowns to lead both sides. Overall, the Tigers gained 249 total offensive yards, 214 of which were from their rushing attack. 
"Every time we got the ball, we scored," Hergott said. "Our defense did great and stopped (CovCath) and it was an awesome win."
A Message from Kroger:
We're excited to tell you about something new from our friends at Kroger. Did you know Kroger is America's largest grocery chain that started over 135 years ago? They are doing something they've never done before: bringing fresh groceries right to you with a new service called Hometown Pickup. That's right, for those of you in Cynthiana, Midway, Eminence, Bedford, McKee, Dry Ridge, Carlisle, Eubank, Georgetown, Mt. Vernon, Jackson, Frenchburg, Irvine, Mt. Olivet, and Paris, Kentucky you can now order all your groceries online and pick them up at a central location in your hometown. No more long drives into the city to get fresh food for you and your family. Now THAT is truly Fresh for Everyone. Thanks, Kroger. Learn more and place your first order at Kroger.com/hometown.