Beechwood vs. Covington Catholic: Kroger KSR Game of the Week Preview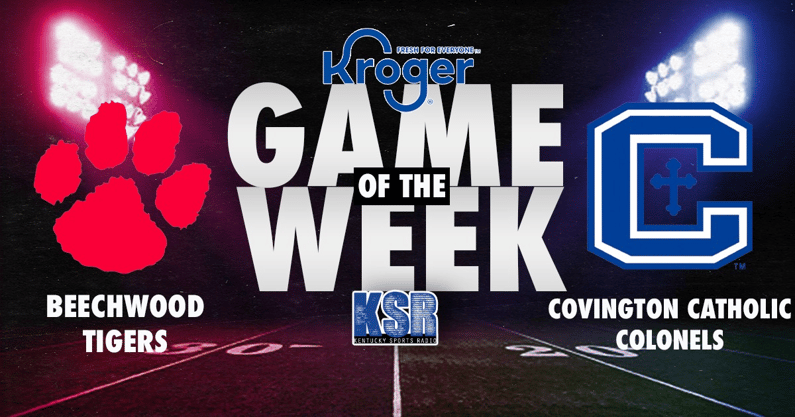 KSR heads to the Cincinnati area for week five's Kroger KSR Game of the Week featuring a top-25 matchup between Beechwood and Covington Catholic.
Beechwood
KSR State Ranking: 3 (No. 1 2A)
Record: 4-0
State Championships: 15 (1984, 1991, 1992, 1993, 1994, 1996, 1998, 1999, 2004, 2007, 2008, 2016, 2017, 2018, 2020)
State Runner-Up: 4 (1995, 2002, 2003, 2015)
Last Season: 11-2 — 2A State Champions
Coach: Noel Rash (4-1 in State Championships)
Key Players:
QB Cameron Hergott — 38-55 passing, 770 yards, eight touchdowns, no interceptions; 36 rushing attempts, 491 yards, seven touchdowns; Committed to EKU for football.
RB Avery Courtney — 37 rushing attempts, 304 yards, five touchdowns; Seven receptions, 93 yards, two touchdowns.
WR Parker Mason — seven receptions, 207 yards.
WR Mitchell Berger — nine receptions, 237 yards, one touchdown.
Defense — Xavier Campbell: 11 sacks.
Covington Catholic
KSR State Ranking: 25
Record: 2-2
State Championships: 8 (1987, 1988, 1993, 1994, 1997, 2006, 2017, 2019)
State Runner-Up: 1 (2018)
Last Season: 10-2 — 5A State Semi-Finalists
Coach: Eddie Eviston (2-1 in State Championships)
Key Players:
QB Adam Holtz — 30-60 passing, 374 yards, four touchdowns, six interceptions.
RB/WR Preston Agee — 16 rushes, 148 yards, two touchdowns; Five receptions, 85 yards, one touchdown.
RBs Brayden Collins and Reid Hummel — Similar roles; Combined for 44 rushes, 362 yards and four touchdowns.
WR John Lenihan — 10 receptions, 129 yards, two touchdowns.
Defense — Colin Gastright: 21 total tackles, 18 solo, three sacks. David Sullivan: 29 total tackles, 20 solo, two TFL. Aiden Jones: 21 total tackles, 17 solo, one sack.
Beechwood vs. Covington Catholic Preview
Beechwood has dominated all four of their matchups this season, outscoring their opponents 182-21 so far. The Tigers hadn't allowed a single score all season before defeating Simon Kenton 49-21 last Friday.
The Tigers pride themselves on being able to stop the run and get their players into the box — just ask Beechwood's Xavier Campbell and his 11 sacks already this season. Covington Catholic rushes for an average of 183.3 yards per game, including carrying the ball for 272 and 249 yards in consecutive weeks against both Belfry and Lexington Catholic, respectively. The Colonels will have their work cut out for them with a Tiger defense that is only allowing 83.75 rushes per game.
The Covington Catholic rushing attack is not one Beechwood should take lightly, though. Their three-headed backfield monster, led by Preston Agee and anchored by Brayden Collins and Reid Hummel, has compiled 733 rushing yards and six total touchdowns so far in 2021.
The Tigers Have What the Colonels Don't
The biggest concern for the Colonel comes via the arm of quarterback Adam Holtz, who's thrown six interceptions through four games thus far. With only a fifty percent completion rate, Beechwood defensive backs are hoping to have a field day. Covington Catholic's one true wide receiving threat, John Lenihan, has caught a third of Holtz's completed passes this season; the Colonels are one double team away from potentially abandoning the passing game entirely Friday night.
For Covington Catholic defensively, while held together by the 71 combined tackles of their big three defenders (Colin Gastright, David Sullivan and Aiden Jones), they'll have their hands full with Beechwood's dual-threat quarterback Cameron Hergott and his 1,261 all-purpose yards (13 touchdowns).
If Covington Catholic wants to pull off the upset in Tiger territory, they'll have to do more than just control Hergott and the explosive Beechwood offense. It starts with taking care of the football, not turning the ball like they've been prone to do this season, and keeping the chains moving.
With the triple threat at running back, expect Covington Catholic to shove the ball down Beechwood's throat and keep the clock moving while continuously getting the ball to a fresh body — in turn, keeping the Tigers off the field. If the Colonels can create long, methodical drives, they have a chance; if not, it'll be a typical Friday night for Beechwood.
Prediction
Barkley's Prediction — Beechwood 49, Covington Catholic 21
A Message from Kroger:
We're excited to tell you about something new from our friends at Kroger. Did you know Kroger is America's largest grocery chain that started over 135 years ago? They are doing something they've never done before: bringing fresh groceries right to you with a new service called Hometown Pickup. That's right, for those of you in Cynthiana, Midway, Eminence, Bedford, McKee, Dry Ridge, Carlisle, Eubank, Georgetown, Mt. Vernon, Jackson, Frenchburg, Irvine, Mt. Olivet, and Paris, Kentucky you can now order all your groceries online and pick them up at a central location in your hometown. No more long drives into the city to get fresh food for you and your family. Now THAT is truly Fresh for Everyone. Thanks, Kroger. Learn more and place your first order at Kroger.com/hometown.