Big 12 officially extends invitations to BYU, UCF, Cincinnati and Houston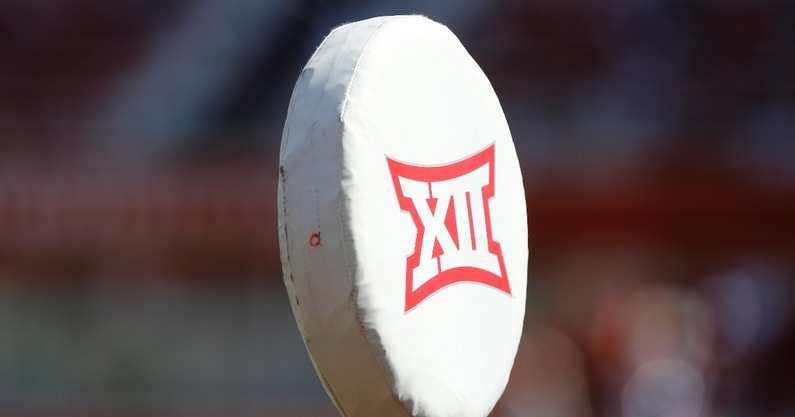 The Big 12 is officially set to add four members to the conference, with Brigham Young, Central Florida, Cincinnati, and Houston all receiving invitations on Friday.
The Big 12 Conference Board of Directors unanimously voted this morning to extend the membership invites.
Individual school boards will meet later Friday to formally accept their offers.
According to college football insider Brett McMurphy, the schools' first season in the Big 12 will be 2023. This would allow new members to play in the conference with Oklahoma and Texas still there, barring an early departure from the Sooners and Longhorns.
Big 12 co-founders Oklahoma and Texas announced their departures from the conference and move to the SEC back in July. The schools are tentatively scheduled to join the SEC on July 1, 2025, though the expectation is that the move will come much prior to that.
Following the departures, the Big 12 searched to find quick replacements and additions, with Cincinnati, Houston and UCF of the American Athletic Conference, along with independent BYU, immediately surfacing as likely candidates.
2023 deadline
The AAC requires schools to give a 27-month notice before leaving, along with paying a $10 million buyout fee. That notice requirement would push the date back to January 2024, missing the planned 2023 deadline.
An earlier exit would require a higher buyout, but mandatory if they wish to expedite the process.
"Our conference was targeted for exceeding expectations"
AAC commissioner Mike Aresco says the Big 12's decision to take its three most successful schools is indicative of the conference's growth and overall quality.
"The irony that three of our schools are being asked to take the place of the two marquee schools which are leaving the Big 12 is not lost on us," Aresco said in a statement. "Our conference was targeted for exceeding expectations in a system that wasn't designed to accommodate our success.
"All three of these institutions have enjoyed unprecedented success as members of The American, as have our remaining schools."
The AAC will now look for its own replacements, likely choosing from the Mountain West, Conference USA, or the Sun Belt.