Big Blue Wall Faces Star-Studded South Carolina Front Seven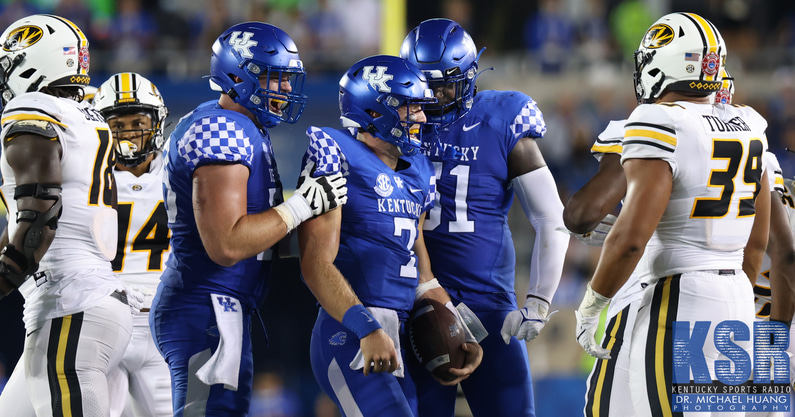 The strength of the South Carolina defense is in the trenches. To leave Columbia victorious, the Big Blue Wall must bounce back from a sloppy performance against Chattanooga to establish the run.
As you learned in Adam Luckett's scouting report, the Gamecocks have a future first round draft pick on the edge, Kingsley Enagbare. In addition to the seasoned star power, Will Muchamp's recruiting chops are evident in the trenches. Jordan Burch and Zacch Pickens were each ranked as the No. 8 recruits in their class. Jabari Ellis was also a top 50 JUCO recruit in the 2018 recruiting class.
"They're tough. They got some guys that can go up front," said UK offensive coordinator Liam Coen. "In some ways it's a similar deal (to Missouri) in how they have some guys that can rush the passer up front. Their linebackers are solid players. The (Damani) Staley kid's a good player. They've done some good things. They definitely seem rejuvenated."
Inconsistent Big Blue Wall
John Schlarman built Kentucky's offensive line to become one of the best in the country. Key components returned to the Big Blue Wall, but a change in scheme has produced a mixed bag of results for Eric Wolford's unit. Now tasked to make holes in the outside zone and provide more pass protection, Kentucky's head coach believes the UK offensive line has room to grow.
"At times we've been extremely dominant and at times we've been inconsistent," Stoops said on the SEC Teleconference. "There are times when our offensive line has taken over games and done some very good things. Played extremely well at home against Missouri a couple weeks ago and then came back this last week, and much like our football team, was terribly inconsistent this past week."
Playing offensive line requires a nasty mentality. The Big Blue Wall simply did not bring it last Saturday at Kroger Field. It served as wake up call for the Cats.
"I think it shows what we really need to work on and reset our focus a lot," said preseason All-American Darian Kinnard. "It puts everything into perspective. You know we're not there yet. We're nowhere near where we need to be and I feel like coming in today and feeling the energy in practice and how focused everybody was in doing their assignment and playing well as a unit; I feel very good coming off of last week even though it wasn't the best week of play."
The Big Blue Wall enters the South Carolina game with a chip on its shoulder and something to prove. Facing former five-star prospects and future NFL Draft picks, UK's big uglies know NFL scouts will be watching closely. Saturday is an opportunity for Kentucky's offensive line to prove they can live up to lofty expectations as one of the best blocking units in America.
"We have a vision and we know where we can be," said Kinnard. "What are we doing to get there to where we see ourselves?"
It all starts Saturday in the trenches at Williams-Brice Stadium.