Separate strengths at tackle could give Big Blue Wall some balance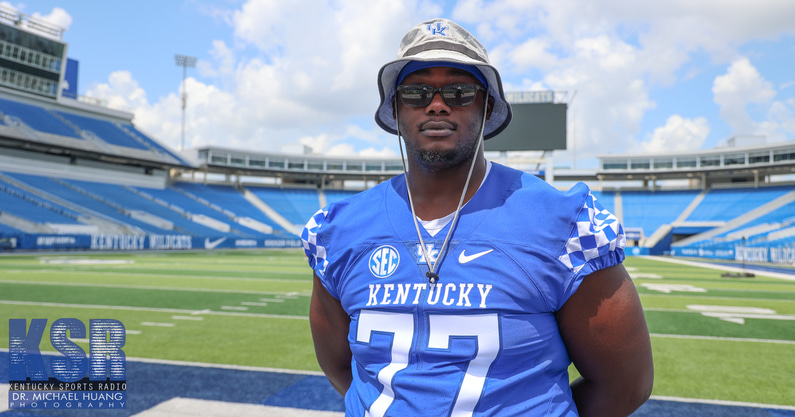 Kentucky has two big holes to fill out offensive tackle after losing Darian Kinnard and Dare Rosenthal. Despite an obvious void, there is some real confidence around the position as fall camp begins in Lexington.
"Deondre [Buford] has been very steady there," Kentucky head coach Mark Stoops said about the tackle situation on Wednesday. "Jeremy [Flax]'s done a really good job on the other side."
"I feel confident, and I like the guys that we have," offensive coordinator Rich Scangarello told reporters. "I think our tackles are pretty good. I think they're going to surprise people."
Hearing that is certainly better than hearing nothing. However, this remains a wait-and-see situation until we see Buford and Flax take game reps in the SEC. Both players hail from Detroit, but each brings different strengths to the field.
KSR spoke with both new starters at Kentucky Media Day and asked for a self-scout on each. Both will bring something different to the field.
Athletic traits should be good fit at left tackle
Deondre Buford was a top-500 recruit out of Detroit (Mich.) Martin Luther King who picked Kentucky over Missouri, Purdue, and Tennessee. Despite standing at just 6-foot-3, Buford was tackle prospect thanks to good length, athleticism, and position movement skills.
After some time in the weight room, Buford has added a lot of mass to his frame as the redshirt sophomore is listed at 312 pounds. Despite trying to add some power, the same physical traits out of high school remain the best parts of Buford's game.
"Quickness, twitchiness," the left tackle told KSR when asked what would be on a Deondre Buford scouting report. "Quick with my hands, quick with my feet."
Those traits can help the former four-star recruit become a valuable reach and seal blocker in Kentucky's wide zone scheme. However, they could also help out in pass protection. Quick striking combined with length should play well in pass protection.
Part of Buford's value will be seen in pass protection. Kentucky is banking on his athletic traits to give Will Levis some consistent blindside protection.
Power player at right tackle
When the Big Blue Wall started in 2016, Kentucky made a name for itself by playing with physicality. The Wildcats became one of the most consistent rushing attacks in college football due to the offensive line's ability to move people at the point of attack.
Despite changing offensive coordinators and schemes, that has not gone away. Stoops still wants a power element to his offense. Jeremy Flax fits that mold at 328 pounds.
"The strengths would definitely be run blocking," Flax told KSR. "That would definitely be the strength."
"I'm more of a run blocker. I can pass protect, but it's just some things that I gotta clean up in it to make everything crisp to make sure I keep things tight for Will back there."
The issues in pass protection are likely what kept Flax from making a bigger impact last season. The former junior college transfer is now in year three at Kentucky as a redshirt junior. The right tackle will help establish the line of scrimmage after Kinnard dominated in run concepts at that same spot.
Working with Auburn transfer Tashawn Manning (6-4, 330) there is a lot of size and power on the right side of the line of scrimmage. Expect the Kentucky run game to lean into that.
Offensive line versatility
When you take a look at Kentucky's offensive line as a whole, there is versatility. On the right side, both Flax and Manning bring size with the ability to anchor in pass protection and move bodies at the point of attack. On the left side, both Buford and Kenneth Horsey have more athleticism. Both players are somewhat undersized but make up for it with length and pass protection. Eli Cox is in the middle and is more of a power player.
That combination will give Scangarello and offensive line coach Zach Yenser something to work with. Coaches always talk about being multiple, and Kentucky is certainly multiple in the trenches.