BIG Football Recruiting Weekend Coming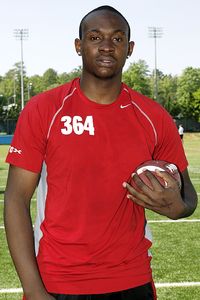 While the football Cats obviously have to be concerned about playing the evil Bobby Petrinos this weekend, there is also another huge part of the football program in play. Kentucky has made this
a signature football recruiting weekend as well.
Some of UK's biggest commitments are coming into town, including
Ryan Mossakowski
and
David Sims.
Those guys will join some rather big potential recruits as well, the most important of which may be the young man pictured above,
Alshon Jeffrey
, a Wide Receiver who is teammates with David Sims and Donte Rumph (both UK commitments) and has previously committed to USC. Now one has to think that it is unlikely that Jeffrey shuns USC and comes to the Bluegrass, but with his teammates here and the need for big Wide Receivers.....you just never know. Throw in our man
Deuce Finch
from Louisville and it is a big week in Lexington. And with that, please dont lay an egg UK....please....