Boogie Fland planning visit to Kentucky in September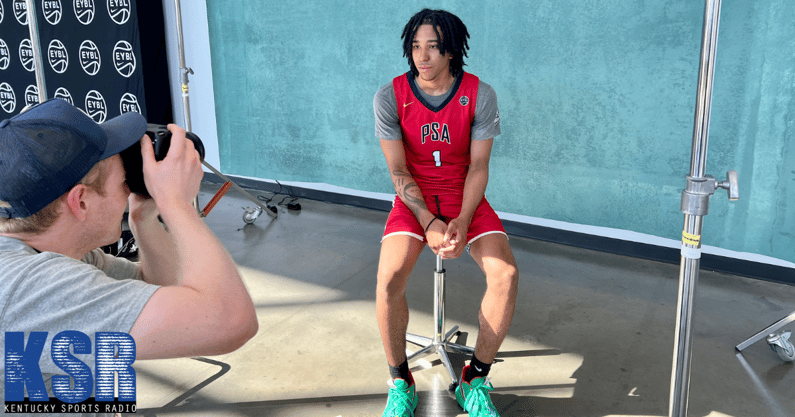 Five-star guard Boogie Fland is in the process of scheduling an official visit to Kentucky, one tentatively planned for the first weekend of September.
The No. 1 point guard in the class of 2024, Fland will also take an official to Indiana on June 13-15, with trips to Oregon, Alabama and UConn also in the works. He previously took official visits to North Carolina and Michigan.
On3's Joe Tipton was the first to report the standout recruit's visit plans.
Fland is the No. 8 overall prospect in the 2024 cycle, according to the On3 Industry Ranking, a weighted average that utilizes all four major recruiting media companies.
The Archbishop Stepinac (Harlem, NY) standout previously told Jacob Polacheck of KSR+ this past weekend that Kentucky was an intriguing option because of its winning tradition and professional culture.
"They're a winning program," he told KSR+. "They've had players go one-and-done and Coach Cal [John Calipari] is a winning coach. He develops his players into becoming pros. You see how many players at my position make the league: Shai Gilgeous-Alexander, De'Aaron Fox, and Malik Monk. That just shows what they do at their school and how they develop players." 
Back in April, Fland told KSR a decision would come when the timing felt right, not looking to rush things or drag it out.
"When I feel it's right I'll know it's right," he said.
What will be the final determining factor in his commitment? How will he choose the right school for him? It'll come down to the locker room chemistry and the vibe around the basketball facilities.
"A place where I feel like I adapt to the playing style. But the main thing for me is how we are in the locker room," he told KSR. "You don't want to go to a school where it's not so good, and you don't have that much of a team relationship.
"I feel like when you've got it together, and you gel together it's harder to beat you. UConn gelled together (during its title run). You couldn't rattle them. They all knew where each other was at."
Through 17 regular season Nike EYBL games, Fland averaged an impressive 15.0 points, 3.8 rebounds and 2.8 assists in 27.2 minutes per contest. He shot 43.5% from the field, 33.3% from three and 77.5% at the line.
Will he wear a Kentucky uniform? A visit will come this fall to help determine that.
Discuss This Article
Comments have moved.
Join the conversation and talk about this article and all things Kentucky Sports in the new KSR Message Board.
KSBoard