Bowling Green will not be stripped of 2017 Sweet 16 title for recruiting violation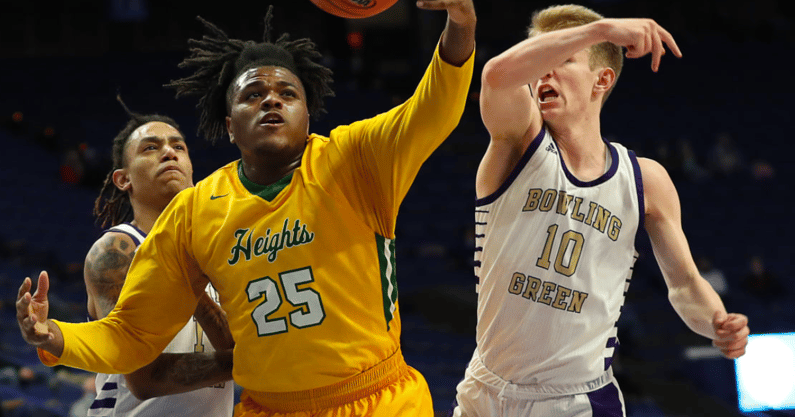 After the KHSAA threatened to strip Bowling Green High School of its 2017 Sweet 16 title, the two parties reached a compromise Thursday morning that will let the Purples keep their basketball banner.
Bowling Green won its first Sweet 16 title in 2017 with eighth-grader Zion Harmon on the roster. An investigation found that a Bowling Green assistant coach violated KHSAA rules by making living arrangements for the point guard and his father. Harmon transferred to Adair County the following season and concluded his career at Marshall County before signing with Rick Stansbury's WKU basketball team.
The KHSAA ruled today that Bowling Green will receive "enhanced monitoring for three years," requiring the school to report names and addresses of all coaches and non-residents who attend the school. BGHS must also pay for "three consecutive summers of training by the KHSAA for our professionals, guidance counselors and secretaries." The probationary penalties cannot compare to the ones proposed by Julian Tackett in January, revealed by the Courier Journal's Jason Frakes.
Vacating Bowling Green's boys basketball district, regional and state titles during the 2016-17 season.
Probation through the 2021-22 school year "for failure to exercise institutional control."
A July review of Bowling Green's membership in the KHSAA.
A fine of $1,000.
Restitution of $5,211 for travel allowances paid to the 2017 Sweet 16.
Restitution of $4,480.18 for KHSAA expenses for outside investigative resources.
It's safe to say Bowling Green is exhaling after today's formal announcement.
Coach's Call Recorded in Ashland
Across the state a controversy is brewing in the 16th Region. Jason Mays has led Ashland Blazer to four straight Sweet 16 appearances. This week the Tomcats' head coach was caught on tape speaking with an eighth-grader's parent, trying to recruit the Boyd County kid to the independent high school. A short snippet of dialogue from Mays, released by Nate Bryan:
"I would love to get my hands on him. Now, I know that's wrong for me to say because of where he's at (Boyd County). But if there's ever a time to do it, it's right now to where he won't have to do one ounce of KHSAA paperwork because he's going to be an incoming freshman."
HOT TAKE: Adults Who Whine about High School Recruiting are the Worst
Kids should be able to play sports where they want to play sports. Adults who cry about fair play are dorks. If playing for School A gives them a better chance to earn a scholarship than School B, School A should be allowed to recruit that kid to their respective school.
Recruiting happens everywhere. If your school isn't doing it, they don't want to be competitive. The KHSAA is showing their teeth today. It's the one time you'll see it in a blue moon. It's stupid and it needs to stop. Read the room. Let kids be kids and quit crying, parents.