BOX SCORE: Numbers behind Kentucky's 34-point win over North Florida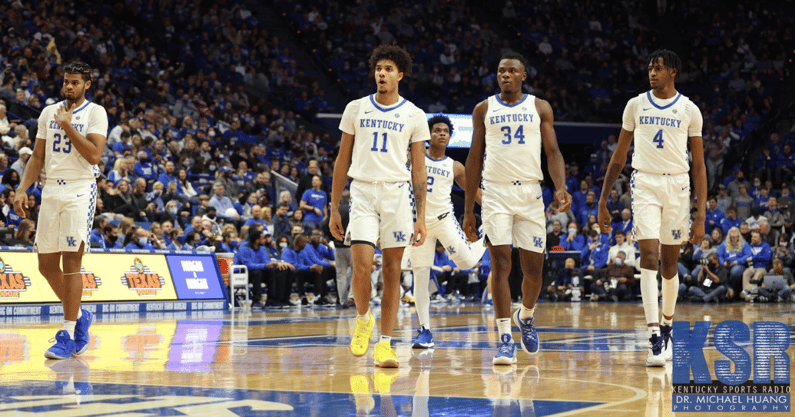 It was a slow start for the No. 10 Kentucky Wildcats on Friday night, but it didn't take long for the home team to overwhelm North Florida. UK came away with a 34-point win by a final count of 86-52 against the Ospreys, moving to 5-1 on the season.
While we wait for John Calipari to take the podium, let's take a dive into the numbers from another big victory.
Five Kentucky players finished with double-digits in scoring: TyTy Washington (14), Dontaie Allen (14), Sahvir Wheeler (12), Daimion Collins (12), and Oscar Tshiebwe (12). Kellan Grady, who closed with eight points, was the lone Wildcat starter who did not hit double-figures.
Kentucky recorded 13 steals while turning the ball over 15 times. North Florida was forced into 21 miscues, a season-high for the Wildcat defense.
Both Tshiebwe (12 points, 16 rebounds) and Wheeler (12 points, 14 assists) closed the night with double-doubles. Wheeler's 14 assists are the third-most in program history (John Wall, 16; Travis ford, 15)
Allen recorded a season-high in points, minutes (19), rebounds (7), and shot attempts (12).
Kentucky shot just 1-12 from beyond the arc in the first half, but went 5-13 from distance in the second half.
North Florida was outrebounded by UK 50-33. Kentucky has won the rebounding battle in all six games this season, doing so by an average of 19.8 boards per game.
Kentucky's shooting split: 47.4/24.0/66.7; North Florida's shooting split: 33.3/22.6/50.0