Boyle County at Frederick Douglass Preview, Presented by Kroger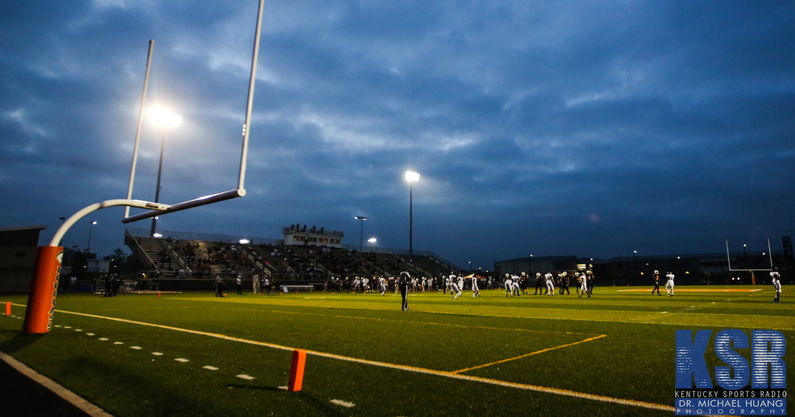 I will head to The Farm in Hamburg on Friday night to cover the Top-10 Matchup between Frederick Douglass and Boyle County.  Follow me on Twitter at @teeroyhowell for updates and check back on KSR for a game recap.  The game kicks off at 7:30 P.M. this Friday at Frederick Douglass High School.
Past History
I know it was only 7-on-7 but it was a chippy and intense battle at EKU.  Douglass held on to win after the Boyle County would-be tying score was disallowed due to a timing sack being called.  There were some heated moments between the players and some jawing going on between the Douglass sideline and the Boyle County fans.  I know both teams have been looking forward to Friday night for a long, long time.
Frederick Douglass
KSR State Ranking: 4
KSR Class Rank:  #1 in 5A
State Championships:  0
State Runner-up:  1 (a 14-7 2019 loss to Michael Mayer and the Covington Catholic Colonels)
Last Season:  Finished 7-2.  Missed a late field goal and lost to Gavin Wimsatt and the Owensboro Red Devils 28-27 in 5A semifinals)
Coach: Nathan McPeek is in his 2nd season as the Broncos' head coach.  He has a 16-2 record at Douglass
Key Players
Sr. WR Dane Key –Leads the team receptions (31) yards (501) and TDs (5).  One of the favorites for Mr. Football.  
Sr., QB Samuel Cornett – 92-for-149 for 1,453 yards, 15 TDs and 2 picks.  Has shown tremendous improvement since arriving at Douglass at the start of last season from Washington state.  Holds offers from Butler, Valparaiso and Stetson.
Jr., DB Ty Bryant – 25 Tackles, 2 tackles for loss, 2 interceptions – 1 returned for a TD.  Committed to UK.
Boyle County
KSR State Ranking:  7
KSR Class Rank:  #2 in 4A
State Championships:  9 (1999, 2000, 2001, 2002, 2003, 2009, 2010, 2017 2020)
State Runner-up:  2 (2004, 2019)
Last Season:  11-0.  Defeated Franklin County 31-28 (OT) in 4A finals on this 4th down stop from Luke Sheperson
Coach:  Justin Haddix – Led Boyle County to the 2020 state championship in his first year as the Rebels' coach.  Finished runner-up to Boyle County in 2017 and to Central in 2018 as head coach at Corbin
Key Players
Sr., QB Jagger Gillis – 116-for-173 for 1,784 yards, 20 TDs and 2 picks, 7 rushing TDs.  Returned for a second senior season and is a Mr. Football candidate.
Sr., WR Cole Lanter – 52 catches for 919 yards and 15 touchdowns, 7 rushing TDs, 1 return TD.  Underrated player.  Cousin of former UK basketball played Tod Lanter.
Sr., K/P Jackson Smith – 42-of-46 on extra points and 5-of-7 on field-goal attempts.  Committed to UK.
Jr., DL Tommy Ziesmer – 37 tackles, 9 tackles for loss, 2 sacks.  One of the top defensive linemen in the state.
Preview
Frederick Douglass (7-0) comes in facing their toughest competition of the season.  They have one Top-25 win (27-14 over #13 Bryan Station in Week 1).  Boyle County (7-1) has won six straight games after losing to #3 LCA 35-28 in week 2.  The Rebels hold a Top-25 win over #17 Lexington Catholic 16-10.
Both quarterbacks are excellent.  Frederick Douglass has an elite WR in Key, while Boyle County counters with Lanter, whose 103 receiving yards per game puts him at #3 in the state.
Though often teams will rest their stars on the last night of the regular season, I don't expect that to happen in this matchup.  Both are looking to get in some good competition after a season filled with blowouts.  Frederick Douglass is currently in a dead heat with Woodford County for the #1 RPI in 5A, so a win could be important.  Boyle County currently has the #1 RPI in 4A.  
Prediction
If the game comes down to a last second kick, UK commit Jackson Smith is a guy that can be counted on to make clutch field goals.  He drilled what turned out to be the game-winner in overtime of the state finals last year.  That is exactly what Jude Howell thinks will happen.
Barkley's Prediction:  Frederick Douglass 42 Boyle County 28
Troy's Prediction:  Frederick Douglass 28 Boyle County 25
Jude Howell Prediction:  Boyle County 35 Frederick Douglass 28
Weather
Football weather.  Low 50s and potential showers.
Podcast
I interviewed Boyle County Coach Justin Haddix on the Kentucky High School Sports Podcast this summer.  Hear what he had to say about his squad:  
Subscribe to the podcast to check out my game preview and recap episodes.  There will also be a basketball preview coming soon.
A Message from Kroger
We're excited to tell you about something new from our friends at Kroger. Did you know Kroger is America's largest grocery chain that started over 135 years ago? They are doing something they've never done before: bringing fresh groceries right to you with a new service called Hometown Pickup. That's right, for those of you in Cynthiana, Midway, Eminence, Bedford, McKee, Dry Ridge, Carlisle, Eubank, Georgetown, Mt. Vernon, Jackson, Frenchburg, Irvine, Mt. Olivet, and Paris, Kentucky you can now order all your groceries online and pick them up at a central location in your hometown. No more long drives into the city to get fresh food for you and your family. Now THAT is truly Fresh for Everyone. Thanks, Kroger. Learn more and place your first order at Kroger.com/hometown.