Boyle County crowned 4A State Champion for 2nd year in a row— Presented by Kroger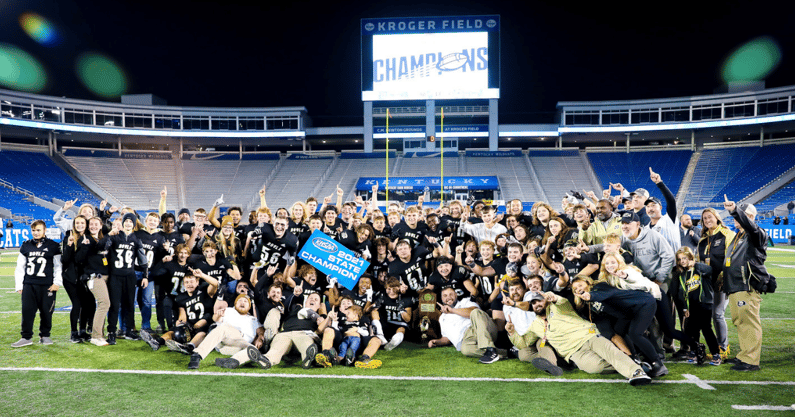 For the second-straight season, the Boyle County Rebels are your 4A State Champions. Justin Haddix, who is in his second year with the program, is now 2-for-2 on state titles while at the helm of the Rebel football program.
"Our guys did a great job. We had a great plan," Haddix said after defeating Johnson Central 30-13. "… Hats off to Johnson Central. They're a great football team, they're good at what they do, they had an unbelievable year and we just came out on top. I'm very, very proud of our kids and they prepared well and they deserve this."
First Quarter: Boyle County 6, Johnson Central 0
After a Johnson Central punt on the opening drive, Boyle County found themselves pinned on their own two-yard-line. Thanks to quarterback Jagger Gillis' legs, Boyle County converted on a 4th & Inches from inside their own 15. 
Two plays later, Gillis found Kentucky commit Cole Lanter on a scramble for a 75-yard opening score. 
"We knew they were gonna be man-to-man all week, so I knew I had to get the ball in space," Lanter said about the touchdown. "Somehow I tried to make a play. Jagger [Gillis] put the ball exactly where it needed to go, the guys blocked downfield and I just tried to outrun everybody and do the rest."
A second punt in a row from the Golden Eagles saw a healthy return from Lanter to get his Rebels out to their own 44-yard-line before the end of the quarter.
HALF: Boyle County 13, Johnson Central 0
The Boyle County rushing attack wouldn't be stopped on their opening drive of the quarter. The series was capped by a Gillis quarterback keeper from nine yards out.
Johnson Central would then enjoy their longest drive of the night at the time, where they found themselves in Rebel territory for the first time Friday night. After a Boyle County stop, the Rebels went into the locker room with a 13-point lead.
Third Quarter: Boyle County 23, Johnson Central 6
Boyle County took five minutes off the clock on their opening possession. Two holding calls made sure the Rebels couldn't find the rhythm they enjoyed in the first half and were forced to utilize Kentucky football commit and kicker Jackson Smith, who split the uprights to put the Rebels up by 16.
Two back-to-back chunk plays by Johnson Central running backs set the Golden Eagles up with first and goal that led to their first score of the night—a QB sneak for Grant Rice. The ensuing two-point conversion was stuffed at the line to keep the game two scores apart.
Boyle County marched right down the field on their next drive. Gillis hit Lanter in the end zone for the touchdown with under a minute remaining in the third.
FINAL: Boyle County 30, Johnson Central 13
A Cole Campbell 47-yard rush on the second to last play of the third, Johnson Central was set up inside Boyle County's 30-yard-line to begin the final quarter.
Johnson Central cashed in on the short field with a Chase Price touchdown to cut the score to 10 with under 9:29 minutes remaining.
The Rebels would utilize their rushing attack on the ensuing possession to bleed most of the remaining clock out before Gillis snuck in to push it back to a three-score game.
"Just be smart and don't turn the ball over," Gillis said about their philosophy on the final possession. "That's all coach just kept saying to me on the last drive."
The celebration began 2:43 early on the Boyle County sideline and stands. Unlike the Pikeville-Russellville thriller and LCA-Beechwood classic from earlier in the day, the final score was clear and decisive as Boyle County was crowned champions of 4A.
"It's a testament to these kids," Haddix said. "That's our whole program—I'm just blessed to be a part of this program. It's no one person that makes it go. We've got a whole group of collective people who do a great job."
A Message from Kroger:
We're excited to tell you about something new from our friends at Kroger. Did you know Kroger is America's largest grocery chain that started over 135 years ago? They are doing something they've never done before: bringing fresh groceries right to you with a new service called Hometown Pickup. 
That's right, for those of you in Cynthiana, Midway, Eminence, Bedford, McKee, Dry Ridge, Carlisle, Eubank, Georgetown, Mt. Vernon, Jackson, Frenchburg, Irvine, Mt. Olivet, and Paris, Kentucky you can now order all your groceries online and pick them up at a central location in your hometown. No more long drives into the city to get fresh food for you and your family. Now THAT is truly Fresh for Everyone. Thanks, Kroger. 
Learn more and place your first order at Kroger.com/hometown.