Brad White confident Deone Walker can avoid sophomore slump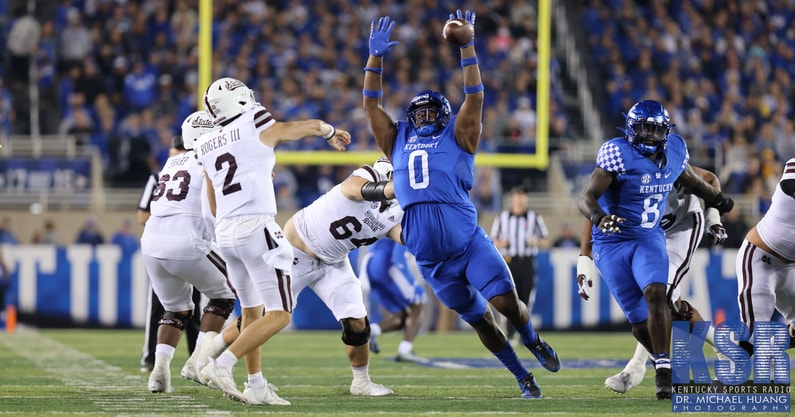 Kentucky football has added 13 players through the transfer portal to hit the 85-man scholarship limit this spring. Tanner Bowles (Alabama) got things rolling on December 8, followed by Marques Cox (Northern Illinois) and JQ Hardaway (Cincinnati) on Dec. 15, Jantzen Dunn (Ohio State) on Dec. 18, Devin Leary (NC State) and Ray Davis (Vanderbilt) on Dec. 20, Keeshawn Silver (North Carolina) on Jan. 8, Courtland Ford (USC) on April 22, Ben Christman (Ohio State) on May 7, Daveren Rayner (Northern Illinois) on May 13, Alex Raynor (Georgia Southern) on May 14 and Kevin Larkins Jr. (Livingstone College) and Demie Sumo-Karngbaye (NC State) on May 16.
Offensive, defensive and special teams holes filled, ranging from starters to role pieces. It was a wildly successful portal season for the program, one that has put the Wildcats in a real position to succeed in all three areas this fall.
But that was also with 18 departures via transfers, mostly depth pieces with a few core rotation guys. The same talent that left was replaced, if not topped. And if it wasn't replaced through the portal, it's being developed with players already on the roster.
That's exactly the way the program wants it.
"You have to be very diligent. You have to be patient throughout," Kentucky defensive coordinator Brad White said on Behind Kentucky Football with Curtis Burch. "There can be a gut reaction when you see a player go in (the portal), 'Oh, just get him!' We are still very mindful that we are a recruit-and-develop program."
Take Justin Rogers for example, a former blue-chip prospect and one of Kentucky's biggest signings in recent memory. The Detroit native produced across three seasons in Lexington, racking up 62 total tackles (19 solo) to go with 3.0 sacks — 36 tackles and 0.5 sacks in 2022 as a Preseason Fourth-Team All-SEC member (Phil Steele).
Then there's Deone Walker, another blue-chip recruit out of Detroit with all of the physical tools in the world — he stands 6-6, 348 pounds. In his debut season as a Wildcat, though, the former four-star prospect totaled 40 tackles, 4.5 tackles for loss, five quarterback hurries (second-most on the team), two pass breakups and a forced fumble. He would go on to earn True Freshman All-America honors by On3, College All-True Freshman by PFF, All-SEC Freshman Team (Coaches) and All-SEC Second Team by PFF and Phil Steele.
Two talented and important pieces, but it became clear by year's end that Walker was the future of the Kentucky defense. His brand reflected that. The writing was on the wall, leading Rogers to the transfer portal, ultimately signing with Auburn. As the veteran found an expanded role and significant NIL opportunities with the Tigers, the newcomer is sticking around as the guy.
"We recruit through high school and we develop those young men. In this age, you're going to have to plug certain holes, whether that be at a starting position, a backup position or a depth position you know you've got a young man with years and you can help develop," White said of Kentucky's transfer portal philosophy. "… There is no player more important than this team, no matter how good he is. We try to be very strategic in that regard. That's why, for the most part, why we've had success."
Walker is the perfect example of that. Rogers had the experience, but production is production. The freshman standout was an instant-impact game-changer, something that just doesn't come around often.
"Not everybody is just ready as soon as they step on campus. The more you can absorb from the older guys, when it is your time and you do get that opportunity, you'll be able to capitalize," White said. "You get put in too early and you're not ready, the first impression that you leave is, 'Oh, this guy can't play at this level.' But you go in and now you're ready at that moment and you make plays, now everybody says, 'Oh man, he's more than ready for this level. Let's go, we might have a star on our hands.'
"That's why we've had a lot of success. We take great pride in it's not just the talent you see on the field, it's how does his character fit? What's his personality? How is he wired? So that when he walks in, he fits that culture that we have on this team, specifically on the defense. They're going to earn everything they're given."
Walker earned the expanded role and capitalized on it, named SEC Co-Defensive Player of the Week on November 28 after racking up six tackles, one tackle for loss and a half-sack with a career-best two QB hurries and a forced fumble in a win over Louisville. He not only met expectations as a former four-star, top-250 talent, he exceeded them.
And though losing Rogers to the portal hurts — he was actually replaced by former five-star DL Keeshawn Silver from UNC — excitement for Walker's future is at an all-time high. And White is ready to do whatever it takes to help the 6-6 superstar avoid a sophomore slump.
"I'm obviously excited about the whole team, but he had a really strong freshman campaign," White said of Walker. "The big thing with Deone and many young players that have success, everybody talks about the sophomore slump because you have success early. He understands what it takes to avoid that and really push his game to another level. There's no time to take a step back. He recognizes that and understands there will be a lot of eyeballs and attention on him. He's no longer a secret — not that he was a secret. You can't miss him when he steps on the football field."
As we saw with Rogers, recruiting status doesn't automatically translate to stardom at the next level. And it certainly doesn't fight off young up-and-comers attempting to surpass you on the depth chart. Everything is earned in Lexington.
"It takes work. You can't just stay in one place because if you don't progress your game, everybody else is catching up or passing you," White said. "To stay the lead dog, you've got to push like the lead dog. This is still a big summer for him, I thought he had a good spring. Now it's about having a great summer and a phenomenal fall. We just need to keep on that progression. I'm excited, he deserves all of the attention he's getting."
Expectations were high for Walker when he came in and he surpassed them tenfold in year one. What will he do in year two?
Discuss This Article
Comments have moved.
Join the conversation and talk about this article and all things Kentucky Sports in the new KSR Message Board.
KSBoard