WATCH: White, Square, Paschal Prepare for Mississippi State Air Raid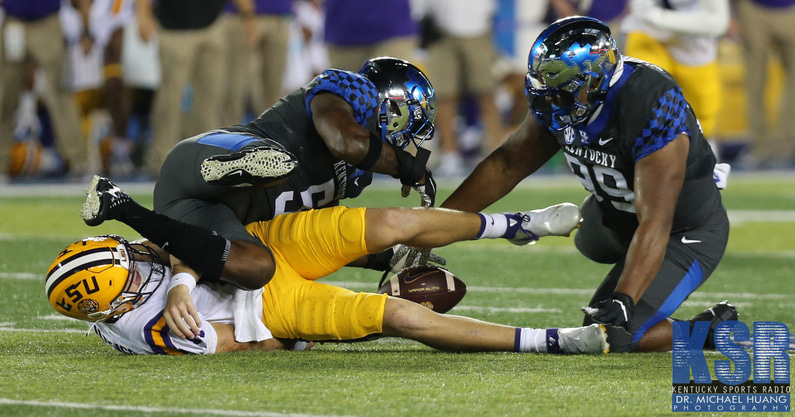 A year after silencing the air raid sirens, Kentucky's defense will be tasked to replicate that performance against Mike Leach's improved offense.
This week on separate KSR podcasts, a couple of former Wildcats, Freddie Maggard and Van Hiles, likened the air raid to the veer option ran by the military academies. Luckily for Kentucky, they at least got an extra week to prepare for the unorthodox, pass-heavy offense.
"It's a challenge when you face a different style of offense that you don't see all the time," said UK defensive coordinator Brad White. "You gotta try to get as much as you can in. Obviously it was nice to have a bye week ahead of it so you can get a few extra reps in there, but it's a challenge and it's really hard to replicate."
How does one defend 60 passes a game? "A lot of film and a little bit of luck," linebacker DeAndre Square joked.
For Square, the greatest challenge is playing from pass to run, instead of reading run to pass. For others, it's being 100% ready to play for a road trip that requires an unusual amount of travel in a stadium that's surrounded by cowbells. The senior leaders are making it a point to emphasize to the underclassmen how important it is to be ready to play as soon as the ball is kicked off Saturday night at 7 pm ET.
"I'm very confident in this team, I'm very confident in the work we've put in and know that we're going down there with a common goal, which is to win. It comes down to having higher energy when you get there," said Josh Paschal. "You just want to go out there and set the tone."