Kentucky also has NFL blueprint on defense under Brad White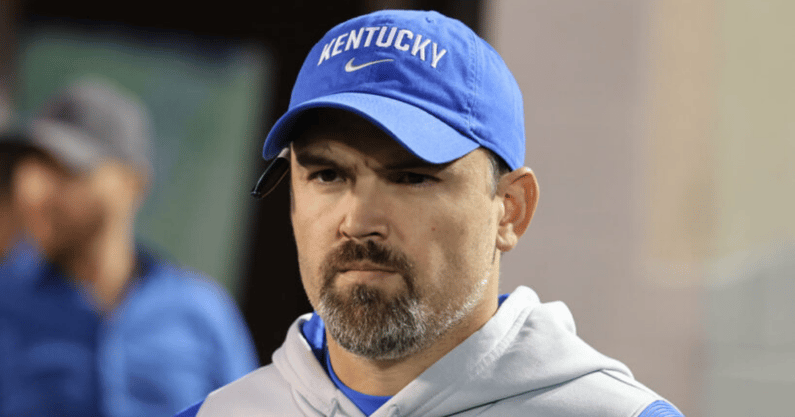 The biggest recruiting win of the offseason might have been keeping Brad White at Kentucky. Mark Stoops was able to keep the defensive coordinator away from LSU, and the 39-year-old play-caller will be making well over a million dollars this season.
As he enters his fifth year in the program and fourth season as the defensive coordinator, White has slowly been recognized as one of the best defensive coordinators in the SEC. Since he took over, the Wildcats have put together four consecutive top-40 defenses per Bill Connelly's adjusted efficiency rankings. Before his arrival, Kentucky hadn't produced a top-40 defense since 2008.
With his approach, the outside linebackers coach has helped develop Kentucky's pass rush after spending the previous seven seasons working under Chuck Pagano with the Indianapolis Colts. The Wildcats have since turned into a unit that hangs its hat on big-play prevention and forces offenses to go on sustained drives to put points on the board.
New offensive coordinator Rich Scangarello has been impressed with what he's seen from the former NFL staffer.
"I love his defense," Scangarello told reporters on Tuesday. "We've been talking about it quite a bit. Actually, it reminds me of kind of the trend in the NFL right now. We've had some discussions. Not everyone understands it, not everyone can teach it. It has a lot of intricacies, very detailed. It's pro-driven. Kind of the en vogue defense in the NFL is the 3-4 style of defense or odd defense that plays a certain type of backend coverage that's very multiple.
"The Rams have gone to it. Vic Fangio's defense — I coached against it every day — it's kind of that mode. It's Brandon Staley [Los Angeles Chargers]. To me, it has that same feel to it. And I love it. It's a challenge. He throws a lot at you, and it has a lot of versatility."
In two of the last three seasons, Kentucky has ranked in the top-15 nationally in plays of 20-plus yards allowed. Meanwhile, Kentucky's rush defense has morphed into a solid unit after struggling for much of the early tenure under Mark Stoops. Meanwhile, the Wildcats have had some good passing defense numbers — top-30 in yards per attempt allowed in 2018 and 2019 — along the way.
Brad White has shown some very good versatility as a defensive coordinator, and his units are typically assignment sound and do a good job of making opponents play left-handed. Kentucky has an NFL blueprint on both offense and defense.
"He's got smart players, he knows how to use them, and he does a really good job putting them in those positions," said Scangarello.