Kentucky's 'poise' is leading to great results on defense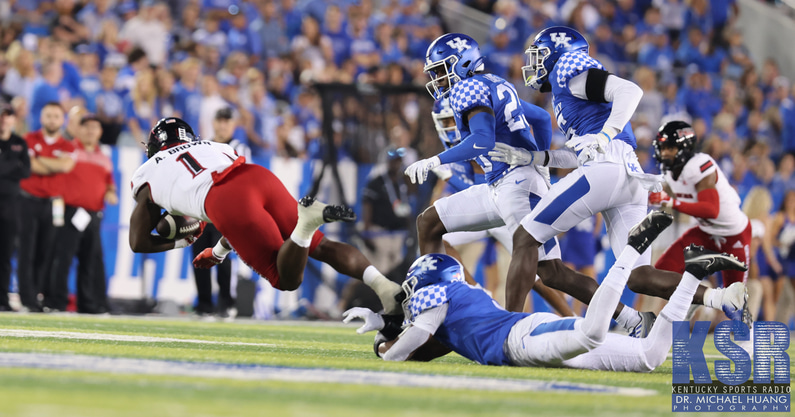 Kentucky's defense is having an excellent season as we enter Week 6. Under fourth-year coordinator Brad White, the Cats are posting some excellent numbers.
The Big Blue ranks in the top-20 nationally on defense in EPA, success rate, points per drive, scoring defense, yards per attempt, QB rating, and passes defended. Kentucky is playing at a high level and is posting numbers and getting stops without any bonafide true superstar talent.
In two SEC road games, Kentucky held both Florida and Ole Miss without a touchdown after halftime. The Cats have been able to put the clamps on two good SEC offenses to allow their offense to close the gap and nearly get two huge wins on the road.
Adjustments are being made at halftime, but that isn't the secret sauce for this defense. Kentucky has a lot of veteran players that have played in big football games, and the moment is not getting too big for this defense early in the season.
"They're staying poised," White told reporters about Kentucky's second-half success. "They're not letting things that happen early in the game rattle them. They're coming to the sideline, and if we made some mistakes, let's get them corrected and play ball. I was really proud of the guys. After that first quarter, it could've really easily been rattled and shaken. The environment down there was a really good environment, and obviously, the crowd was in it after that long touchdown run. They could've easily let their confidence get shaken. They stayed in it, they kept fighting."
After that long touchdown run from Quinshon Judkins, Kentucky settled in and held Ole Miss without a touchdown on its final eight possessions. That gave the Cats a great shot at winning a road conference game against a top-15 opponent. With multiple super seniors on the field together, Kentucky stays calm and cool in hectic situations.
"It all stems from having poise," said White. "As much as we talk about adjustments at halftime, it's just about having those experienced guys that have been in those moments and understand."
Returning home for two big SEC games against South Carolina (Oct. 8) and Mississippi State (Oct. 15) before the bye, Kentucky will need its defense to keep delivering as the offense continues to gel.
So far, this is looking like the program's best defense since 2018. That will give the Wildcats many shots at wins as conference play continues.