'Support system' at Kentucky helped keep Brad White in Lexington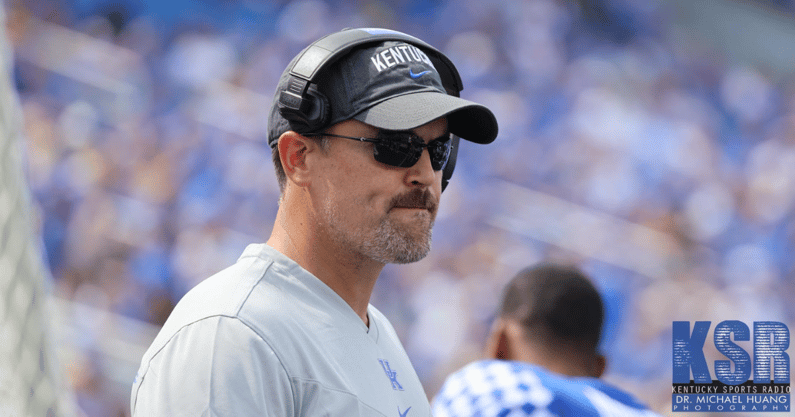 Defensive coordinator Brad White will be back on the Kentucky sidelines in 2022. The assistant coach will be returning because of what has been built in Lexington.
Alignment seems to be the new catchy word or slogan thrown around in modern-day college football. Up there with the transfer portal, culture, NIL, and "recruiting is your program's lifeblood", it's something that every program is striving for.
At the University of Kentucky, alignment is present. It was shown as the university committed to another contract extension for Mark Stoops and raised the assistant coach salary pool. The administration also has committed to getting a full indoor facility for the football team and an increased recruiting budget.
However, it doesn't just stop there.
The fan base also plays a big role. The Big Blue Nation did its part in 2021 by filling Kroger Field to capacity against Florida, LSU, and Tennessee. Meanwhile, the Wildcats had strong road support in away games against Georgia, Louisville, and Vanderbilt.
All of that adds up to equal alignment as administration, coaches, and the fan base are all pulling on the rope together. The culture that has been created helped defensive coordinator Brad White in his decision to stay in Lexington and not join Brian Kelly's first coaching staff at LSU.
"I am so excited to be here and be Kentucky's defensive coordinator," White told reporters on Tuesday. "Kentucky's home, Kentucky's family. Myself, my wife, my kids we feel one with Big Blue Nation, and to me, that is more than anything. Really want to thank Big Blue Nation for their comments and their outpouring of support that we received over the last week. Really excited just to continue to build with Coach Stoops and be a part of this program and hopefully can be apart for a long time.
Since arriving in 2018, White has been a key cog in a historical run for Kentucky football. The Wildcats are 32-17 overall and are a Citrus Bowl victory away from another double-digit win season. The 39-year-old assistant coach has been a part of wins at Florida and Tennessee. He played a huge role in helping Josh Allen become the best defensive player in college football and a top-10 pick. In the 2022 recruiting cycle, he was a key part of a pair of blue-chip recruiting wins at EDGE.
As a defensive play-caller, Kentucky is on the verge of putting together their third consecutive top-40 defense per ESPN's SP+'s opponent-adjusted rankings since White took over in 2019. The only one higher in the Mark Stoops era was the 2018 unit that had White serve as a position coach.
Keeping him around was a top priority for Stoops. White has proven to be a strong defensive coordinator. However, the overall growth of the program and the culture built may have been the biggest reason White wanted to stay in Lexington.
"We are doing special things here," said Brad White. "I'm excited to be a part of that. The signing class we just signed with what we've got coming in on defense, what we already have what we've done from the past classes. What we've been able to supplement in the portal with character young men — the future is really, really bright.
Stability is required to have a bright future. After losing co-defensive coordinator Jon Sumrall to Troy just months after Steve Clinkscale departed for Michigan, keeping White in the building was essential for Kentucky football.
The alignment of the fans, players, coaches, and administration all played a role in keeping the defensive coordinator at Kentucky.
"Everything has challenges, but when you know that a head coach has your back, when you know an administration has your back, when you know a fan base has your back you can push through any challenge," Brad White told the media. "It's about having a support system, and that's what family's about. Since we've moved here four years ago, that's what we recognized at this university, this state. The support system that they provide is unlike any place we've ever been. We're just blessed to be a part of this community with the way that this community has embraced us. There's no monetary value that you can put on that.
Kentucky has built a strong football culture in Lexington. It's a program many people want to be involved with. Good players want to play in it, good coaches want to work for it, the administration wants to support it, and fans want to be a part of it in any way possible.
That should lead to great things on the field as Stoops appears to be putting together something special at Kentucky.