Breaking down the numbers: Who is the best shooter of the Calipari era at UK?
[caption id="attachment_195215" align="aligncenter" width="600"]
© Kim Klement[/caption] When you think of the best shooters in Kentucky's rich history, names like Tony Delk, Cameron Mills, Travis Ford, and Jodie Meeks quickly come to mind. Many talented sharpshooters, mostly spread over the course of several decades. In the Calipari era, however, we've seen some of the most dominant three-point shooters to ever come through the program year after year. Nearly every year since Coach Cal arrived, the Wildcats have had at least one shooter make their mark in the record books and on timeless highlight reels. In some cases, we've seen these players suiting up at the same time, with
12 of the program's top 35 career three-point shooters (3P%) playing under Calipari in the last eight years.
But who's the best? Let's break down the long list of top marksmen:
The contestants:
Jamal Murray, Doron Lamb, Malik Monk, Devin Booker, Brandon Knight, Aaron Harrison
The criteria:  
Effective field goal percentage (eFG%): calculates two-point and three-point field goals made compared to total attempts, factors in additional difficulty of three-pointers
True shooting percentage (TS%): calculates total points scored compared to total field goal and free throw attempts
Three-point percentage (3P%): 3P FG/ 3PA
Overall impact made on games
Doron Lamb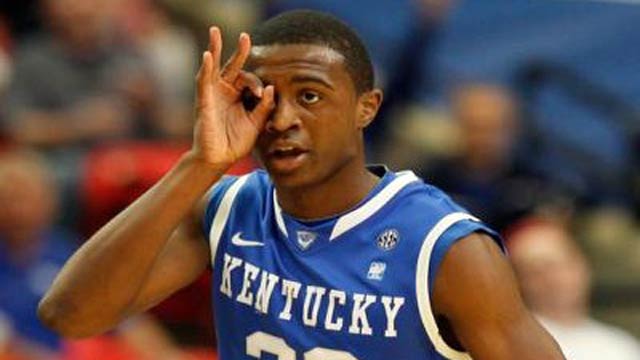 Statistics:
58.87% eFG% (Top 150 players in college basketball history) True shooting percentage of 63.4% Career 47.5% three-point shooter, freshman year shot 48.6% from beyond the arc (Kentucky school record)
The case for greatness:
Read the statistics again and you have your answer. When we think of massive impact players of the Calipari era, fans don't usually think to include Doron Lamb anywhere near the top of that list. He wasn't flashy, he wasn't extremely athletic, and he wasn't the best passer or defender.
When it came to shooting, though, Lamb was a machine.
Every time the guard from Queens, NY lifted up for a jumper, you automatically assumed three points were added to the scoreboard. In fact, when you break down the statistics and revisit the highlights from his two-year career at UK, that assumption wasn't far from the truth. His shot was effortless from anywhere on the court. While opposing defenses focused on stopping Anthony Davis, Terrence Jones, and Michael Kidd-Gilchrist, Lamb set up shop on the three-point line and waited. When the defense collapsed in the middle, there he was, wide open more often than not.
And when the ball left his hands, he was money.
For comparison's sake, Lamb's eFG% of 58.87% would surpass Klay Thompson's mark of 56% in 2016-17. The former UK guard's career true shooting percentage of 63.4% would surpass Steph Curry's mark of 62.3% this year, as well.
Two of the greatest shooters in NBA history fall short of Lamb's records at UK.
The 6'4 shooting guard broke Cameron Mills' UK three-point percentage record in fewer games and on more attempts, and I find it hard to believe we see anyone break that record anytime soon. The NCAA record for highest career 3P% is Northern Arizona's Stephen Sir with 46.9%.
If Lamb reached the minimum 200 career three-pointers required for the record, he would be the NCAA career leader in 3P%.
50% from deep in one year is ridiculous. Coming just short of that mark in back-to-back years is damn-near impossible. How about that for #TeamNoSleep? Lamb may not be the flashiest player in UK's history, but he's easily one of the most efficient and impactful. https://www.youtube.com/watch?v=wdsVf8QwZFI
Jamal Murray
[caption id="attachment_194736" align="alignnone" width="415"]
Mark Zerof | USA Today[/caption]
Statistics:
eFG% of 56% 3P% of 41% TS% of 59.5%
The case for greatness:
When Murray exploded onto the basketball scene at the Nike Hoops Summit in 2015, fans were drooling at the thought of having him in 2016. When he announced he would be reclassifying to the class of 2015 and playing at Kentucky with Tyler Ulis, especially after nearly every expert predicted he'd end up at Oregon, the entire BBN about lost it. And rightfully so. In every game of his Kentucky career, Jamal Murray hit a three-pointer.
Every. Single. Game. 
Murray's 36-game feat broke Tony Delk's record of 34 consecutive games with a made three. His 113 threes on the year came just nine short of breaking Stephen Curry's record for most threes by a freshman in a season. He finished with a freshman record 720 points (later broken by Malik Monk). First player in school history to score 18 or more in each of the first seven conference games since Jodie Meeks (first freshman ever). And the list goes on.
Somehow, some way, Murray chipped away at just about every freshman shooting and scoring record in the UK history books.
The bow-and-arrow specialist had one of the purest shots we've ever seen at Kentucky, and he certainly used it to get through some tough games. Murray had eight makes at home against Florida, seven against Ohio State, six against Georgia and on the road against Vanderbilt, and a dagger against Texas A&M to seal the deal in the SEC Championship. He put up incredible numbers, but how he managed to do it is even more impressive. His work on the baseline to find an open shot was a thing of beauty, and he absolutely perfected the catch-and-shoot jumper. If he needed to create his own shot off the dribble, he was able to do that too.
Anything Coach Cal asked him to do, he not only did, but thrived at.
Most importantly, Murray carried the scoring load for a team that desperately needed one. Skal Labissiere struggled as a freshman, Isaiah Briscoe wasn't the scorer we expected him to be, Marcus Lee didn't progress much as a junior, etc. If Ulis or Murray had a bad night, the Cats were doomed.
Lucky for us, Murray had just six games out of 36 total scoring less than 16 points, 18 games with 20 points or more.
The backcourt of Murray and Ulis will likely go down as the greatest in Kentucky history. If the frontcourt came even close to preseason expectations, the 2015-16 squad could have been special... What could have been. https://www.youtube.com/watch?v=MB0vHLKuh6k
Malik Monk
Statistics:
eFG% of 54.3% 3P% of 40% TS% of 59.2%
The case for greatness:
Listed as the top shooting guard in the nation, the hype surrounding Monk going into the year was extremely high.
The athletic sharpshooter out of Arkansas was known as one of the top scorers in America, but no one had any idea he would become a star as soon as he did.
Just three games into the regular season, Malik Monk made a major statement by dropping 23 points on seven three-pointers against No. 13 Michigan State. He caught fire, and it didn't seem like anyone in the world could stop him. As the year progressed, that fire never burned out. Monk quickly became one of the most dominant players in the country with the ability to make baskets from all over the court. At one moment he would make a ridiculous dunk worthy of an #SCTop10 nomination, and then on the next possession drill a three in a defender's eye. And then another three. And then another. And another.
When Monk got hot, there wasn't a better shooter in the nation. By a long shot.
He had several impressive games following his scoring barrage against Michigan State, but he officially hit legendary status against North Carolina in Las Vegas. With the lights at their brightest, Monk scored 47 points in the game and single-handedly defeated the Tar Heels on the big stage. Many considered it the best basketball game of the last decade, and Monk's stone-cold killer threes were the main reason for that. The big shots continued throughout the year en route to a historic season in both shooting and overall scoring ability. Right when we thought Jamal Murray was the king of breaking freshman records, Monk went above and beyond. The former Wildcat passed Murray's freshman record for most points in a season with 754 on the year, managed four of the top seven single-game scoring performances in the Calipari era, and led SEC in scoring in the regular season at 21.2 points per game. Murray may have been the more accurate shooter, but Monk easily became the most productive scorer of the last several years. The former Wildcat out of Lepanto, Arkansas energized the fanbase on a nightly basis. It was the Malik Monk show, and there wasn't a better entertainer in the business.
Devin Booker
Statistics:
eFG% of 57.1% 3P% of 41.% TS% of 60.4%
The case for greatness:
With Coach Cal's platoon system in 2014-15, Booker didn't average a whole lot of minutes or points, but he made just as significant of an impact on the end result as any starter. Coming off the bench, Booker's ability to knock the life out of opposing teams gave fans great pleasure. When they thought they had even the slightest bit of hope, Booker came in and absolutely ripped their hearts out with a few shots beyond the arc.
He was the Mariano Rivera of college basketball, snarky grin and all.
With the ball in his hands, off the ball, in transition, wherever, Booker was going to find a way to hit a shot in your face. In the months of December and January alone, Booker hit 25/47 three-point attempts, good for 53.2% from beyond the arc. He also had a
seven-game run shooting 20/28 from beyond the arc (71.4%)
. Booker had games of 5/6, 5/6, 4/6, 4/7, 3/3, 3/3, 3/4, and 3/6 in his lone year at Kentucky. He came back to earth to end the season, but there was a time that just about anything he threw at the rim went in. He was the best shooter in college basketball by a wide margin. The guard out of Moss Point, MS was named to the All-SEC Second Team, All-SEC Freshman Team, managed four consecutive SEC Freshman of the Week honors, and scored in double figures in 20 total games.
And he never started a game at Kentucky.
https://www.youtube.com/watch?v=jkFvXNIgi7g
Brandon Knight
Statistics:
eFG% of 50.8% 3P% of 38% TS% of 56%
The case for greatness:
Though Eric Bledsoe, Darnell Dodson, and Patrick Patterson were known as solid shooters in 2010, one of the most crushing moments of the Calipari era came in the form of 4/32 from three in the Elite Eight against West Virginia in Cal's first year at UK. After painful struggles from beyond the arc, Calipari signed two of the best shooters in the country in Brandon Knight and Doron Lamb, and they lived up to expectations. Though the biggest shots of his career came on the elbow against Ohio State and at the rim against Princeton, Knight quickly became one of the most gifted shooters in recent UK memory. His lightning-fast release made it tough for even the best defenders to guard, as he was able to knock down shots from anywhere on the court. When his shot wasn't falling, he knew how to score at the mid-range or at the rim to fill up the scoreboard. He was a warrior, fighting for every point on every possession.
Whatever it took for his team to win, Knight made it happen.
Through the early-season adversities, Knight led the Wildcats on one of the most surprising Final Four runs in UK history, knocking off some of the best teams in college basketball as a four-seed. The game-winner against Ohio State in the Sweet 16 will remain in Kentucky highlight reels forever. The late victory against UNC in the Elite Eight left you speechless. Time and time again, the Brandon Knight-led Wildcats put on a show. The 2010-11 team overachieved by a country mile, and Knight was the primary reason for that. https://www.youtube.com/watch?v=eVWyITwvt4c
Darius Miller
Statistics:
Career 57.3% true shooting %, but between his junior and senior seasons he had a 60.1% TS%. Career eFG% of 53.7%, but between junior and senior seasons he had 57% eFG%. Career 38% from three, 41% between junior and senior seasons.
The case for greatness:
The Maysville, Kentucky native and veteran leader on the 2012 National Championship team will go down as one of the biggest fan-favorites in UK history. To start his career, Miller was extremely inconsistent and found himself riding the pine following even the smallest of mistakes. Considering he was listed as ESPN's 33rd overall player in the 2008 recruiting class, both fans and the coaching staff expected him to help the program limp across the finish line of the Billy Gillespie era.
Growing pains limited that.
As a junior, Miller became a regular starter and finally found his rhythm from behind the arc.
As a
senior, however, Miller's consistency was one of the main reasons the Wildcats hung a banner in 2012. 
He was always in the right place at the right time, usually leading to an open three or a bucket at the rim in transition. When game tensions got high and the "youth" excuses piled up, Miller was the veteran leader to calm things down. He was the "I got this" man. Former Kentucky star Anthony Davis summed up his leadership pretty nicely. "When we were at Kentucky Darius Miller, who was a senior, came and sat all of us down, the entire team. He said,
'Look, I'm trying to win a ring before I get up outta here.'
And he told us, 'Leave y'all's egos at the door. We're all trying to come here and win," Davis said. Between Lamb, Miller, and Kyle Wiltjer, the 2011-12 Wildcats had more three-point weapons than other teams could handle, and there's a championship banner to show for it. https://www.youtube.com/watch?v=jwcEVv2QSAc
Aaron Harrison
Statistics:
Career eFG% of 49%. Shot 36% from three as a freshman, 31.6% as a sophomore. Career TS% of 54.2%
The case for greatness:
With Aaron Harrison, we saw
"quality over quantity"
come to life time and time again. As a career 34% three-point shooter, his numbers don't jump off the page at you, especially for the No. 1 shooting guard in the 2013 recruiting class.
But with the game on the line, there was no better clutch shooter in Kentucky history.
Harrison had ice running through his veins like no one we have ever seen before. We saw it against Louisville. And then Michigan. Then Wisconsin. Then Notre Dame the following year. When the team needed a clutch shot, Harrison delivered time and time again. The phrases "Harrison... OH HE MADE IT" and "This is the point where he always hits it, OH! AARON HARRISON" still sends chills down fans' spines. Dakari Johnson said it best following the epic Wisconsin shot.
"He's got big nuts, to be honest,"
Johnson said. "He can't even walk right now."
For a team with 40-0 expectations going into the year, yet countless adversities throughout, the roller coaster ride that was the 2013-14 season was one of the most memorable of the Calipari era. And we have Harrison to thank for that. He wasn't a consistent shooter and he had some rough cold streaks in his time at Kentucky, but
Harrison's post-season track record will place his name in NCAA Tournament history books and highlight reels forever.
https://www.youtube.com/watch?v=P456rEWQpXs
The answer:
The list of candidates is impressive, with each having their own incredible qualities. But one sticks out from the rest.
Not only is Doron Lamb the greatest shooter in the Calipari era, he's likely the greatest shooter in Kentucky history.
If he had stayed one more year and produced similar numbers, he would've broken nearly all three-point records and considered one of the all-time best shooters in NCAA history.
Numbers never lie.
Follow me on Twitter:
@JackPilgrimKSR