Brief Notes And First Impressions From The Final Four
I'm sitting here in the coaches' press conference, waiting for something exciting to happen, so I thought I'd put a few words on the internet about my first hour in Indianapolis. Just wanna throw a few things out there, ya know. I'll be quick...   -- The first two people I saw at the JW Marriott were
Digger Phelps
and
Pat Forde
. As our friend Kyle Mann pointed out on Twitter, it's all uphill from here. Digger was wearing a black hat; Pat Forde was wearing Rick Pitino's ass on his lips. -- Digger and Mr. Make-Your-Own-Bed were the first two people I saw at the hotel, but the first person to speak to me was John Calipari, surprisingly.
I ran into Coach Cal
when I first got to the arena and he said hello (I guess we're boys now). I wanted to say something back, because that's what people do when they're spoken to, but I was too out of breath from walking from the hotel so I gave him an awkward nod and mumbled incoherently. I'm off to a great start here. --
Tom Leach
always seems to be in a good mood. Great guy. -- Locked down some big guests for Saturday's pregame show while unpacking my stuff earlier. Ryan and I will be joined by
Heshimu Evans
and
Allen Edwards 
in Indianapolis from 6-7. We'll be at Tin Roof and would love to have you come out and listen as we get ready for the Wisconsin game Saturday night. -- My mind keeps wandering off to the shrimp cocktail at
St. Elmo
. Is it dinner time yet? -- Cal and Bo Ryan are directly in front of me right now and I'm not listening to anything they're saying. My only observation is
Bo Ryan looks like he smells like cigarettes
. Just me? -- Frank Kaminsky, though really good at basketball, may be the goofiest-looking human being I've ever seen in person. I say that with all due respect. I passed Frank after blowing my brief conversation with Calipari and I'm amazed that 
that 
guy is a Player of the Year. He should be watching Sci-Fi movies and doing puzzles with his mom on a Friday night. -- Check out
all my friends
in the media room!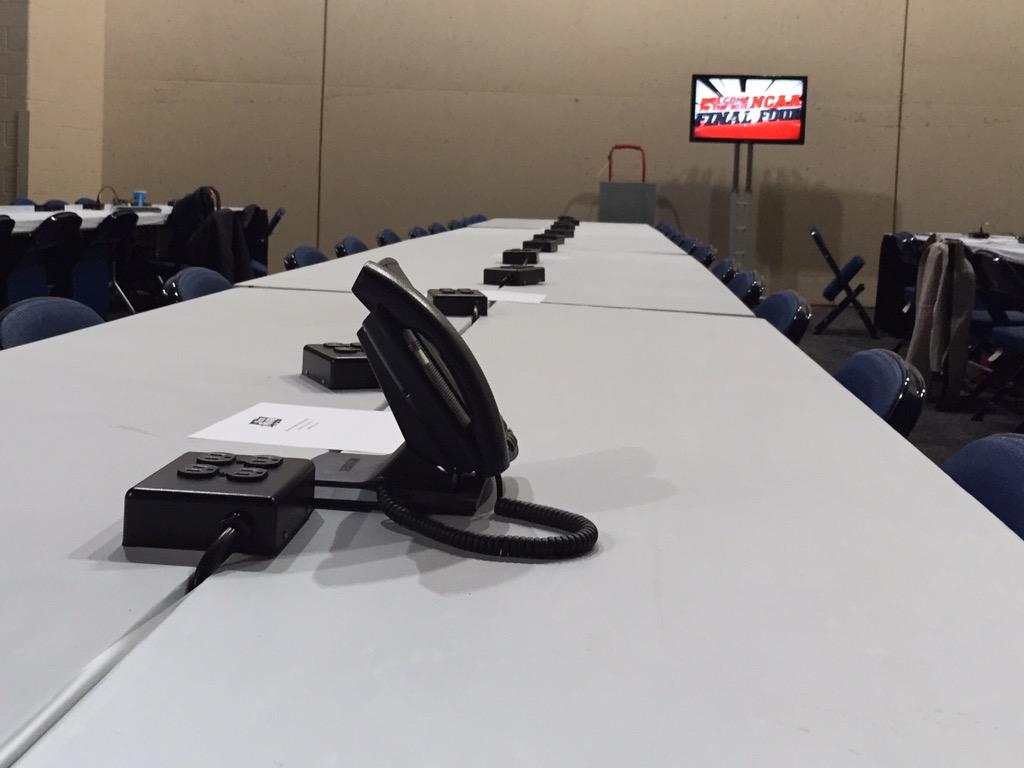 If you've ever wondered what it's like being KSR at the Final Four, you're looking at it. My only friends here are Cal and the two women overseeing the sandwiches. -- Follow me on your
SnapChat
devices this weekend: 'drew_franklin'. For those of you who saw my pictures with the Notre Dame leprechaun in Cleveland, I promise I'll dial it down a little bit for the younger crowd. I will not, however, promise to stop taking pictures of Brian, Tod, Sam and EJ in the locker room. That's 99 percent of the reason I'm here. You can't get that anywhere else.