Bruce Pearl praises Kentucky's effort on Jabari Smith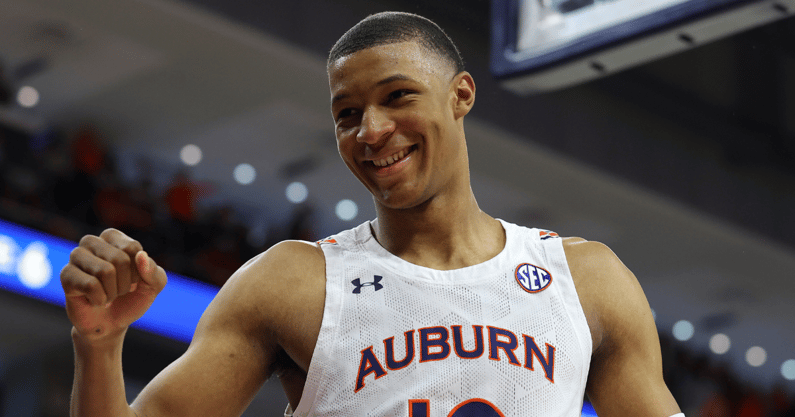 On June 23, another group of college and international players will make the jump to play the game at the highest level. One of the leading candidates to hear his name called first in the NBA Draft is Auburn freshman Jabari Smith.
Smith is the catalyst to the Tiger basketball team that very well could see them ranked as the #1 team in the nation come Monday. The phenom is averaging just shy of 16 points per game while pulling down over six rebounds a contest and dishing out over two assists.
When Saturday's hotly contested matchup against Kentucky was at a crossroads, Bruce Pearl turned to Smith who came away with multiple clutch baskets down the stretch.
As a whole though, the Wildcats held the Georgia native to under his averages in points, assists, three-point percentage, and trips to the free-throw line, but it was still Auburn who came away with the win.
The John Calipari era has a wild ride when it comes to facing the number one overall pick, but Saturday proved statistically to be one of his best game plans yet in slowing down one of the nation's best.
Pearl credits Kentucky for defensive plan
Unlike some first overall pick candidates in the past, Jabari Smith has not been a guy who has consistently had massive scoring nights. The freshman's current season-high is 25 points.
The key to his game is consistency. In 19 games this season, he has scored in double figures in 17. The two games he didn't were in two of the first three games he played this season. That means he's up to 16 straight games in double figures.
While Saturday's 14 points might not make Kentucky fans do flips in excitement, Auburn head coach Bruce Pearl did give credit to the 'Cats.
"We weren't very organized for stretches and we came away with a lot of empty possessions," Pearl said postgame. "Give Kentucky credit, they extended, they drove us out of things, they played our strong hands, it was an excellent defensive game by Kentucky and certainly bothered us." 
The pair tasked with guarding the future NBA star was Jacob Toppin and Keion Brooks Jr. UK head coach John Calipari was not quite as complimentary of the defensive effort.
"(Toppin and Brooks) did okay but fouled a 3-point shooter and he got shots off," Calipari said postgame. "We needed 40 minutes of making (Smith) bounce the ball and we didn't get it. It's hard though. It's hard." 
Smith still took over when it mattered
One of the keys to any good NBA player is the "X-factor." In a lot of ways, the definition of that is hard to explain. The easiest way to describe it is when the game is on the line "big players make big plays."
When the game was on the line, Smith made big plays.
"There are times when we've got No. 10 (Smith) and you don't," Pearl added. "It was time for 10 to step up and make a couple of big shots and a couple of big plays. He's not afraid of the moment."
It's a fair counter for Kentucky fans to say that their "Jabari Smith" left the game in the first half with an injury. Without TyTy Washington on the floor, the "X-factor" guy is still a question. Because of that, Auburn was able to come away with the big home win.
Calipari against #1 picks
There is obviously still a lot of basketball to be played and Jabari Smith very well might not be the number one pick.
If his name is called first, he will join the list of three previous players that Kentucky has played against under John Calipari that were picked #1 overall.
The list includes Anthony Edwards (twice), Ben Simmons (twice), and Zion Williamson. In those five games, Kentucky has a record of 3-2 with those players averaging 19.6 points per game.
The positive part of that list is that the second time playing Edwards/Simmons, the Wildcats won both games.
Kentucky and Auburn are not scheduled to meet again this season, but if everything plays right, they could be headed for a rematch in Tampa in early March.