Bruce Pearl reportedly agrees to 8-year extension with Auburn Tigers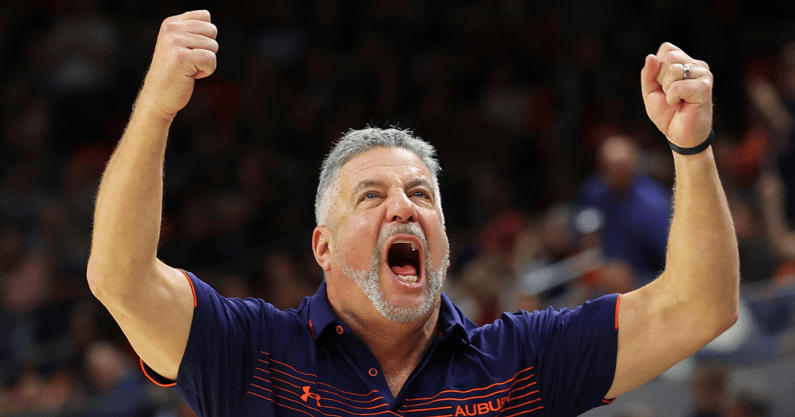 Go ahead and mark Bruce Pearl's name off Louisville's list of potential head coaches.
In a video posted to Twitter by Auburn athletic director Allen Greene, he announced that the program "locked him up", referring to Pearl, who will remain as the Tigers head men's basketball coach. Pearl has been mentioned as a possible candidate for the head coaching job at Louisville, which recently became available after the Cardinals parted ways with Chris Mack. UL reportedly reached out to Pearl on Thursday.
Jeff Goodman of Stadium reports that the new deal can keep Pearl at Auburn for the next eight years.
"It wasn't that hard," Pearl said in the above video. "…My family and I are gonna be able to stay and be your basketball coach for a long, long time. I'm grateful, I'm humbled, I'm blessed to be your coach. War Eagle."
Hired ahead of the 2014-15 season, Pearl is now in his eighth year as the head man at Auburn. He's recorded an overall record of 157-93 with an even 67-67 mark in the SEC, including two NCAA Tournament appearances, one of which resulted in a Final Four berth where the Tigers knocked out Kentucky in the Elite 8.
2021-22 has the possibility to be Pearl's best year yet at Auburn, as his team sits on a 19-1 record and the No. 1 ranking in the country with a projected top-three NBA Draft pick in Jabari Smith. Kentucky is 7-6 against Pearl while he's been with the Tigers, including a win over the 'Cats earlier this month.